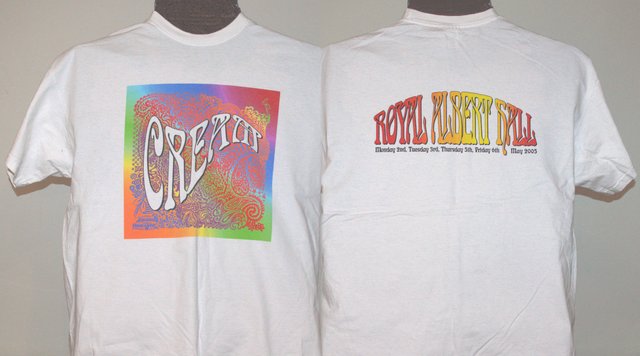 My only Eric Clapton gig. Not that I'm not a fan, but it has to be the early stuff (he lost me with the move into reggae). When I was at school I borrowed from the library a double-album compilation – 'Backtrackin''. (In the early days of CDs, there was a 4-disc set called 'Crossroads'. It's one of the all-time great box-sets as it really is comprehensive – all the eras, all the record labels in one place! The first 2½ discs are awesome: Yardbirds, Bluesbreaksers, Cream and the Dominoes. After that it gets a bit dull, but disc 2 is just phenomenal.) This was 1984 and Clapton was about to plunge into tedious middle-of-the-road soft rock and soundtracks, but this compilation was almost completely brilliant and cemented in my head a vision of who Clapton was and what he should be playing. It featured a whole bunch of Cream material.
Clapton, Jack Bruce and Ginger Baker were a hell of a trio and their albums are definitive self-indulgent blues-based psychedelia. My main excuse for not seeing them live first time around is that I'd only just been born by the time they split up.
The announcement of the reunion gigs caused immense excitement and people came from around the world for four evenings in May. Queueing to get in on the second of four nights, the blokes in front of us were from America, and had spoken to folks from other countries during the day.
The Albert Hall is not a great venue, as I've said before. We were in the stalls, about half way back at one end. Jack Bruce's side and not too bad a spot.
The band came on and the place went wild. They went straight into 'I'm So Glad' and then into 'Spoonful' and all was good. It wasn't brilliant, though. I spent the whole gig anticipating the big psychedelic jam session which never materialised. They did the hits and Clapton played some tasteful guitar, but they never really kicked off as I'd hoped. Could have been age, or could have been mutual antipathy, or could have been because Clapton has embraced 'tasteful' over 'adventurous'. Jack Bruce didn't seem too happy to be there and only Ginger baker looked happy. What really got me down was that 'White Room', which is a great place to start a jam instead morphed into a drum solo. Whereupon I sat down, and thus missed them walking off stage as that was the end of the set. A quick whizz through 'Sunshine of Your Love' and that was it.
A bit of a lost opportunity, but my expectations were high and there's always disc 2 of 'Crossroads' to put on.
By way of explanation...
For the last 2 1/2 years I've been posting pictures of t-shirts on a certain social media platform. The series is designed to answer a question often asked of me in my role as sound engineer at TwickFolk in West London: "Why is a bloke in a Slayer t-shirt volunteering at a folk club???"
Also a Spotify playlist