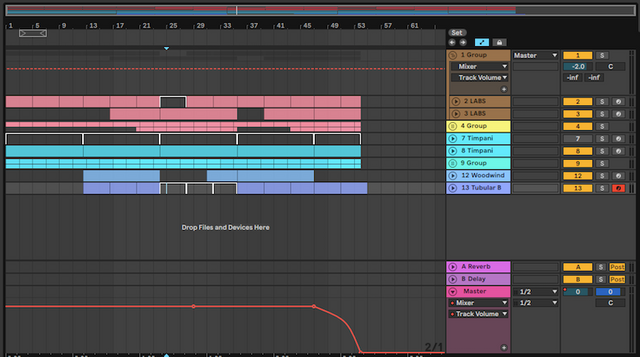 I spent some time working
on this last night, specifically editing the timpani rhythm, and then adding a new section in the middle of the tune, which uses the ensembles "staccato" articulation settings, and some arpeggiators to fill it out a bit. It uses the same progression as the rest of the song so far, but without the brass melody, nor the woodwind ensemble. I think that a B section could be really useful here to break things up at some point, but that's for a later update, hehe.
Track 7 is the original
timpani track, which has been blanked out in the screenshot above. Track 8 is our new rhythm, which is pictured below. I dropped the timpani that was an octave up to a G, as certain notes sound much thicker and more clear due to the samples that were chosen I'd expect. In the 2nd screenshot below, you can see the new string and brass tracks. The second string track (Track 3, staccato ensemble from Spitfire Audio's LABS) uses an arpeggiator to fill things out a bit, as does our original brass track. There is an additional brass track added, which just plays using the staccato setting, so only the initial chord hits are accented, which made for a cool effect.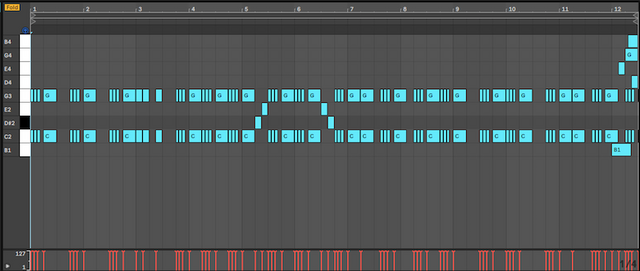 Track 8, new timpani rhythm.

Additional strings and brass (in neon pink).
Track 13 is not actually
in this version that I uploaded, but I figured I'd include it in the overview as a little preview. That will be the tubular bells, which add a really epic/adventure game sort of vibe, which I've used on a lot of previous Splinterlands inspired orchestral tunes. I also think that there needs to be some sort of transitional melody lines between sections, as it feels like something is missing at certain points.
I hope you like the changes so far, I'll be updating as I continue working things out. Hopefully this will turn out to be a pretty epic lil tune!
---
---
---
---