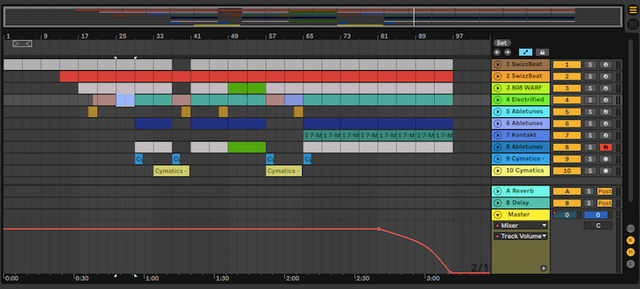 I was going through some tracks
in my iTunes and found this one, which for some reason never got labeled. I think it's on a Soundcloud somewhere, so I'll have to try and find it and see what the original title was. In any case, I really liked the idea, so I decided to go back and edit things a bit, add some transitional effects/sounds, and fix one of the midi tracks that was supposed to be in a 1/4 tone tuning but didn't save as such. Hopefully, this is the first of many older songs that I'll revisit and work on with fresh ears, cause the list is growing a lot, lol.
Tracks 1, 3, and 8
provide the basic little progression. Tracks 1 and 3 both use Ableton's simpler instrument, with samples played like a midi track. As the original samples were not in C, the actual images will be off from the key we're in, though Track 8 shows it correctly. We're in C#minor, and in the White sections in Track 8, we stick to a basic little progression, C# to E, C# to D#, C# to Dnatural), C#, then repeat. When we hit the Green in Track 8, things change, beginning on D# and not resolving every time around, so things have a bit more tension there.

Track 3 (transpose this to C# in your head).
Track 8, Green Section.
Track 2 provides some of
the little beepy-bloops that continue for most of the track, along with Track 6. Track 4 is the drums, which sounded okay, but with a bit of EQ and compression that I added, work a lot better now. Tracks 5, 9, and 10 are all for transitions, swelling upwards, or providing a heavy hit to accent the 1. Finally, we have Track 7, which uses the 1/4 note tuning. When I first wrote this, the only way for me to use tunings like that was an application called 'Retune for Max', which required two tracks, one with the actual instrument and a tuning send, and a blank midi track to receive. Somehow the first of those wasn't in the saved copy of this track, so I had to add a new instrument (from NI's Komplete Start) and use the alternate 1/4 tone tuning on that, which wound up working really well.
I hope you like this updated version! When I find the original online, I'll post a link here, to compare the two.
---
---
---