There were a few really good industrial bands in the 90's that released one great album, and then disappeared. I don't think the term "one-hit wonder" applies, because they weren't always hits, even in the industrial scene, and the ones I'm thinking about generally had multiple good songs on their respective albums. Anyway, BOL was one of these bands, although technically they did have some other self-released stuff. Hate Breeds Hate is another album that would top my list of favorites if I had to pick them, and I would say it has one of the most unique sounds of the industrial genre, especially up to the time of its release. The production is quite good, but there's this kind of lo-fi, off-kilter thing going on with the sound choices and composition that goes beyond just the use of effects such as distortion. The lyrics are generally incredibly cynical, which is something I've always identified with.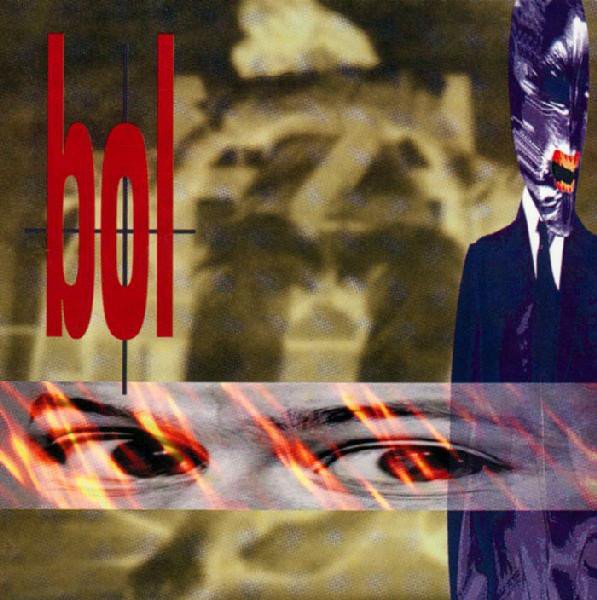 This is yet another band that I first heard on 21st Circuitry's Coldwave Breaks compilation, with a great Hate Dept. remix of "Tension Upon Tension". Interesting note: there's a little of the old industrial music collaboration/band-swapping going on here, as Hate Dept.'s Steven Seibold recorded and mixed this album, and BOL's Rob Robinson worked on Hate Dept.'s Meat.Your.Maker (Rob has also worked with Kevorkian Death Cycle and ohGr, and has a solo project called Sergeant Sawtooth). It took some time, but I eventually came across this album at a record store I've mentioned before, the Razor Room in Madison, WI. Because of the sound of the remix I had heard, I was expecting something more coldwave or industrial metal-ish, but instead I was graced with some wonderfully strange electronics. This brings me to another odd thing about the sound of this album: even though the instrumentation is purely electronic, it kind of feels more like a coldwave/industrial metal record. I don't know if that makes sense, but give it a listen, and maybe you'll see what I mean (or maybe not).
Rob Robinson has made this album available from his bandcamp site: https://sergeantsawtooth.bandcamp.com/album/hate-breeds-hate-by-bol
The album opens with "Helmet", which contains pretty much all of the elements I mentioned above, including the cynical lyrics (hint: I think the helmet he's referring to is one with handlebars on it). The bassline is simple, but kinda groovy, and the vocals are backed with some interesting, not-quite-standard vocoder use. The title track follows, and is one of my favorites, due in large part to the lyrics, which seem to simultaneously exalt in, and also critically call attention to, the tendency for hatred to spread in one's mind, and the population as a whole. This seeming contradiction is something I continue to identify with, and the basic concept of these kind of misanthropic tendencies is present throughout the album, which probably helps to explain why I love it so much. I think that's one of the main things that drew me to industrial music as a whole really, as that concept is present in a lot of it... but I digress. Getting back to "Hate Breeds Hate", the lyrics aren't the only draw, as the music itself is jarring in a way I find quite pleasing as well. Up next is another favorite, "Animal Infallible", which is once again notable for both lyrics and sound. This track contains one of my favorite lines in any song ever: "Discriminating perception gives me direction, or was that an erection, I'm not really sure." I'm not entirely sure that I get it, but I love it. As for the music, it is an excellent example of the harsh lo-fi thing I mentioned, and although it isn't heavy in a traditional metal sense, there's a sort of methodical plodding to it, with occasional interruptions of noisy bits that I think give it a different sort of heaviness. Though it's hard not to do a play-by-play here, for the sake of keeping this article to a manageable length, we'll skip ahead to "Sulfur & Gasoline", which has some interesting sounds, as well as some really cool vocal effects. After that comes the original version of "Tension Upon Tension", which is a great track, with some of the best synth work on the album for my tastes. The rest of the album is fantastic as well, but I'll leave it there, and let you go check it out for yourself.
Yes, there are other industrial bands that go for a lo-fi sound, and there's lots of cynical lyrics to be found in this genre, but I really think that this album stands out as one-of-a-kind. I enjoy Rob's solo stuff too, it's just a different thing... although there's some lo-fi-ness there too, the style is more in the realm of electronica. Not that I have any problem with that. Likewise his work with other bands: I enjoy everything I've heard, but this album has a different thing going on. I'm really glad that Mr. Robinson re-released it, because it would be a shame if this gem were to be lost to history.