Wayne Shorter (tenor sax), Herbie Hancock (piano), Ron Carter (bass) and Tony Williams (drums). From the album Sorcerer (1967).
In 1965, Davis was invited to the second annual edition of the Newport Jazz Festival and made a strong impression playing "'Round Midnight" to both critics and the public, being the turning point of his career. This allowed him to sign a contract with the important Columbia label, but he still had to record four albums for Prestige Records. Then, he formed his first quintet composed by himself on trumpet, John Coltrane on tenor sax, Red Garland on piano, Paul Chambers on double bass and Philly Joe Jones on drums, and recorded 'Round About Midnight for Columbia and Cookin', Workin', Relaxin' and Steamin' for Prestige.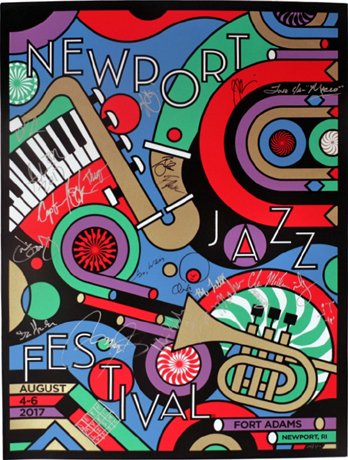 2017 Newport Jazz Festival poster
Although this first quintet only lasted from 1955 to 1957, it went down in history as one of the most interesting hard bop groups of the 1950s. It was a band in which different musical personalities coexisted, congratulated and inspired each other. Davis played long, legato and melodic discourses while Coltrane contrasted with energetic solos.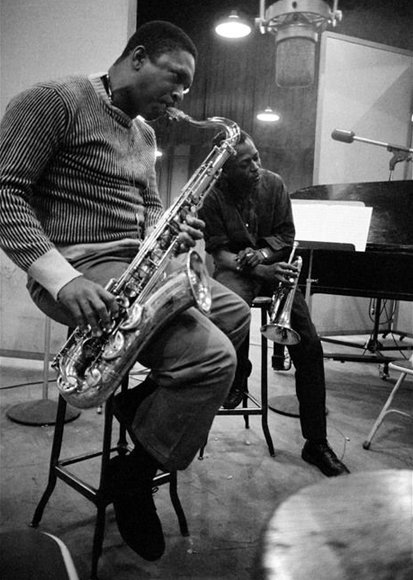 John Coltrane and Miles Davis
This theme is a gentle and relaxed ballad that Shorter exposes with delicacy and lyricism while enjoying it. He then makes his solo with a smooth and exquisite melodic line introducing some quicker phrases. He is followed by Hancock, who plays lightly and deliberately choosing each note with care. To conclude, Shorter returns with his refined and warm tone to re-expose the theme and the rhythm section ends the piece of music.
© Columbia Records