Art doesn't last for ever, nor is it meant to. However, it's interesting to see how certain murals receive more respect than others. At least the ones painted on public walls, with easy access to anyone, can be painted over right away... or COULD be, but are not. Other may look beautiful, have an interesting story to tell, may even feature nifty elements of mixed-media, and yet don't last very long. Let's take a look at some examples of both: 
What's Wrong With Bike-Murals? 
One example of a huge mural that didn't stay up for very long is this one. I don't even have a photo of when it was new, so I looked on the Internet. The only one I came across is on the Twitter page of the former delegado (= type of mayor) of our district, who was mostly responsible for building the bike-lanes in our neighborhood, and commissioning the artists from the gallery Alam+Petrov to create these bike related murals. This image of a young girl on a big bicycle, amidst swirling lights in space, was put up on a large wall on the street Gob. José Maria Tornel, between Gral. Juan Cano and Gob. Protasio Tagle. It even included stellar constellations, with a colored string connecting them, and birds cut out from Styrofoam accompanying the girl on her bike.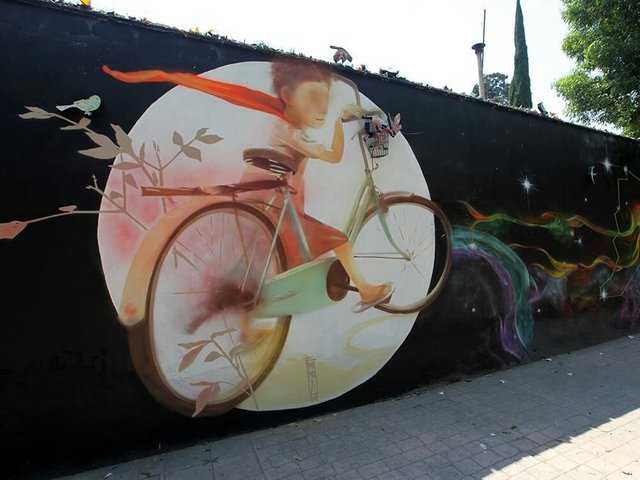 Unfortunately, this particular mural was painted over very soon. Not even with any superior art, just plain graffiti, although it is true that they could have been much worse, as far as tags can go. However, even those better looking graffitis were soon painted over by others. If you look carefully, you may still see some of the space colors from the original painting shining through, and of course the sign, indicating the gallery that was originally responsible for the art. I can only guess why it received so little appreciation. It may have had to do with local politicians sponsoring an established art gallery for something that unpaid muralists could have done much better? Maybe. (In that case, would this qualify as a case of FOMO?) And once the painting-over-revenge has started, it was an invitation for anyone to come along and paint over their paint-overs. Could be. In any case, at the moment we are left with a wall with little aesthetic appeal... for now. 

The Route of Churchill – Enriched With Imagery from Coco
In my first mural post I've mentioned the Route of Churchill, a number of murals throughout the city honoring the famous British prime minister during WWII. This piece, located just a couple of blocks from the first one, on the corner of Gob. Ignacio Esteva and Gob. Melchor Muzquiz, has been up for months, but just received its first enhancement this past week.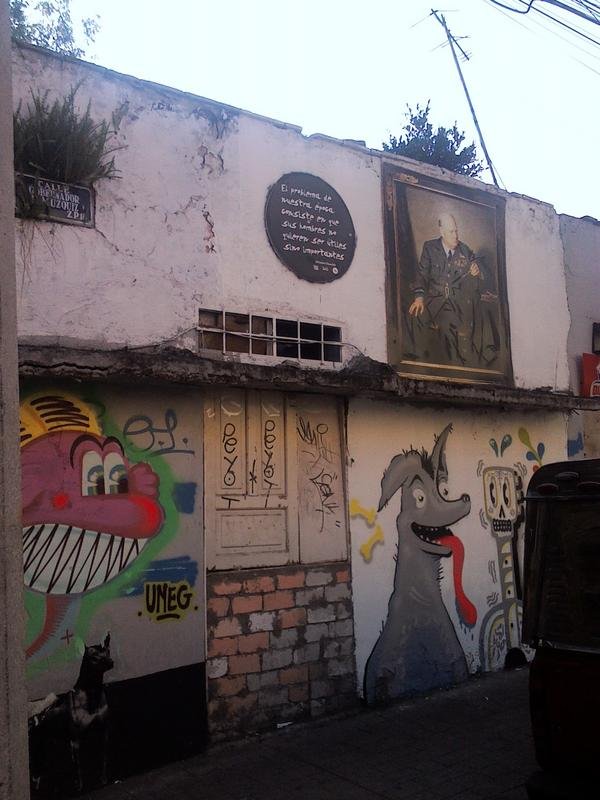 While it surprised me to see a number of sponsored murals being centered around Sir Winston Churchill, who is no great historical figure in Mexico, by any means, it is probably even more of a surprise that it has not been painted over as well. Okay, in this particular case the high location of the piece may have made it more difficult. Instead, the artist added a few famous characters of their own. I was just about to give a clever interpretation of the long-tongued dog and the mariachi guitar as being important cultural symbols in Mexico... until I realized that both are from a recent animated movie from a big studio. So in a way, these cartoon characters don't seem to get in the way of Churchill, or vice versa, but in fact complete the spectrum of importance, in which even the purple fish with the big teeth, and the plants growing out from behind the street sign fit comfortably into.
A Mural of a Young Girl – Getting the Highest Respect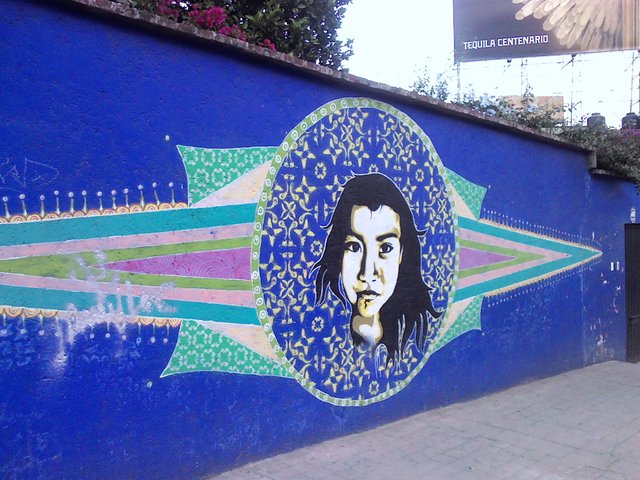 Finally, let me close with a mural I have seen and liked ever since moving into this city about five years ago. It is a simple picture of a young girl in an elaborately decorated frame, which can be found close to the corner of Parque Lira and Av. Constituyentes, right by the metro station with the same name. It is literally one of the oldest murals I know in our neighborhood, and one that nobody dares to touch. I have no idea as to the underlying reasons, but I can imagine that it may be the homage to someone's daughter who passed away before her time. Its position gives it an easy access, yet nobody would dream painting over it. Well, there seems to be always an exception, as one attempted tag shows. The same tag, however, also suggests that it was brought to a quick interruption, probably as vigilant neighbors from the nearby pharmacy and the taco-stand chased down the disrespectful vandal, breaking their fingers in the process.
In the end, paid murals and free additions may come and go, getting painted over and over again. Certain pictures, on the other hand, seem to last forever. This is one of the nice things about street art. 
If you liked this, check out my developing series on Mexican Murals: