I might have been a bit unfair in my previous post about the lack of new murals in my area. In fact, there are some fantastic wall paintings, if you know where to look. In this case, it would be high above the busy bustle of Avenida Revolución, right around where it intersects with Avenida José Martí in the neighborhood of Tacubaya, not even too far from where I live. Up there, on the wall of an apartment building is this sizeable mural. The fact that it's in a bit of an awkward position to see it from the street is made up by its enormous size.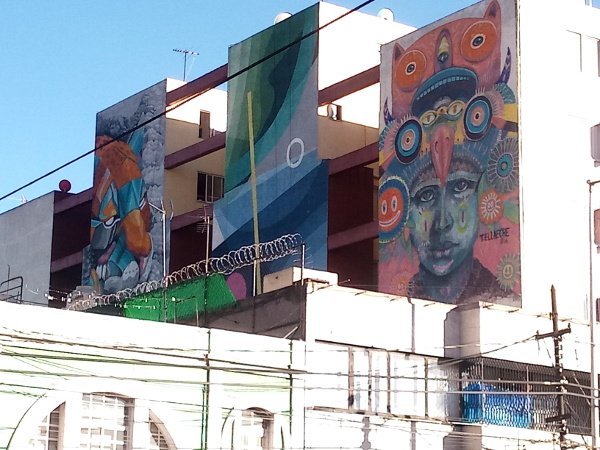 Since the only decent shot I got was from this weird angle, let me zoom in to take a closer look at the two images on the side. The abstract geometric shapes in the middle picture can also be appreciated from afar.
The painting on the right side shows a head of some sorts. My first impression was that of a clown (an evil clown, though it may be redundant to point out this characteristic). A closer look at its mouth could actually reveal certain feline features, reminding me of the depictions of jaguar-like faces in pre-columbian art. This doesn't make the picture any less scary, but at least I know that it's something formidable and powerful, a thing you can't say about clowns.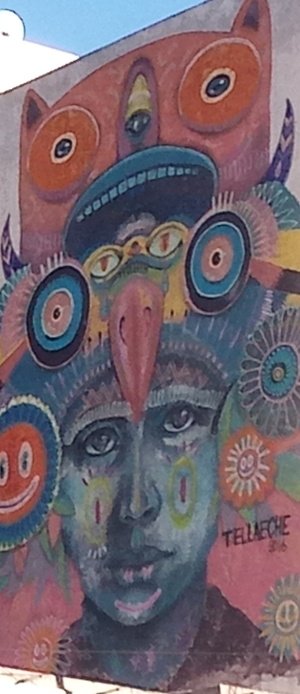 The mural on the right side is without a doubt the most impressive one. It depicts a human face, once again pre-columbian looking, wearing the feathered headdress with a bird's face. Above the image we can see a third face. This one is the hardest one to describe, most likely a spirit entity, once again cat-like. To me it brings to mind the iconic Totoro characters from the famous Miyazaki movie. I'm not sure if that was the artist's intention, but the surrounding circular images, especially the one with the smiley-looking face, suggest that he may have been inspired by other modern-day imagery. In any case, he combined them quite well with the traditional Mexican style.
Looking at the lettering on the side of the mural, I managed to make out the artist's name. A quick search on the word led me to the page of Jorge Tellaeche, who apparently has painted many other interesting murals. Some of these I may actually know where they are. If I come across them, I'll make sure to post about later. 
If you liked this, check out my developing series on Mexican murals:  
Please check out these great communities I'm contributing to: 

#ecotrain | What is EcoTrain | Discord Community

#cyclefeed | Introducing CycleFeed | Discord Community

Join us on Discord