📌 Post Up S1E4 - Thursdays 🕚 11PM UTC live on MSP Waves 🌊. Curation, Engagement, Prizes! 💲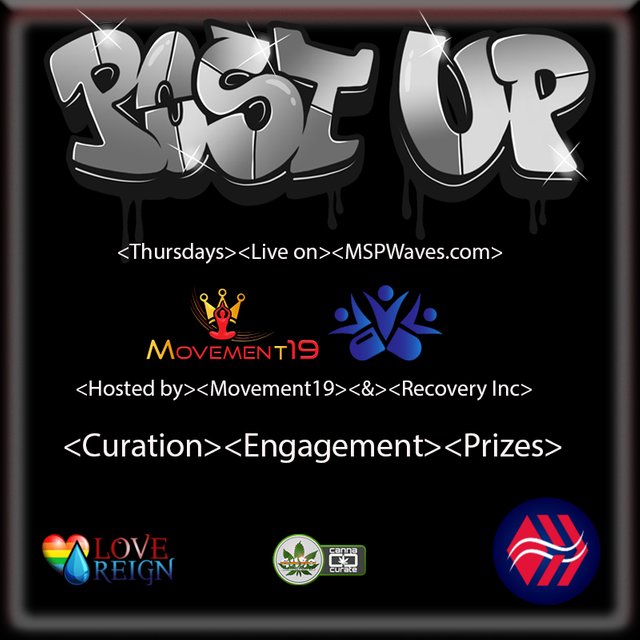 ---

Post Up is a live curation podcast. Audience members are invited to present a post from any social media platform or blog. The post can be yours or someone else's as long as it contains original meaningful content. Posts may consist of images, words or music. Mature content is acceptable, with discretion, as long as an NSFW warning is provided. The show hosts will encourage follows, upvotes, likes and comments. Each week, the audience will select the top three posts to receive a prize of cash or crypto. All posts presented will be curated for our blog. Get ready to Post Up!
📌 Post Up - Thursdays 🕚 11PM UTC
Hosted by @movement19 & @recoveryinc

You can listen and watch on mspwaves.com
To participate join the live chat in the PAL Discord

📌 Post Up S1E4
We had to skip last week due to some unforeseen circumstances. Besides the fact that Risso (
@recoveryinc
) was out of town, my family's car seems to have taken a shit. We're hoping it's not the transmission. We'll find out soon. Needless to say, getting stuck several hours away from home and having to figure shit out was one hell of a clusterfuck! But, we made it and we're alive to tell the story.

Now that most, or at least some, of the fuckery is out of the way, for now, let's get on with this week's episode of Post Up. We missed you all last week and can't wait to see what sort of amazing content you have for us to see and hear. Remember to have your links ready to drop in the chat when you're name is called. Can't wait to see your content!
BTW, we are temporarily postponing the morning session of the show until we figure some things out. Thanks for your understanding.

Last week's episodes
Here is the link to watch the previous episode.
---
Here
you will find all of last week's posts curated for your enjoyment.
---

🙏🏼

👊🏼
---
You can follow me on most major social media.
---
#vaccinescauseavianflew 💉