Band of Brothers: A Must Watch Movie From HBO Series (WWII Best Story About Leadership)
-
Source: HBO UK YOUTUBE
Insights: Band of Brothers - HBO Series
Band of Brothers was the Best HBO Series Movies
Actually the movie storytell about the World War II history, the D-Day in Germany. Based on the bestseller by Stephen E. Ambrose, the epic 10-part miniseries Band of Brothers tells the story of Easy Company, 506th Regiment of the 101st Airborne Division, U.S. Army.
Drawn from interviews with survivors of Easy Company, as well as soldiers' journals and letters, Band of Brothers chronicles the experiences of these men who knew extraordinary bravery and extraordinary fear. They were an elite rifle company parachuting into France early on D-Day morning, fighting in the Battle of the Bulge and capturing Hitler's Eagle's Nest at Berchtesgaden.
-Source
They were also a unit that suffered 150 per cent casualties, and whose lives became legend.


-Image Credit
The most interesting part within the movie was told about the leadership lesson by each actors. Such as Winters who started his career from the down level to the top (Sgt. To Major) and Lipton (Sgt. To Lieteunant).
The story line within the movie put into 10 episodes, whereas each episodes told different angle from the cast. But, still the main focus was Winters as the leader who made his traces amazingly in miltary career through his instructionss, advices, and every words split out. Winters as the best man who lead their man into the victory.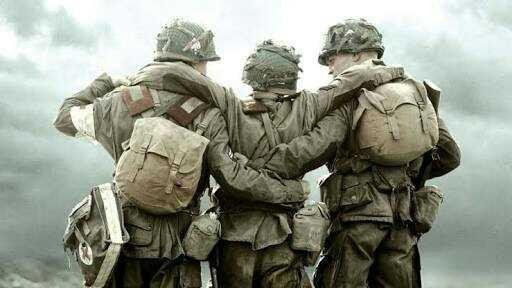 -Image Credit
If you guys didn't watched this movie yet! Just hit the links below or search the best online movies website in your countries.
Happy watching and learning!