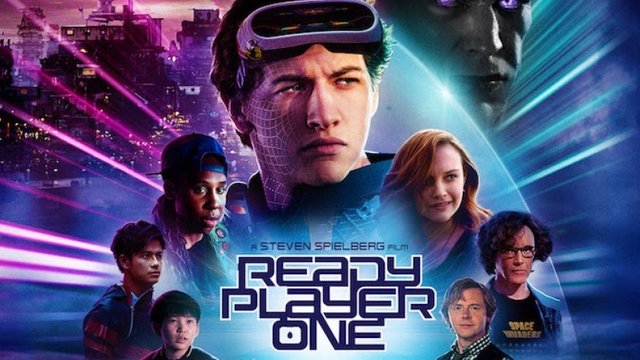 Source
Ready Player One merupakan film besutan sutradara ternama yaitu Steven Spielberg yang menggambarkan masa depan dengan sebuah alat teknologi Virtual Relity. Film yang menggambarkan dunia ditahun 2045 dengan virtual yang sangat canggih yang disebut oleh OASIS, singkatan dari Ontologically Anthropocentric Sensory Immersive Simulation. Dengan alat ini orang-orang bisa mengganti kehidupan nyata dengan apa yang mereka inginkan. Wade Watts (Tye Sheridan) yang didalam film ini melakoni kehidupan untuk bertarung melawan IOI untuk memperoleh Easter Egg yang ditinggal oleh sang pecipta OASIS, Jim Halliday dan Ogden Morrow.
Tampilan grafis yang sangat menawan dengan referensi yang banyak sekali diantaranya memasukkan teknologi kingkong, T-rex, dan mobil dari Back to The Future. Film ini juga menampilkan adegaan yang sangat menarik karena dari novel katya Ernest Cline yang diluncurkn ditahun 2011 dimana novel ini sangat populer bukan hanya dikalangan para gamer tapi juga dikalangan pecinta novel. Selain itu film ini juga pas dan cocok untuk mengenang nostalgia bagi pecinta pop 1980-an dan 1990-an karena banyak menggambarkan budaya pop tahun tersebut dan juga didalamnya banyak referensi game yang digunakan seperti timb rider, iverwatch, street fighter, soni the hedgehog, gundam, dan masih banyak lagi. Pokoknya nonton film ini nggak bakalan rugi dan dijamin anda tidak akan kecewa.
Namun, ada sisi lain yang perlu diketahui. Setting tahun 2045 seperti yang ada pada novel yang sebenarnya tidak lepas dari masalah sosial seperti over populasi, perubahan iklim, polusi, KKN, dan politik XD yang dapat membuat kehidupan manusia yang ada pada fil ini menjadi menyedihkan. Belum lagi alat yang digunakan yaitu OASIS merupakan alat pelarian diri karena tidak puas dengan dunia nyata. Dimana si pengguna OASIS dapat melakukan apa saja dan menjadi siapa saja. Jadi pada fiml ini tidaklah heran jika OASIS sangat populer dan sukses untuk dijadikan pelarian hidup kedua.
Nah anda penasaran dengan film Ready Player One ini? Silahkan datang dibioskop kesayangan anda dan nikmati keseruan menontonnya.
Jangan Lupa Bahagia