Don't upset the Father.
Especially if he is a retired CIA man. This was film showed Liam Neeson with a slightly different slant, a bit darker and willing to break the rules for a reason any parent would understand.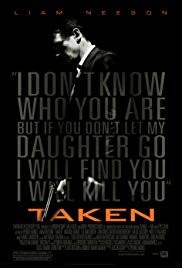 Liam Neeson stars as a retired CIA man that wants to reconnect with his daughter. His daughter is seventeen and wants to spend time with her best friend travelling the world. She manages to convince her father to agree to allow her and her friend to travel to Paris.
One gets the feeling that girls aren't too street smart and a little naive about the possible dangers of travelling alone. When they arrive in Paris they share a taxi, and in conversation with the driver let it slip that they are alone. The taxi driver is part of an Albanian gang that specialise in human traffickers, and two young girls will fetch a very high price.
Later that day the gang break into the place where the girls are staying, Kim does manage to call he father and one of the gang members makes the mistake of talking to him. The kidnapper is informed that he has a particular set of skills which have taken a long time to acquire and will be used to find him and kill him if he doesn't release his daughter.
The kidnapper wishes him good luck, now the hunt is on.
If you like action or Liam Neeson, you should see this movie. Liam is better than some of the action stars we have had in that he can actually act very well.