One more job.
Why is it in so many movies that everyone is always doing one more job (their last job) and things go wrong? I have lost count of how many movies use this. Put that aside and the music really does make this movie, think of Mad Max Fury road.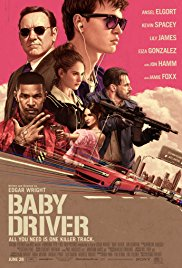 As stated above we have Baby who is looking to get out of the getaway driver business, but his boss, Doc convinces him to do one last job. Guess what things don't go according to plan, surprise.
Now Baby needs to pull the best drive of his life out of the bag, can he do it?
The driving sequences and music do really make this movie. If you aren't concerned about plot details, and want to see a good driving movie then watch this one. Oh, and don't forget to turn up the sound.