This was recommended to me some time ago by someone on Steemit and I'm sorry, but i don't remember who it was. I put it on a USB stick that I thought I had lost but then found yesterday. I was like "oh right, this film is meant to be nuts!"
Thanks for the suggestion, whoever you are because this was quite an experience.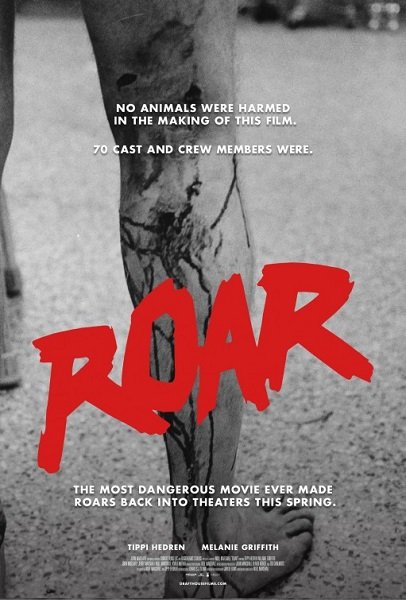 source
I can't really imagine what was going through director and star Noel Marshall's head when he thought it would be a good idea to take 150 wild animals (most of which were completely untrained) and put them, by the dozens, into scenes with actors. These animals are very capable of ending your life accidentally and as the above poster would indicate, there were plenty of instances where horrendous injuries occurred.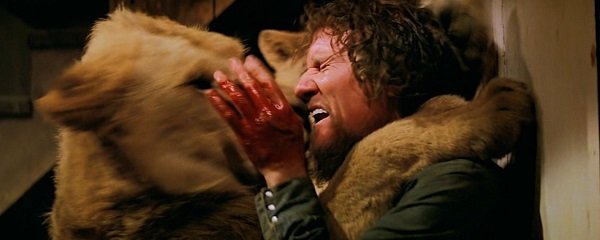 source
When the movie first fires up, you notice that "Hank" (Noel Marshall) has gauze on his hand with blood soaking through it. This is because on the very first day he was mauled and a cat bit through his hand completely. The injuries were so severe that he got blood poisoning and the doctors were concerned that he might lose his arm. One would think that such an occurrence would encourage the film-makers to perhaps re-think this project but no, they trodded on.
There is a definitive lack of continuity in the movie. You will notice that Noel Marshall and other characters frequently have bandages on various parts of their body that magically disappear / re-appear, and then are on different parts of their bodies in the same scene.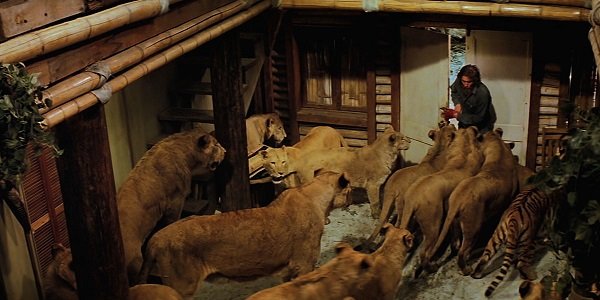 source
what could possibly go wrong here?
A great deal of the blood in various scenes is genuine and even though the story is kind of dumb and the actors aren't terribly good, I have to really admire these folks' ability to stay in character even though they literally are being stalked by these cats in the scenes. Even when the lions are being playful, their brute strength would easily knock an actor to the ground. Keep in mind that CGI wasn't even something anyone could dream of back in 1981.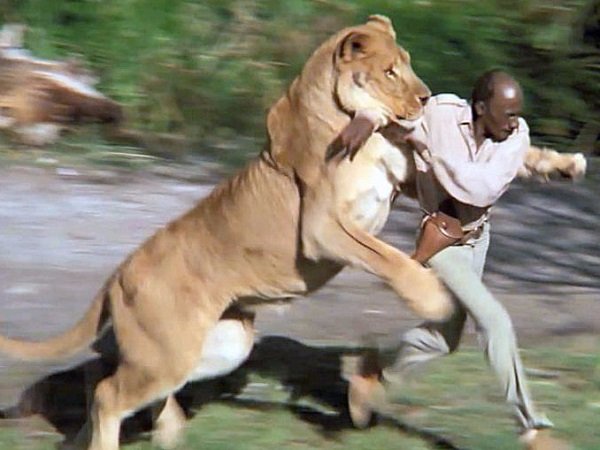 source
A very young Melanie Griffith has a role in this movie, but apparently she quit mid-production because she feared for her life (or that she would be permanently scarred - which i think is a very reasonable fear) but she later changed her mind and returned to re-shoot some scenes.
A great deal of the story is ad-libbed because obviously these untrained wild animals aren't going to follow director's orders. According to Noel Marshall they would sometimes films for hours and simply wait for the animals to do something violent and then he would run into the scene spouting whatever came to mind, just to get a scene. The balls on that guy - wow.
from the Movieclips Indie official channel
The movie went wildly over budget and took a total of 11 years to finish production. Horrible injuries (one where a man was literally "scalped" and required over 200 stitches) were very common and ultimately the film was a box-office bomb. It wasn't even released in North American theaters during the original launch. However, like many nutso things in the past, it has become a cult classic.
The story is just awful and the acting isn't much better. However, the sheer madness of this entire project makes Roar definitely worth watching. For me it was fun to try to spot the slew of injuries that happen throughout and to admire the actors (especially Noel) continue through a scene even though they have clearly been badly injured during it.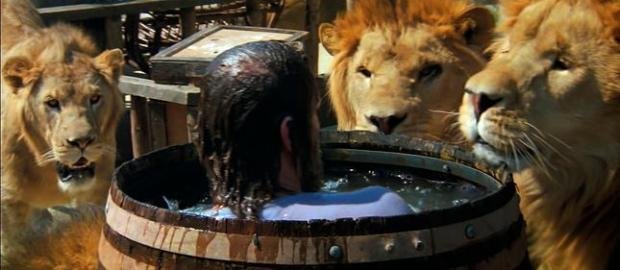 source
Now i have to live in this bucket!
Even if you have to keep the remote in your hand to fast-forward frequently - which I did because the overall story is completely irrelevant and just plain stupid and unbelievable, there is something entrancing about a group of people acting in scenes where their lives could be ended at pretty much any part of it. It made me nervous while I was watching it - simply waiting for the next inevitable mauling.