Conan the Barbarian: one of the best from the 80's
This movie was terrifying and beautiful at the same time to a child of the 80's. It introduced a lot of us to Schwarzenegger and James Earl Jones (outside of the voice of Darth) and had amazing costumes and action the likes of which had never been seen before.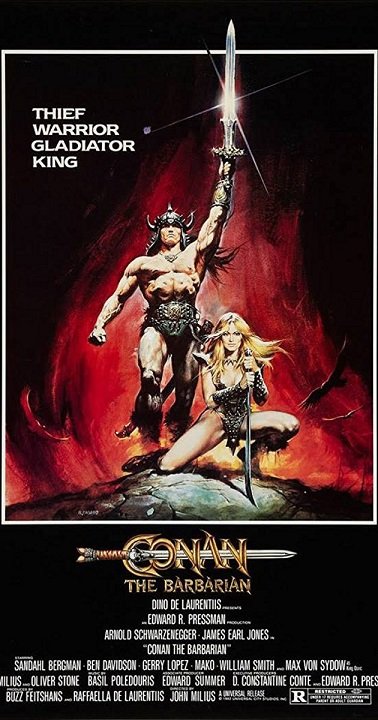 When this film was released i was less than 10 years old so of course I wasn't allowed to go and see it in cinemas and to be honest, I didn't even know it was there. The lack of internet in '82 and carefully controlled advertisement on TV meant that kids (for the most part) wouldn't even find out about a film filled with blood and sex. Apparently my parents did go see it, and we somehow got a hold of a VHS cassette that my mom "edited" herself by simply hitting pause on the recording VCR during any of the film's scenes that involved naked playtime. haha. It is fun for me to think about my mom going through the entire film just to take out those scenes and I am also a little surprised that she would be engaging in what was likely something illegal anyway.
I didn't know this at the time but Conan is actually a character created by an author in the 30's who would have illustrations of an enormous muscle-bound warrior on the covers. This is how Arnold was chosen for the role when he was relatively unknown. Can you believe that Charles Bronson was being considered for the role? I laugh thinking of him playing that character. It was said that Schwarzenegger was the "living incarnation of the illustrations on the original paperbacks."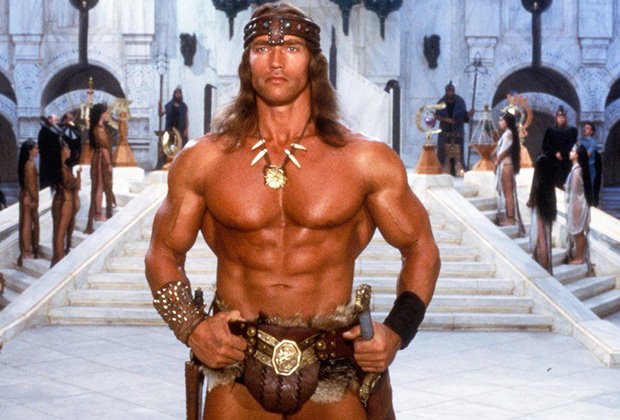 It has been said that Arnold, upon accepting the role and a $250,000 retainer was told he would actually need to LOSE some muscle mass because he was so big that he was unable to perform the sword battles. That's right, he was too muscular to play the role of a super muscular guy.
The film follows young Conan, living a normal life in a snowy village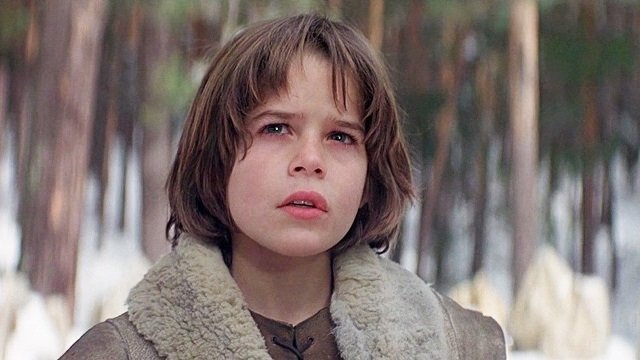 his mother is decapitated right in front of his eyes and he is sold into slavery where he pushes a heavy wheel in circles for 20 years or so.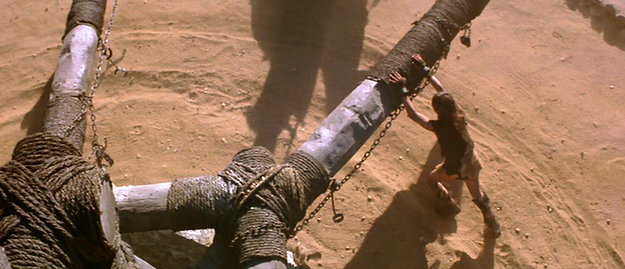 This apparently is a fantastic core exercise because it turns him from skinny boy into alpha male. Eventually he is the only one left and is sold to a fella who intends to use him for pitfights.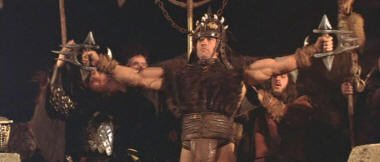 the montage of the pit fights is just fantastic

Through becoming the best pit-fighting champion he is one day released by his master and thus the journey to find the people responsible for destroying his childhood and killing his mother begins. The characters he meets along the way are wonderful and the battles they get into with mythical creatures such as a giant snake are actually very well done considering that this was all occurring around 1980 where a computer would still fill up an entire room and likely wasn't used at all. Also, Arnold's lack of English-speaking skills at the time actually enhanced his character rather than hinder it. Conan wasn't meant to be a scholar after all.

The cinematography, the action, the casting, the story, and the increible score all make this a must see. This is truly a piece of history because the only reason why such an expensive fantasy story got the "green light" was because Star Wars was such a success just a few years earlier (or so it is rumored.) It is actually extremely graphic considering the time period and I am surprised that a lot of it made it past the relatively puritan film censors of the early 80's.




the trailer is actually pretty amusing and doesn't do the film justice


If you haven't seen this movie, you are in for a treat. As a matter of fact I will now watch it again today myself. You won't regret it. This is one of my favorite movies ever but since I know it isn't exactly a ground-breaking storyline, i can't rate it any higher than

8 / 10