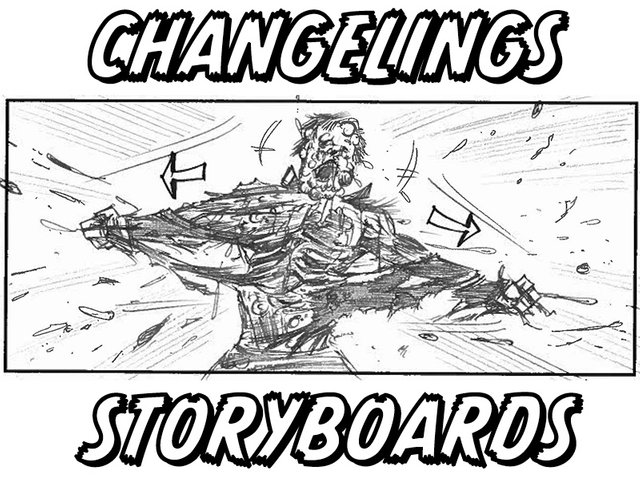 In this update, I want to share with you some samples of not only the storyboards but also the sections of script associated with them.
Now that these are being completed by Neil, I'll soon be able to meet with my visual effects supervisor and special effects artist to better suss out the cost of completing them along with how. The effects have gotten bigger as I've worked through the process, but I'd rather start big and pull back.
This Saturday, I'm meeting with Neil to finish working them out the last few moments of the transformation, including some Lovecraftian tentacles.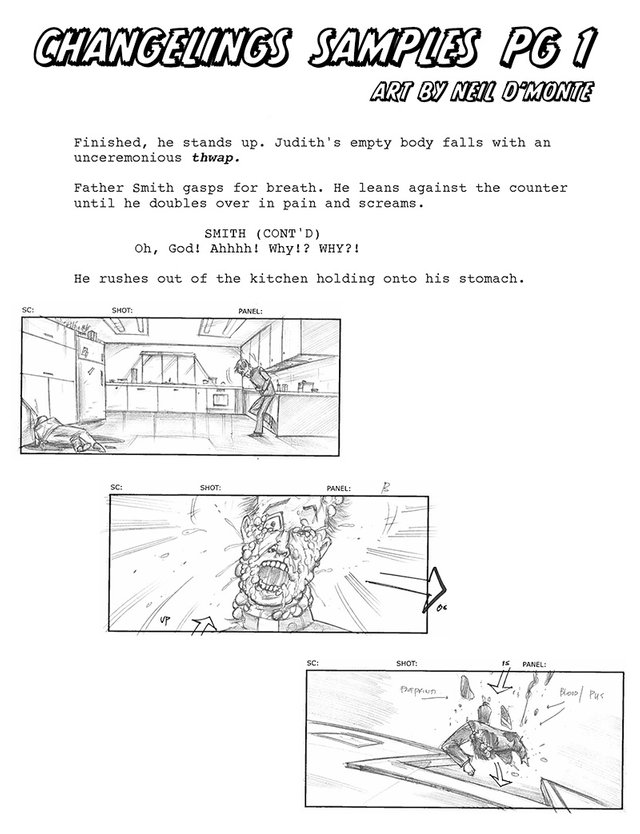 One thing that I added were the dutch shots that show pieces of Father Smith falling to the floor as he approaches the tub. It's a great reveal technique that I think will be not only gruesome but effective. The dutch angle was Neil's idea, but I think it works perfectly for the aesthetic. Who knows if the angle will live through production, but it's I think it works here in this form.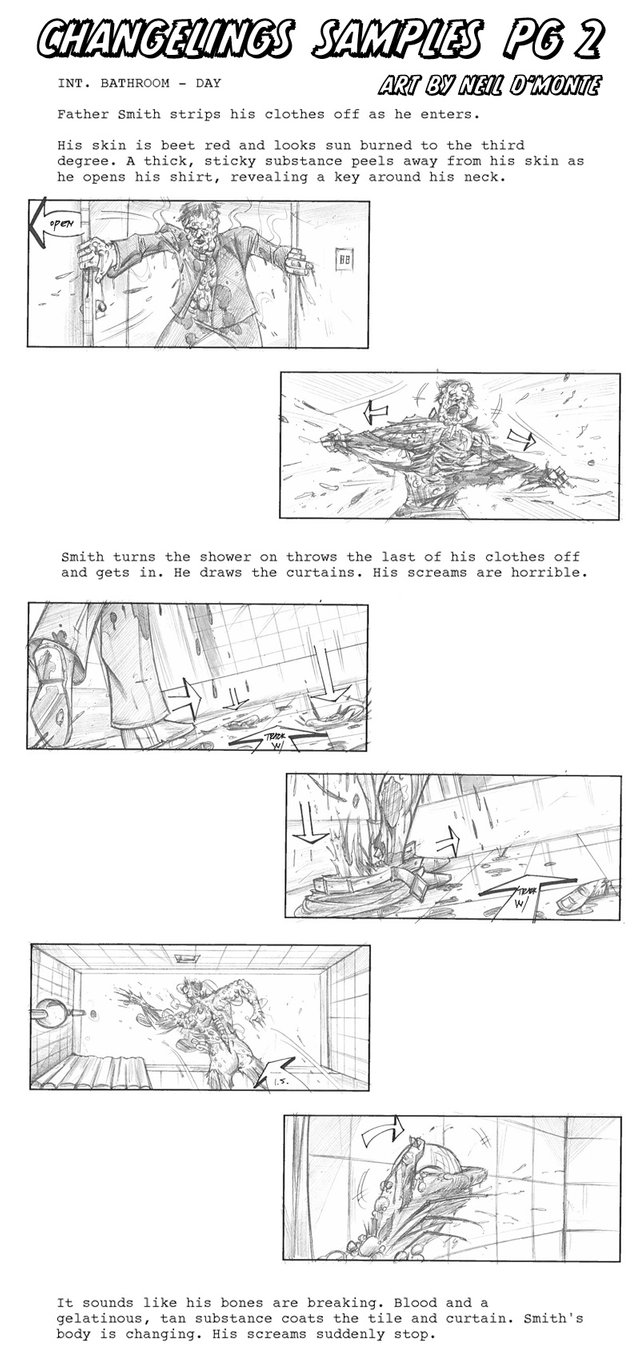 If anyone needs a little motion to bring the transformation to life, here's Norm's conceptual art stitched together as an animatic.
Don't forget to vote on the new font for Changelings!
I'll have more storyboards soon, along with an update regarding the 3D sculpture for the crowdfunding campaign.
Have a great night out there and stay scary!
Continue the discussion on Distant Signal's forum's. Powered by Steem!
---
WHO DIS IS
If you want to know who I am and what Distant Signal is, check this out. It's sort of a manifesto. The TL;DR is that I've won an award for producing, make a lot of reality TV, live in LA and think that artist and media incentives are misaligned and serve large corporations and not independent artists.

The fist horror / thriller film made on and with the Steem blockchain. Use this hashtag to find out all about it!
DISTANT SIGNAL SOCIAL:
SUPPORT ME ON BITBACKER FOR $2 A MONTH:
http://bit.ly/DSBitbacker
WEBSITE: http://www.thesignalisstrong.com
SPOTIFY TARE PLAYLIST: Listen to it here!
LBRY: Direct LBRY App Link!
INSTAGRAM: https://instagram.com/distant_signal/
GAB: https://gab.com/Distant_Signal
MINDS: https://www.minds.com/DistantSignal
MISSION
In 2019 the goal is to produce the short horror film, Changelings, the world of that story and to build a community of filmmakers that are enthusiastic about filmmaking and crypto currency.
————————————
OTHER DISTANT SIGNAL PROJECTS
Dollar for Dollar: https://youtu.be/eL8j8CIqFuw
Darkness Calls: https://youtu.be/PCkCdV_JtVc?list=PLGHlpAIKcYapGwmKZzxEUIWCJUvA3Jp94
Milkshake: https://youtu.be/OW_Zx9x1tOE
————————————
PHIL ABATECOLA'S PERSONAL SITES:
INSTAGRAM: https://instagram.com/abatecolasan/
WEBSITE: http://www.philabatecola.com
MISSION
To create narratives, comedies and documentaries that are short, fun, interesting and cinematic.

Distant Signal Youtube Channel

Posted from YouTube via Share2Steem