Museum. For some, a nightmare of school trips. For others, the place where you and your child come to see Lady with an Ermine. Tourists visit them passionately, even if there are only chairs among the exhibits. Students have discounts so it sometimes happens that they survive the winter in the department of Impressionism. Artists come here either for inspiration or to die out of jealousy. And what can a movie hero do in museums? Why, according to filmmakers, do we go to museums?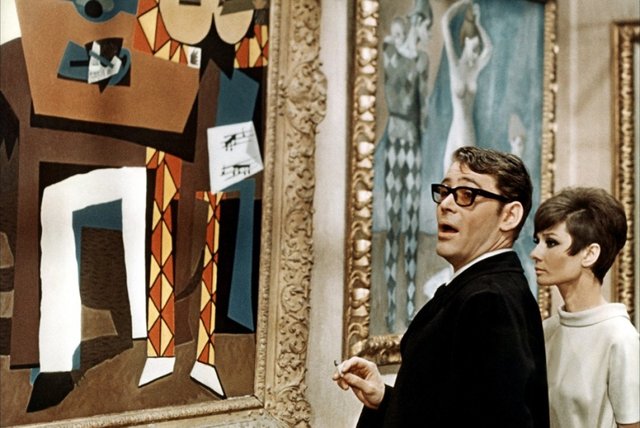 source
To steal something
Watching movies, one can come to the conclusion that there is a group of people wondering about each museum - something like whistling from there. It is hardly surprising - the works of art are worth millions. Although it is not always about profit - in the British film "Wild Target", the heroine steals from the National Gallery painting by Rembrandt worth 900 million. Sometimes to prove that you can ("The Thomas Crowna Affair" where the main character steals the painting of Magritte mainly for entertainment), sometimes you have to help your father hide the forgery - "How to Steel a Million". In other words - the next time you're in the museum, look around carefully - there's definitely some scheming thief in the hall.
To meet your contact
Museums, public places, is there a better place to meet our contact in secret services? It's enough just to sit on a bench under some great work of art and wait for someone to come down to us. How to do it? The best example can be found in "Skyfall" where Bond meets his quartermaster Q in the museum (more precisely in the National Gallery), a bit of weapon exchange, some kindness and the most important - talk about art, in this case about Turner's paintings. As you can see Bond has not only a license to kill but also to discussions about art.
To escape from school
One of the most beautiful sequences taking place in the museum you will find in "Ferris Bueller's Day Off" about a boy who, together with a friend and a girl who he likes, take day off from school. He did not go to school, only in the city. About halfway through the movie, our heroes go to the Art Institute of Chicago. Friends admire art, look at pictures, follow a school trip, and even our hero finds a moment to steal a kiss from a girl. But above all, we will find in this film an excellent scene illustrating the power of art - when one of the characters, staring at the image, sees more and more in it - to finally see himself - a lost kid who does not know how to determine himself. And all with the sound of the perfect Dreams Academy cover "Please, Please, Please Let Me Get What I Want."
To impress your friends
Who do we meet the most in muse? New York intellectuals who try to impress their friends at all costs. And who knows the soul of New Yorkers better than Woody Allen. Its characters go to exhibitions to share their (only slightly exalted) thoughts on contemporary art (a wonderful scene in "Manhattan" showing how much no one really knows which piece of modern art should we like) or show off their own (sometimes with holes) know about the great masters ("Midnight in Paris"). Anyway, the heroes of Woody Allen probably pass each other on the hallway with the heroines from "Sex in the City" and even sometimes with the kids from "Gossip Girl". After all, it is a known thing - to be someone in New York you have to direct your steps to the museum and preferably to MoMa. However, perhaps the best summary of such snobbish conversations about contemporary art can be found in "LA Story", where the hero played by Steve Martin for a few minutes tells exactly about the scene in the picture - only then turns out that he is not necessarily serious.
To make friends
The wonderful film "Museum Hours" tells story of the friendship between a guard from the Kunsthistorisches Museum in Vienna with accidental visitors Anna - who came to Vienna because of the illness of a loved one. Anna does not have much money so she walks around the museum. Conversations between the characters show that the art that hangs in museums is not dead at all, on the contrary - it gives a starting point to talk about everything and at the same time still comments on the most important topics of our life - love, death, friendship, materialism and poverty. The film shows that the museum is a great place to meet and talk to someone because here in the presence of art, you will always find topics to talk about.
To find a love interest
Who said museums must be boring. On the contrary, according to cinematography, they are quite sexy. We can talk about a small pickup - like in the "Gossip Girl" where the heroine between admiring the impressionist paintings in the D'Orsay museum tears up a beautiful prince. We can talk about full of emotion and tension, looking for a lover for one night - as in the phenomenal scene in "Dress to Kill". The heroine and stranger walk around the gallery - there getting lost, finding each other, in a tense game that is as attractive as it is dangerous. It is not known who is a hunter and who is a prayer, but it is known that nothing good will result from it.
To unravel a great mystery
I'm almost certain that Professor Langdon - the main character in Dan Brown's novel - has a lifelong ban on entering most of the museums. Where destruction and corpses will not appear. It does not change the fact that regardless of whether in the Paris Louvre ("The Da Vinci Code") or in the Museum of Dante in Florence ("Inferno") our hero has only one goal - to unravel the mystery. Sometimes it may be a great mystery of how the fate of salvation really took place, and at other times it is another attempt to save mankind. And although it is impossible to deny the protagonist noble intentions, it can not be concealed that his approach to the works of art and regulations prevailing in museums cry for vengeance to heaven. However, it does not change the fact that if we do not curse at him, he shows us how much knowledge and symbols there is in art - all you have to do is learn to read them.
To run
One of the most famous "museum" scenes in the history of cinema is the one from the film "Bande á Part "Jean-Luc Godard where heroes decide to break the record of the speed of visiting the Louvre Museum. To achieve this, young people are running through consecutive halls - faster and faster. Among the numerous interpretations - including those that focus on a certain youthful rebellion, spontaneity and non-conformism, there also appears that which for young heroes passes subsequent images - representing different epochs, is like running through history, presented quickly and reduced to passed images. The contemporary viewer will surely associate this scene with the film "The Dreamers" in which Bernardo Bertolucci recreated it frame by frame, in tribute to the great director.
To argue
What better place to find out that some of the differences are incompatible than a museum? In the film "Deep Blue Sea" - adaptation of Terence Rattigan's drama, the conversation about one cubist work turns into arguing between a young, traumatized airman, and his older and better-educated partner. The difference in the perception of art reveals how much they differ from each other, how their experience are different and know something else. So in museums you also have to be careful because although we all look at the same, everyone sees something different. The question is: And what you will see?
To look at the pictures
Did you think that looking at images is such an innocent activity? Watch one of the best films ever made - "Vertigo" by Alfred Hitchcock and it change your mind. In one of the film scenes, our hero goes to the museum and finds such a picture there - a woman with a bouquet of flowers stares at the nineteenth century portrait of a lady. The similarity is visible but ... what's going on? Do women have something in common? And if so, what is the secret? And how it all has to the problems of the main character.
As you can see - according to cinematography - the museum is not a boring place. Because even if nobody does a snatch of a century, does not murder a curator and does not get a gun assignment, you can always meet a whole crowd of people who found in the museum or a shelter or a place where nothing can be hidden. One thing is certain - it's worth going to the museum - who knows maybe we'll be in this group that finds the love interest between the pictures.