Watching #3 - Biri Gyaru/Flying Colors (bilingual)
Title : Giri Byaru/Flying Colors
Year released : 2015
Genre : Family, School, Slice of Life
From Novel Adaptation : Gakunen Biri no Gyaru ga 1 nen de Hensachi o 40 Agete Keio Daigaku ni Geneki Gokaku Shita Hanashi
Director : Nobuhiro Doi
This movie is gold and so inspiring! I hope more people watch "Biri Gyaru!
In Japanese cinema, Education is often picked as the main theme. Although Japan itself has an image as a country that has many smart people, this country faces a lot of problems in the field of education. Most are bullying, NEET (Not in Education, Employment or Training), student who rebel until the teacher who ignore the student. Some of the titles I have watched with educational themes are Great Teacher Onizuka, Kamen Teacher, Gokusen and the last one is Biri Gyaru.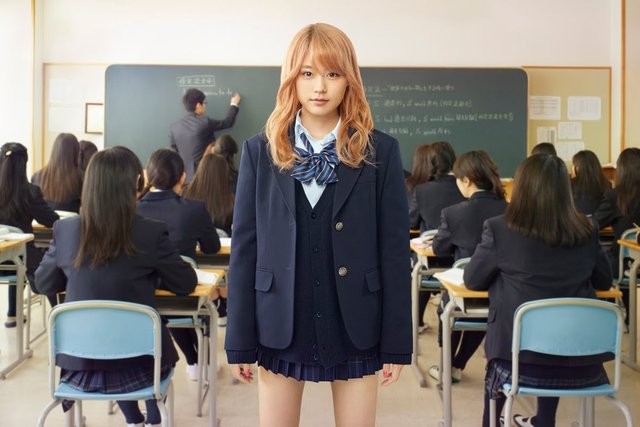 source
Biri Gyaru was inspired from real story
Biri Gyaru (or also known as "Flying Color") is story about girl in 3rd year of High School named Sayaka Kudo. Sayaka lives with her Father, Mother, sister and brother. Sayaka's father in his early years wanted to join a professional baseball team but was unsuccessful. His obsession with baseball was then forced on his only son at home. Her father almost did not care about her daughters. Only his mother looked at Sayaka and his sister.
Sayaka lives on his mother. When there is a problem at school it is always her mother who helps her. The mother just wanted her daughter happy and always smiling. This makes Sayaka only spend time playing around.
Sadly, her knowledge is equivalent to 4th grader.
One day, Sayaka was caught by his teacher carrying cigarettes at school. This makes her suspended and difficulty getting a university entrance. Sayaka's Mother then made an important decision that will later change Sayaka by putting it into a private tutoring institution. Here Sayaka met his tutor named Tsubota Yoshitaka. Well, Biri Gyaru is actually the true story of this teacher. His slogan is:
"There is no stupid student, only bad teacher"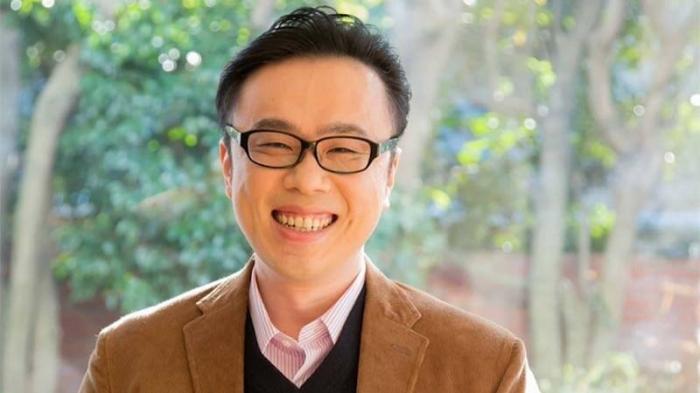 Real Tsubota Yoshitaka
Indeed, this teacher's learning method is somewhat different from nother teacher. You can watch by yourself. Tsubota leads Sayaka to reach his target: Entrance in state college. However, the efforts of Sayaka who want to change also deserves thumbs up. Sayaka even willing to study until late at night, leaving the habit of rah-rah with his friends segenknya, and leave the nature lazy. There was a touching moment, when he gathered with his friends back, they even told Sayaka to stay strong on his chosen path and forbade him to come play with them.
The conflicts in the film also not only revolve around Sayaka's education. Sayaka's younger brother had a fight with his father. Until committed domestic violence.
How the relationship of this family goes to?
How about Sayaka?


source

Here is the ending song that was brought by my favorite Japanese rock band, Sambomaster! Please enjoy!
Judul : Giri Byaru/Flying Colors
Tahun rilis : 2015
Genre : Keluarga, Sekolah
Adaptasi Novel : Gakunen Biri no Gyaru ga 1 nen de Hensachi o 40 Agete Keio Daigaku ni Geneki Gokaku Shita Hanashi
Sutradara: Nobuhiro Doi
Dalam perfilman Jepang, topik pendidikan/kehidupan sekolah seringkali diangkat menjadi tema utama. Walau Jepang sendiri memiliki image sebagai negara yang banyak orang pintarnya, negara ini menghadapi banyak sekali masalah dalam bidang pendidikan. Paling banyak adalah bullying, NEET (Not in Education, Employment or Training), Murid yang berontak hingga guru yang bermasalah. Beberapa judul yang telah Saya tonton dengan tema pendidikan adalah Great Teacher Onizuka, Kamen Teacher, Gokusen dan yang terakhir adalah Biri Gyaru.
source
Untuk yang weekend nggak kemana-mana dan punya kuota berlebih, mungkin Biri Gyaru bisa jadi alternatif pilihan untuk ditonton secara streaming.
Biri Gyaru terinspirasi dari kisah nyata loh.
Biri Gyaru (atau juga terkenal sebagai "Flying Color") menceritakan seorang anak perempuan kelas 3 SMA bernama Sayaka Kudo. Sayaka hidup bersama Ayah, Ibu dan kedua adiknya. Ayah Sayaka pada masa muda pengen banget bergabung dengan tim baseball profesional namun tak berhasil. Obsesinya pada baseball kemudian dipaksakan kepada anak laki-laki satu-satunya di rumah. Ayahnya hampir sama sekali tidak peduli dengan anak-anak perempuannya. Hanya Ibunya yang memperhatikan Sayaka dan adiknya.
Sayaka hidup mengandalkan Ibunya. Ketika ada masalah di sekolah pun selalu ibunya yang menyelesaikan. Sang Ibu memang hanya ingin anaknya bahagia dan selalu tersenyum. Hal ini membuat Sayaka hanya menghabiskan waktunya bermain-main saja. Dandanan Sayaka kayak anak cewek dugem gitu lah. Rambut dicet blonde, pake baju minim, hangout sampe pagi. Milenial banget.
Namun sayang, Kemampuan Sayaka setara dengan anak kelas 4 SD.
Suatu ketika, Sayaka ketahuan gurunya membawa rokok di sekolah. Hal ini membuatnya diskors dan kesulitan mendapat rekomendasi masuk universitas. Ibu Sayaka kemudian membuat langkah penting yang nantinya mengubah Sayaka dengan memasukkannya ke sebuah lembaga les privat. Di sini Sayaka bertemu dengan guru lesnya yang bernama Tsubota Yoshitaka. Nah, Biri Gyaru ini sebenarnya adalah kisah nyata dari Si Pak Guru ini. Slogannya adalah:
"Nggak ada murid yang bodoh, yang ada gurunya yang tidak bisa mengajar.."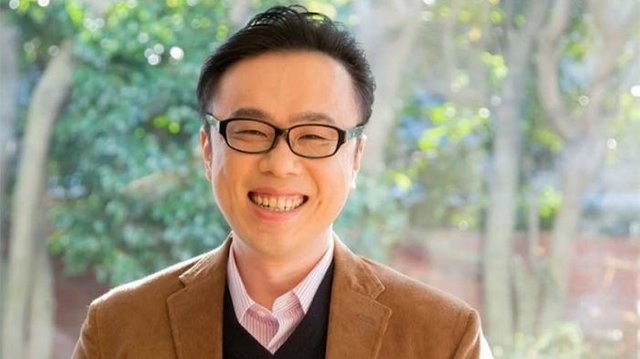 Si Bapak Guru yang asli
Memang, metode belajar pak guru ini agak berbeda dengan guru biasanya. Tsubota membimbing Sayaka agar mencapai targetnya : Masuk di perguruan tinggi negeri. Namun, usaha dari Sayaka yang ingin berubah juga patut diacungi jempol. Sayaka bahkan rela belajar hingga larut malam, meninggalkan kebiasaan hura-hura dengan teman-teman segenknya, dan meninggalkan sifat malasnya. Ada momen mengharukan, ketika berkumpul dengan teman-temannya kembali, mereka malah menyuruh Sayaka tetap tegar di jalan yang dipilihnya dan melarangnya untuk ikut bermain bersama mereka.
Konflik dalam film juga bukan hanya berkisar pada pendidikan Sayaka. Adik laki-laki Sayaka bertengkar dengan Ayahnya. Hingga terjad KDRT.
Bagaimana akhir hubungan keluarga mereka?
Apa Sayaka berhasil meraih cita-citanya?
Awalnya saya dapet film ini juga tidak sengaja. Lagi browsing-browsing di situs penyedia film, terus ngeliat review pada film ini bagus sekali. Ternyata memang, pesan dalam film ini sangat dalam, yaitu:
Manusia harus belajar sampai maut menjemput
Memecahkan masalah hanya mampu diraih ketika manusia mau berpikiran terbuka, bersedia menerima saran dan kritik dan mampu berkomunikasi dengan tenang
Keberhasilan bukan buah dari bakat dan keberuntungan, tapi hasil perjuangan tanpa menyerah walau berkali-kali gagal

Yang mengejutkan saya, rupanya ending song dibawakan salah satu band rock Jepang favorit saya, Sambomaster! Please enjoy!