Success Is Not Dependent On Your Body, But It's In Your Mind
~Aulia Saputra~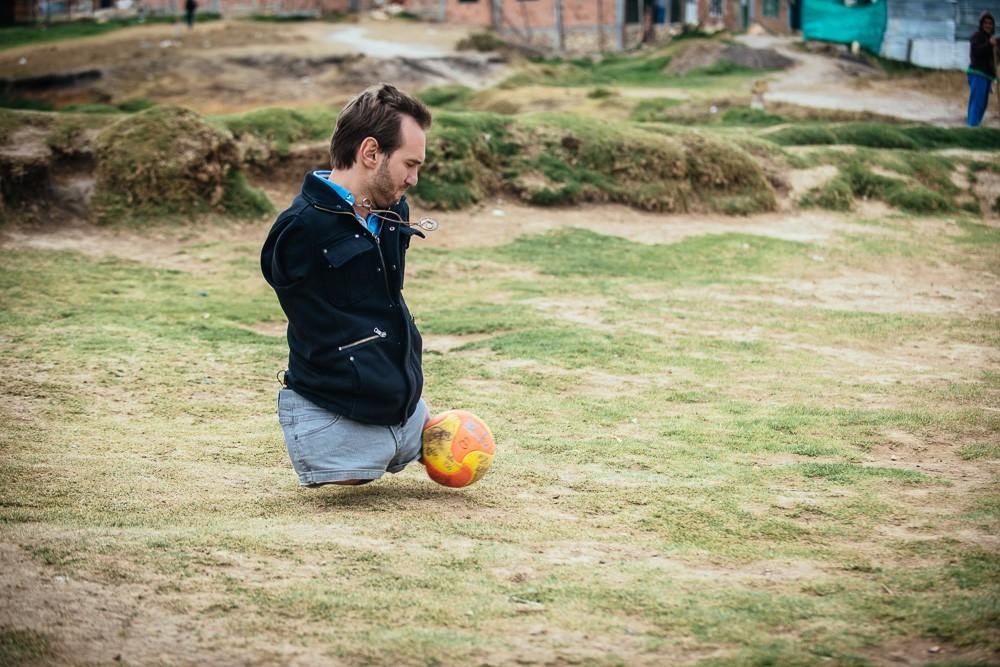 Image source :
---
Keterbatasan itu hanya ada didalam pikiran. Anda mungkin sudah sering mendengar motivasi dari seorang motivator barat, dia adalah Nick Vujicic yang merupakan seorang pemuda kelahiran Melbourne tahun 1982 silam dengan fisik berbeda dari orang biasanya. Nick lahir tanpa lengan dan dan kaki, tapi dia mampu membuktikan kepada dunia dengan keterbatasan yang dia miliki bisa meraih sukses sebagai motivator di usia yang sangat muda.
Limitations are only in the mind, you may have often heard the motivation of a western motivator, he is Nick Vujicic which was a young man born in Melbourne in 1982 ago with a physical difference from ordinary people. Nick was born without arms and legs, but he was able to prove to the world with the limitations that he had could be successful as a motivator at a very young age.
Orang tuanya sendiri sebenarnya sangat terpukul atas kelahiran Nick yang tidak sempurna, namun tidak ada yang bisa disalahkan atas takdir ini. Melihat Nick kecil yang sangat ceria membuat orang tuanya sedikit lega, Nick terlihat begitu tampan, dan memiliki mata yang indah dan menawan. Orang tuanya dengan sabar mulai mengajari Nick untuk menulis dan menghitung, dengan bantuan kaki kecilnya di belakang pinggul kiri Nick mulai terbiaasa, dia bisa menulis, membawa barang, mengetik dan Nick menjuluki kaki kecilnya sebagai My Chicken Drumstick.
His parents themselves were actually badly hit by imperfect Nick births, but no one could be blamed for this fate. Seeing a very cheerful little Nick makes his parents a little relieved, Nick looks so handsome, and has beautiful and charming eyes. His parents patiently started teaching Nick to write and count, with the help of his little feet behind Nick's left hip, he could write, carry things, type and Nick nicknamed his little feet as My Chicken Drumstick.
Memasuki usia 12 tahun Nick muda mendapat sebuah pengalaman yang berharga di usia yang masih sangat muda itu. Saat bangun dari tidur dia menyadari betapa beruntungnya hidupnya saat ini, dia dikelilingi oleh sahabat-sahabat yang menyayanginya.

Entering the age of 12, young Nick got a valuable experience at that very young age. When he woke up from sleep he realized how lucky his life was now, he was surrounded by friends who loved him.
Walaupun fisiknya terbatas namun dia berada dalam keluarga yang berkucupan. Inpirasi dari seorang nick yang terbesar yaitu saat membaca sebuah surat kabar dimana isinya termuat sebuah berita tentang orang cacat yang sangat banyak membantu orang-orang dan melakukan hal hebat dengan keterbatasan yang dimilikinya.
Even though his physique is limited but he is in a family that is covered. The inspiration of the biggest nickname is when reading a newspaper where the contents contained a story about a disabled person who helped a lot of people and did great things with their limitations.
Nick menjadi alumni di universitas di usia 21 tahun dalam bidang Akutansi dan Keuangan Perencanaan. Dia memulai karir hebatnya sebagai seorang motivator yang befokus pada keadaan masa kini. Nick telah bebicara di forum internasional lebih dari 24 negara di 5 benua yang telah dia kunjungi, termasuk Indonesia. Dia juga banyak menghasilkan karyanya dan yang paling terkenal yaitu sebuah buku yang berjudul Life Without Limits. Selain itu dalam acara The Oprah Winfrey Show Nick juga mempromosikan sebuah DVD tentang kehidupan sehari-harinya dalam bentuk film dokumenter pendek.
Nick is an alumni at university at the age of 21 in the field of Accounting and Financial Planning. He began his great career as a motivator focusing on the present situation. Nick has spoken at international forums for more than 24 countries in the 5 continents he has visited, including Indonesia. He also produced a lot of his work and the most famous one was a book entitled 'Life Without Limits'. In addition, Nick's The Oprah Winfrey Show also promoted a DVD about his daily life in the form of a short documentary.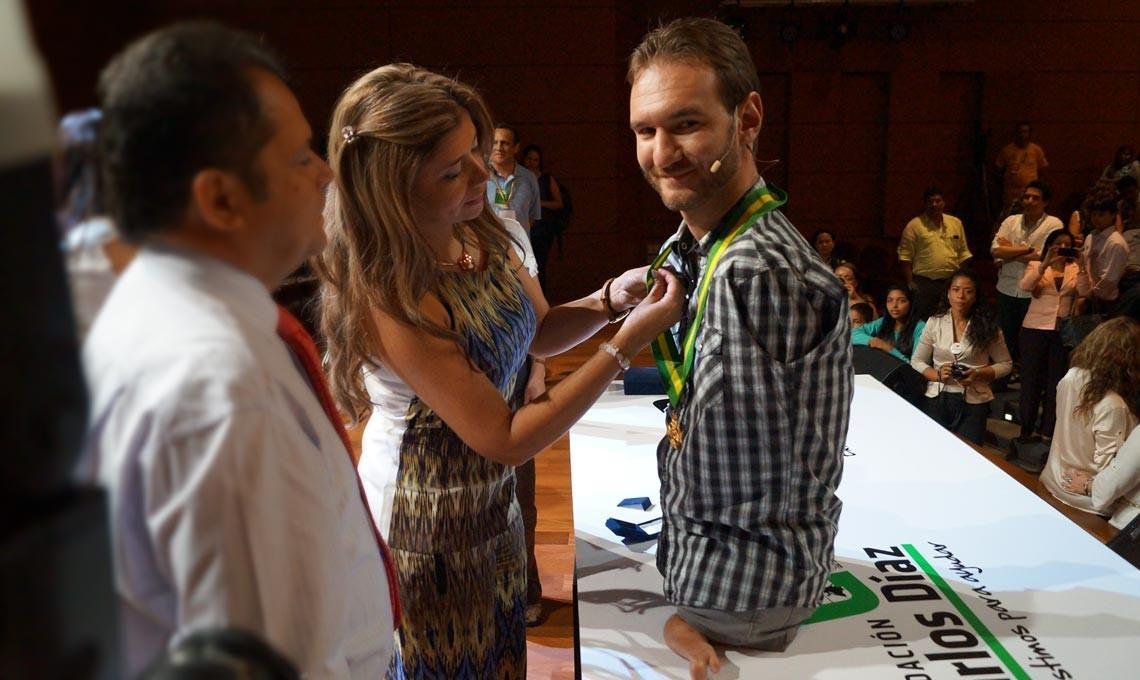 Image source :
Nick juga telah menikah dengan sorang wanita bernama Kanae Miyahara yang merupakan seorang wanita keturunan Jepang pada tanggal 12 Februari 2012. Dan kini mereka telah dikarunianya seorang anak laki-laki yang sangat tampan yang diberi nama Kiyoshi James Vujicic.
Nick also married a woman named Kanae Miyahara who was a woman of Japanese descent on February 12, 2012. And now they have been given a very handsome boy named Kiyoshi James Vujicic.
---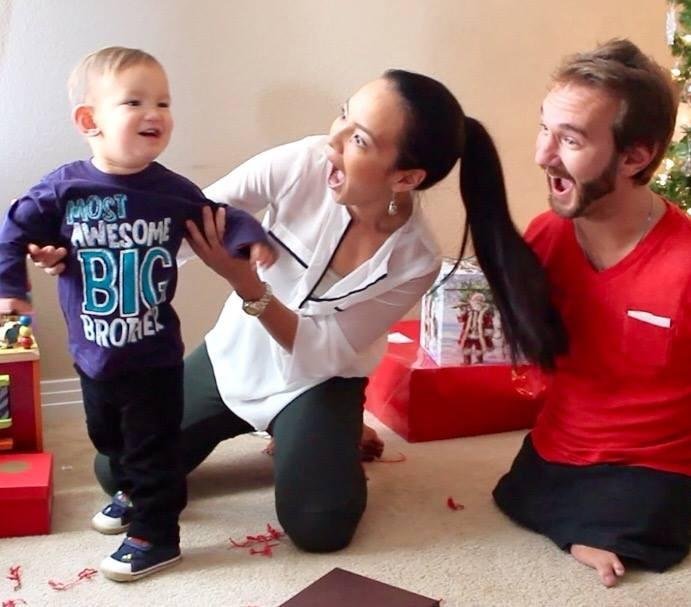 Image source
---
Diatas merupakan sedikit cerita singkat mengenai Kesuksesan Nick Vujicic dengan keterbatasan anggota tubuhnya, namun mampu membuktikan kepada dunia bahwa dia juga bisa meraih kesuksesan. Dengan Keterbatasannya dia telah meraih posisi yang sejajar dengan orang-orang hebat lainnya. Sejarahnya sangat menginprasi, kita yang terlahir dengan kondisi fisik yang sempurna seharusnya bisa lebih baik. Ingat Sukses Itu di Mulai Dari Pikiran Anda, dan Mulailah Berpikir yang Positif Untuk Kesuksesan Anda, Maka Jarak Anda Dengan Goal menjadi Sangat Dekat.
Above is a short story about Nick Vujicic's success with the limitations of his limbs, but is able to prove to the world that he can also achieve success. With his limitations he has achieved an equal position with other great people. The history is very intruding, we who are born with perfect physical condition should be better. Remember That Success Starts From Your Mind, and Start Positive Thinking For Your Success, Then Your Distance With The Goal Is Very Close.
---
Regards,

References :