Once upon a time one poor fisherman was living in a Bardhaman district in Kolkata. He had three children. Everyday he searching for fish in river Ganga through out the day and in the evening he came back home with little money.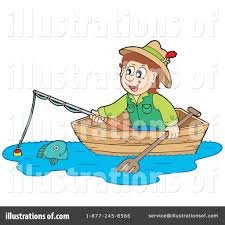 ImageCredit: https://www.illustrationsof.com/213448-royalty-free-fishing-clipart-illustration
Allthough he earned a little but his heart is full of mercy. He throws all little fish in the river Ganga. He only killed big fish.
His wife rebukes him everyday as he earned a very little.
One day he catches a colorful little Golden fish and then throws her again into the river Ganga.Instantly that little fish turned into Goddess Ganga and give him a bag of golden coin. Goddess Ganga also give him another two boon for future reference.
The man was very happy then. He came back home. When he returned home he saw nobody in the house. He kept the bag inside the house and go outside for searching his wife and children.
In between that one old lady came to fishermen house for buying fish. Old lady saw nobody inside the fisherman house. Suddenly She saw
the bag full of God coin. She theft the bag and went away from the fisherman's house.
The fisherman found her wife in the market and told her everything. Every body were running towards home to see those golds. But fishermen time was not good as those golds were already theft.
Her wife rebukes him again for not bringing any food for them.
Fisherman curse his luck and going towards Ganga river and called pray for mother Ganga.
Mother Ganga pleased and gave him a very precious diamond necklace.
Fisherman take that necklace and put it inside his towel and put that towel on top his head to protect his head from sun.
Bad time was sorround the fisherman and good luck not touching him.
Suddenly a big eagle snatched his towel from his head and carried away his diamond necklace within the towel.
Fisherman want to kill himself after loosing the diamond necklace and running towards river Ganga.
When he was already put himself completely inside river Ganga. Goddess Ganga save himself again and give him a single one rupee coin and told him to start a business with that.
Fisherman was toomuch ashamed with that but he takes that coin and buy some fish with that coin.
He went home with those fish. Her wife told him to bring some fire woods.
He went to jungle for bringing some firewood.
He saw a big nest on top of a banyan tree.
He climbed up on top of the banyan tree for bring that nest down as he needs firewoods.
When he bring down that nest he was very much surprised as he saw the diamond necklace inside that nest.
Fisherman called himself "Oh: Maa Ganga you kept my gold necklace inside this nest" . Suddenly one old lady whose name was Ganga hear the sound of that fisherman as that lady kept fisherman' gold coin beneath that banyan tree.
She knew that fisherman well as she theft gold coins from fisherman's house.
That old lady thought fisherman was asking her for those gold coin. So she was very afraid and gave him those gold coin and told him she kept those coin very safely with her.
Good time and also good luck already came to visit fisherman's life, so he takes everything back.
Fisherman and his wife was very happy and they live very happily with their children rest of their life.
Moral: If God gives you wealth, it doesn't mean you must success. Good Efforts brings good luck. Fisherman loose all his wealth but still he tries with a single coin and fortunately he brings back everything.
Never Loose your hope. Everrythings within you. We must success one day if we keep trying.