What better way to kick off new year posts than with a food post...
And, what better than one of our favourite family meals... chicken rice ~ also one of Malaysia's favourite meals!!
So, this is from our favourite shop which only serves chicken rice... this is Chinese or Hainanese chicken rice. There are various types of chicken rice here and even the Malays have their own style of cooking chicken rice... which is usually served with roasted chicken.
Here, today we are talking about steamed chicken which sometimes means boiled whole chickens - not really sure what secret recipe this restaurant has... but it is tender and most importantly, tastes great!


---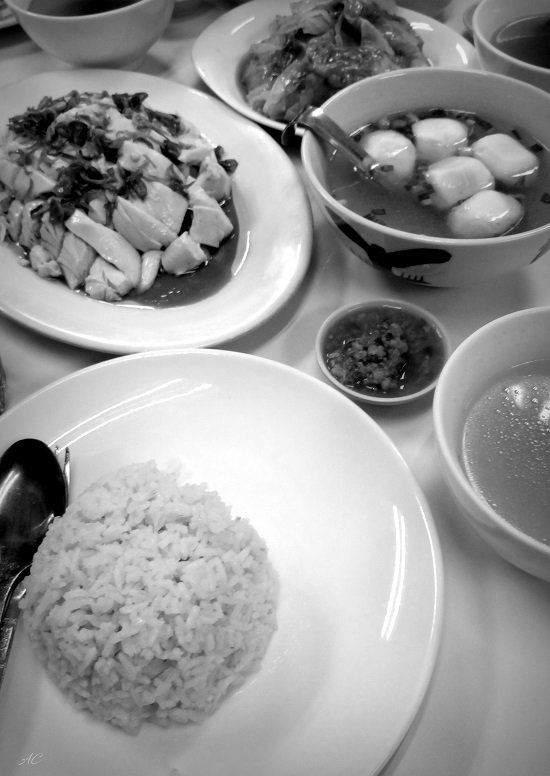 Firstly, I kinda converted this shot to b&w accidentally (don't ask how) and it came out looking quite classic!
B&w is always classic to me!
---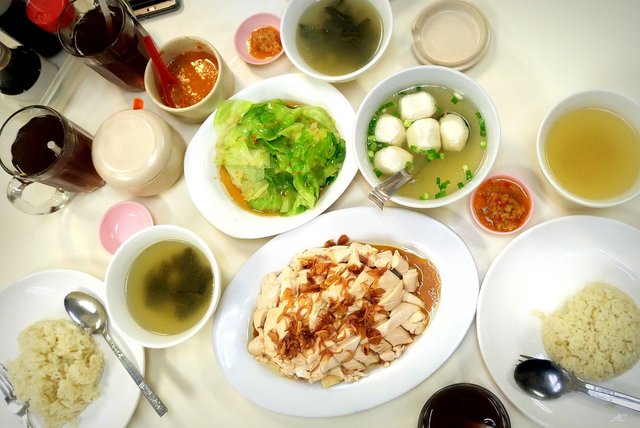 Ok - this is the full range of the dishes we order...
Steamed chicken (breast usually, I love plain meat, no skin, no bones), blanched lettuce, drizzled with some onion & garlic oil, sesame oil - tastes great that way... fish ball soup (niece's favourite; they have chopped cuttlefish as the filling - not my favourite), soup and the rice....
What can I say about the rice....
This is chicken rice which is cooked with the oils from the chicken (see how it is slightly yellow naturally, no colouring) and probably with ginger and garlic - it is fragrant, delicious and people love eating it, even as is...
---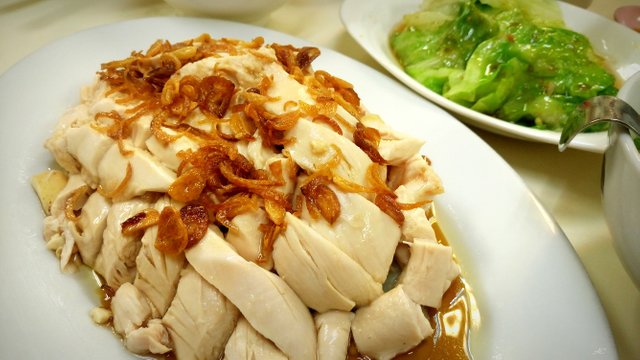 A closer look at the chicken... topped with crispy fried onion (shallots), drizzled with onion oil, soya sauce, sesame oil, and whatever else makes it taste good! 😋
And the lettuce, in the background
---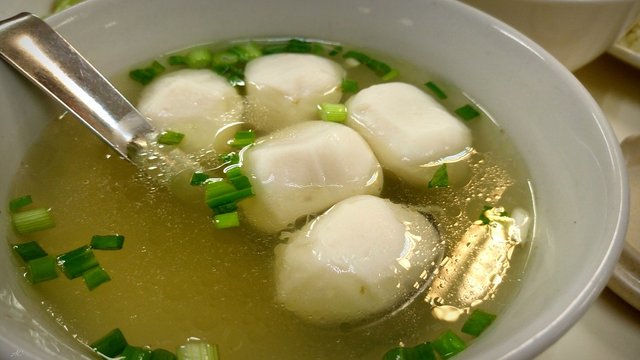 Fish ball soup... with chopped scallions
---
Captured with SONY Xperia M5 | © image & text original content | click image for fullscreen view
---
---
---



I'm with QURATOR... Are you?

Vote for Qurator as a Steemit Witness
via steemit.com or steemconnect