Earning passive monthly income from stocks #2 - Realty Income analysis (O)
Why is Realty Income Corporation (O) a good dividend company and worthy a position in your portfolio?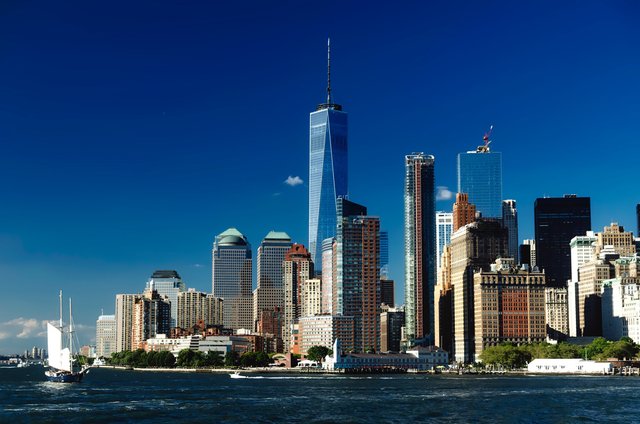 In this article series I will introduce companies that are regarded as the best dividend paying companies in the world. In the last analysis I wrote about Coca Cola, you can find that one here: https://steemit.com/money/@nordal/earning-passive-income-from-stocks-1-coca-cola-ko-analysis
What is Realty Income Corporation and what do they do?
Realty Income Corporation is a company listed on the New York Stock Exchange. The company owns real estate all over the US. They own over 5,300 commercial properties which makes them very diversified. They have a very diversified tenant roster, diversified by industry, and property types. All this together makes them very resilient to changes in the environment and makes them able to deliver increasing dividend year after year.
You can see that their tenants are big names that are familiar. Walgreens, FedEx, 7-Eleven and CVS to mention a few.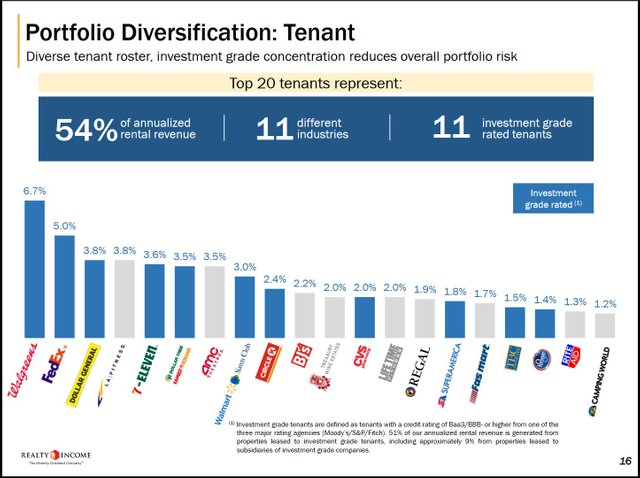 From: https://www.realtyincome.com/investors/investor-presentation/default.aspx
They are a REIT (Real Estate Investment Trust). This means that they are given tax benefits, but needs to pay out 90% of their revenue as dividends. This company has paid dividend for a whopping 575 consecutive months. That's over 47 years in a row. In addition to this they have increase their dividend for 83 consecutive quarters. That means that they are a stable dividend payer, but also increases their dividends over time. Exactly what you are looking for in a dividend company.
The strong benefit of Realty Income Corporation is that they pay dividends on a monthly basis. This means that if you buy the stock you will be paid every single month.
With a stock price of $55.16, Realty Income Corporation serves a 4,79% dividend yield. That means that for every stock you buy, you receive an annualized payout of $2.64, that is paid monthly. This will therefore compound fast. If the dividend yield is not enough to convince you, Realty Income Corporation has also gained a significant stock price increase over the last years.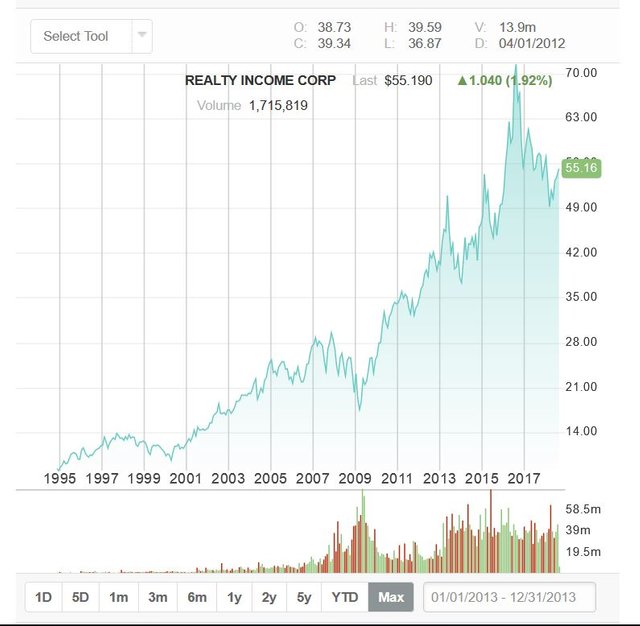 There are though some risks that every investor should be aware of. With Amazon and e-commerce striking in, regular retailers have been hit hard. If this continues it can facilitate tenants from retail to go out of contracts. In addition to this REITS (because of their div.yield) have been very popular with low interest rates. With them on the rise, the pressure on yield and share prices will probably drop down. But as we have seen this has already happened to an extent. Due to this and the diversification of Realty Income Corporation I think the company is well suited for many years of stable dividend payments.
Disclaimer: This analysis should not be considered as financial or investment advice of any kind. The provided information is only for informational purposes.
If you liked this post, be sure to check out my other ones:
In my first entry here on Steemit I tried to explain what the dividend growth investing strategy is. I highly recommend to read this one first, you can find it here:
https://steemit.com/money/@nordal/start-earning-passive-income-from-stocks-dgi
In a later post I introduced readers to the Dividend Kings list, companies that have paid dividend for over 50 years. You can find this post here: https://steemit.com/money/@nordal/how-to-pick-a-stock-that-will-pay-you-increasing-dividend-for-decades