Day 19: 5K to 1 Million - Down to the Wire!
Day 19:
Holyshit what a day!  The started off with the market gapping sharply higher due to overnight China/US positive trade talk.  So I knew that I have to be careful with my positions and be ready to make any adjustments.And as the market soared higher in the first hour, a couple of my positions, SPX and NDX, were immediately in the money. This created a very interesting problem, I can either decide to roll the positions forward to a future expiration for a small credit, or observe the market a bit more.The safer and smarter thing would have been to roll it as the premiums were still in the positive, but a bit of hesitation on my end, and the prices kept on climbing higher, and soon, it made no sense to roll the positions immediately.So I decided to wait and see. I mean SPX gapped up 43 points overnight, so I don't really see too much of an upside.With about 90 minutes left until market close and the price still out of the money on my SPX and NDX Call legs, I almost threw in the towel.But then I saw a tweet from Bloomberg: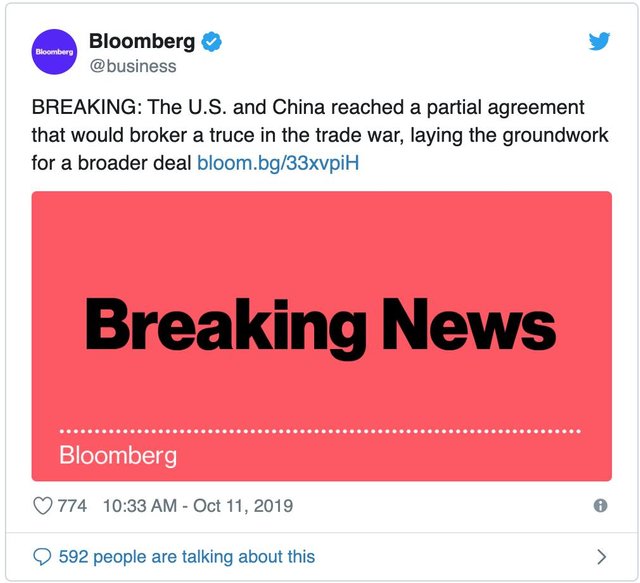 And weirdly enough, the market did not go much higher since the breaking news came out. This is a clear sign that all the traders had already "bought the rumour", so it is very likely that the market had hit a top for today.With this new revelation, I decided to wait a big longer. And sure enough, by the last half and hour of the market, both SPX and NDX started an epic march downwards.
Within the next 10 minutes.  Both of my SPX and NDX positions were back under the strike prices, expiring worthless.In the end, I was 100% profitable on the trades.  But luck had a lot to do with it as well.So I will count this as me dodging a bullet. The good news is that these type of crazy market movements doesn't happen too often. So by having to go through these moments, it will just make my trading skills that much better in the long run.
Model Portfolio (Starting Amount = $5000): Day 19
Model Portfolio total (all calculated AFTER commissions): $6187
Expired positions:
SPX expired 100% profitable
NDX x 2 contracts expired 100% profitable
RUT expired 100% profitable
Current Iron Condor Options Position: 1
VXX expires Oct 25
Position Remaining: 3
Cash Position Remaining: 1
Current Profit Booster Positions
UNG Call expires Nov 15
Crypto Position (I won't keep track on the Dollar value until I sell, as that fluctuate too much)
GTO (3649) starting value = $50
FTM (3649) starting value = $50
ICX (280) starting value = $50
Follow Me on Twitter to get the latest and quickest updates
Disclaimer:
All contents that I produce are for entertainment purposes ONLY and should NOT be construed in any way as financial or trading advice.  All trades that I will be writing about are purely theoretical and should NOT be construed as a real trade.