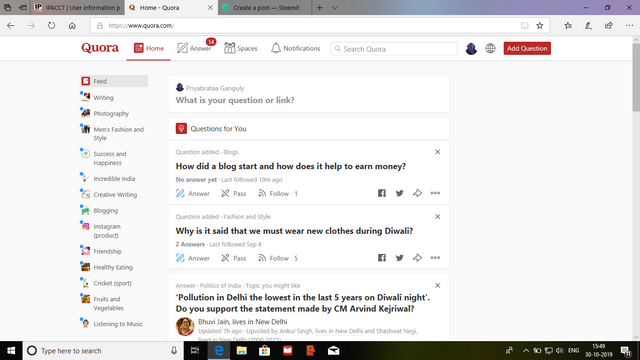 Quora is a very popular US-based questions and answers platform. People across the world ask question or answer here and gain knowledge from it.
It has been a year from now that Quora has introduced a Partner programme where you can earn by just asking questions only. Let me clarify it more.
Quora has made partnerships with various ad companies. When you ask a question on Quora, those ad companies will run ads in your questions and when somebody views or clicks the ad you will earn money. So you are basically monetising your questions. You can earn only by asking questions not giving answers.
How to join Quora Partner Programme
You can't join here in a direct way. What you need to do is ask questions every day on Quora and your questions should be neutral means those questions you are asking were never asked before on Quora. If you remain active for at least a month, Quora will send a mail in your inbox saying that you are invited to join Quora Partner Programme.
Those who don't have an account with Quora just go join there. It is very easy to join.
How will Quora pay you
Quora will pay you through Paypal once you have reached $10. You need to connect your Paypal account with Quora and after you reach $10, Quora will automatically transfer your money in the Paypal account. Quora send money in the 1st Monday of every month. If you did not reach $10 in a month then it will be added to your next month's earnings.
Many people are earning around $1000 per month. So don't waste time and start earning from Quora.
Now I will show you how much the top 5 people are earning on Quora per month.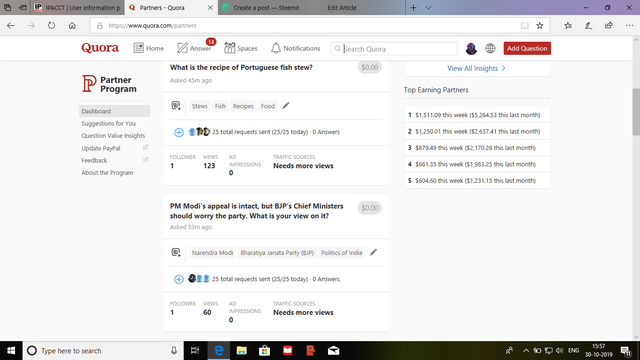 So if they can earn, you can earn also. Next time I will come with another earning plan for you all.