Dollar General (DG) Soon to be Demoted by a Correction?

SUMMARY
This weekly chart of Dollar General (DG) is showing that the full impulse sequence could be in. The blue waves show distinct and crisp placements. Would this be the time to be buying aggressively? I assure you, many are. But what would YOU do?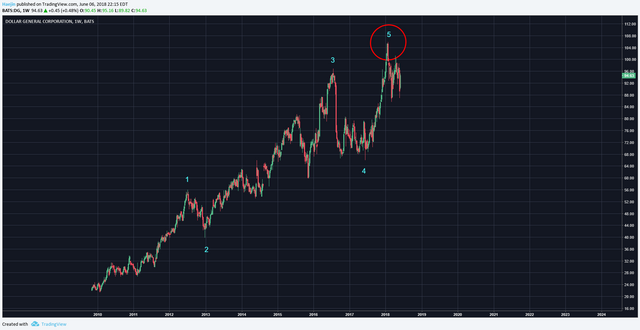 The corrective sequence has been labeled as an ABC and likely, both the A and B waves are complete clearing the way for red C decline. The subwaves for blue 5 show that all circled white subwaves are in! The C wave in this chart targets the prior blue wave 4...but can it go much lower? The next chart shows that scenario.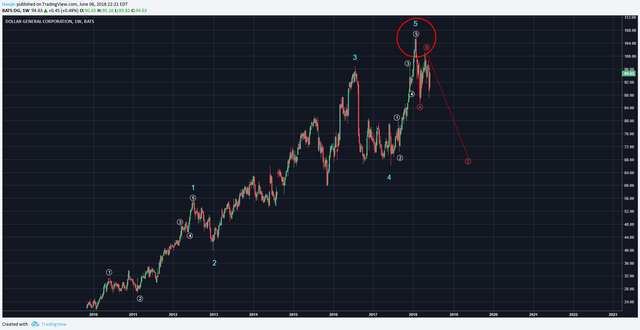 Forward discernment is key to being aware of as many scenarios possible. The intitial abc decline could be the subwaves to a higher degree of trend red A wave. The B bounce could pattern out a H&S top formation as shown by the LS, H, RS labels. Using the minimum measurement for price travel, the could place the C wave to a near 0.938 Fib level..ouch! Be cautious!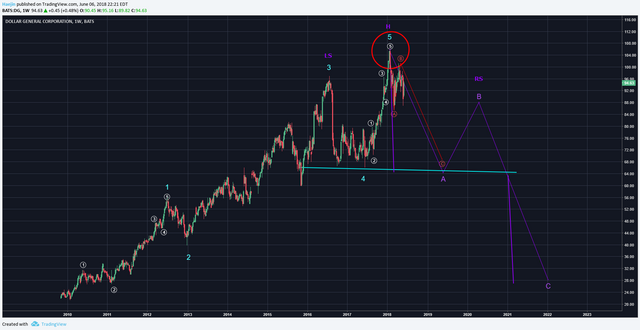 Legal Disclaimer: I am not a financial advisor nor is any content in this article presented as financial advice. The information provided in this blog post and any other posts that I make and any accompanying material is for informational purposes only. It should not be considered financial or investment advice of any kind. One should consult with a financial or investment professional to determine what may be best for your individual needs. Plain English: This is only my opinion, make of it what you wish. What does this mean? It means it's not advice nor recommendation to either buy or sell anything! It's only meant for use as informative or entertainment purposes.
--