BB&T Corp. (BBT): Bull Market Has Plenty of Steam Left!

SUMMARY
BB&T Corp. (BBT) shows the impulse waves of white wave 3 and its subwaves in blue. And it's not complete. As you can see, blue waves 1 and 2 are set but 3 is likely still in progress with 4 and 5 still on deck. The bull run has not completed and even with the white wave 4 correction, plenty of all time new highs are ahead. Still, the profit or loss perspective depends on the time window on expects to trade in.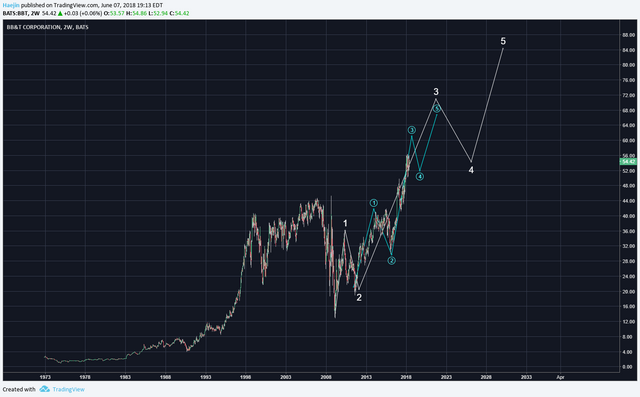 The purple waves represent the higher degree of trend and as it shows, purprle 3 is far from finished. But then, the time for purple three to complete is around the year 2030; so one has to scope the right time frame to enter and exit.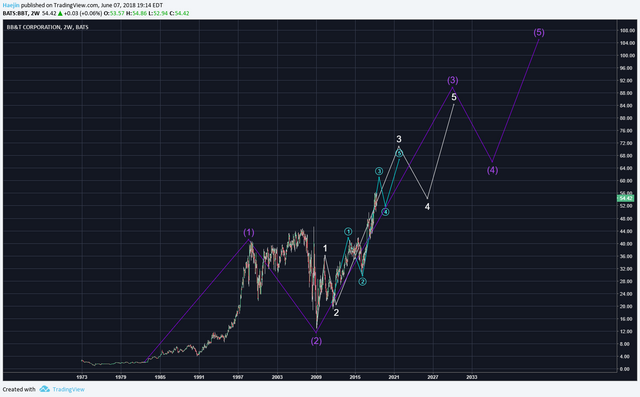 Legal Disclaimer: I am not a financial advisor nor is any content in this article presented as financial advice. The information provided in this blog post and any other posts that I make and any accompanying material is for informational purposes only. It should not be considered financial or investment advice of any kind. One should consult with a financial or investment professional to determine what may be best for your individual needs. Plain English: This is only my opinion, make of it what you wish. What does this mean? It means it's not advice nor recommendation to either buy or sell anything! It's only meant for use as informative or entertainment purposes.
--