TRAVELLING TO AMSTERDAM ON A BUDGET
A simple tip to save tens of euro's which you can spend on something else.
THE AMOUNT OF VISITORS TO AMSTERDAM IS GROWING RAPIDLY
Amsterdam is a popular city among tourists. Over the past 5 years tourism grew over 17 million visitors per year. This is about the total amount of people living in the entire Netherlands. Most of the tourists come to Amsterdam and are having there stay in one of the many hotels Amsterdam has to offer.
During the past couple of years there has been a huge growth of tourists travelling by own car to Amsterdam from surrounding countries Germany, Belgium, France, Denmark and the UK. While parking in the city centre of Amsterdam is scarce and prices are sky high, parking in the city centre is not te best way to go.
PARKING COSTS AMSTERDAM PER HOUR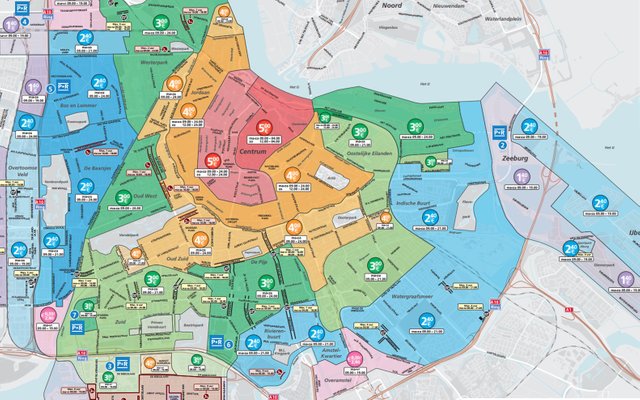 PARK + RIDE CAN SAVE UP TO 49 EURO PER DAY
Around the city of Amsterdam there of 7 P+R areas. You can see them on the above map. All these areas are in close range of public transportation which take you directly to the city centre. Parking on one of these P+R areas can save up to 49 euro a day.
HOW DOES THIS WORK
Parking in a Park + Ride (P+R) car park costs only €1 or €8 per 24 hours – with a maximum parking time of up to 96 hours (subject to exceptions).
The rates are calculated like this:
Enter on weekdays before 10:00: €8 for the first 24 hours, then €1 for subsequent 24 hour periods
Enter on weekdays after 10:00: €1 per 24 hours
Enter in the weekend: €1 per 24 hours
To get the P+R rate it is important that you travel to the city centre by public transportation using your OV-chipkaart or P+R GVB card which must be purchased within one hour of parking. It is also important that when returning to the P+R that you travel from within the city centre.
When you return at the parking area you have to submit your parkingticket in the machine and hold your OV-chipkaart or GVB card against a scanner. If your last checkin was from a city centre stop then your total parkingcosts will be reduced.
Note; if your last checkin was not in the city centre then you will have to pay the full amount, which ranges from €1.40 to €3.50 per hour depending of the P+R area.
EXTRA TIP
When visiting Amsterdam make sure to check out the website Iamsterdam.com. This site offers a lot of great information on all sorts of things.
If you like some more personal information from an insider feel free to ask for any tips. We'll be happy to help you.
Have a great day and remember.. Always GoCoconuts 😉
Sources for this post
www.nrc.nl/nieuws/2016/07/07/drukte-in-amsterdam-in-vijf-jaar-verdubbeld
www.iamsterdam.com/en/visiting/plan-your-trip/getting-around/parking/park-and-ride