Last night Stipe Miocic regained the UFC Heavyweight Championship from former two-weight Champion Daniel Cormier with a fourth-round stoppage. As much as I want to talk about the magnificent achievement of Miocic, I can't shake the feeling that this was a fight that Cormier let slip away. To borrow a cliche, Cormier was guilty of snatching defeat out of the jaws of victory.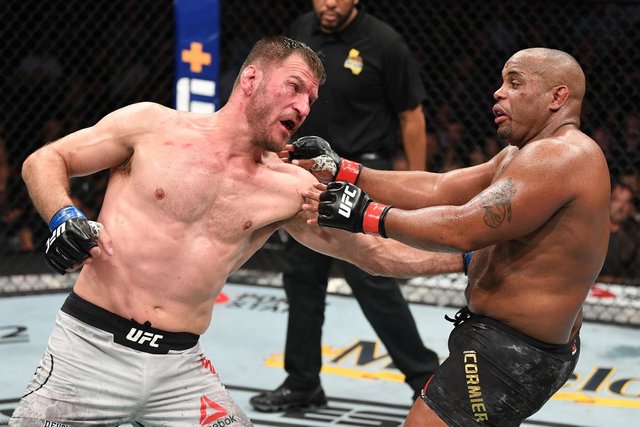 "Embrace the grind."
That was Daniel Cormier's motto.
Cormier was a fighter that took pride in being able to out-hustle and out-last anyone. With his awkward stand-up and fast hands, he would harass his opponent, close the gap and implement his wrestling.
Aside from Jon Jones (and to a lesser Alexander Gustafsson) none of Cormier's opponents have been able to live his wrestling and work ethic.
Last night I didn't see that guy.
Last night I saw in Cormier, a guy create a blueprint on how to win the fight in the first round, then proceed to spend the rest of the fight tearing up the same said blueprint.


As exciting as the second round was, I found it unbearable to watch.


Tuning in to watch a UFC main event I expect to see elite fighters fighting at the peak of their powers.
The second round of this fight proved to me that both Cormier and Stipe are fighters on the wane.
Stipe looked tentative and lost in the first couple of rounds of the fight. It is possible that he hadn't quite shaken the demons of their first encounter.
In the first round, Cormier did what he was supposed to do and took full advantage. He beat Miocic to the punch on the feet and eventually taking and holding him down. Normally once Cormier starts taking you down it the beginning of the end for his opponents.
However, in the second round, Cormier inexplicably neglected his wrestling and started to engage in a slugfest with Stipe. Cormier standup defense isn't the greatest at the best of times however he completely neglected it after the first round.
If you would have told me any fighter would have allowed Stipe free shots to the head, I would have expected to see that fighter knocked out. However, Stipe's punches had nothing on them and both fighters engaged in a 'you-hit-me-I -hit-you' back and forth.
I had Cormier winning the all three completed rounds however I could understand why his corner was imploring him to take Stipe down. However, I can understand why his corner was pleading with him to take Stipe down and wrestle him. Cormier had turned what was looking like a routine win, into a toss-up.
It was a lifeline that Stipe clung to
Eventually, Cormier's caviler approach caught up with him and in the most glaring way imaginable.
In the fourth round, Stipe caught Cormier with a left hook to the body. The strike landed clean and had Cormier's attention. Stipe threw another left hook to the body, again it landed clean. Then another one landed. And another. It was stunning how quickly the tide was turning with one simple adjustment.
It was clear that the body shots were designed to bring Cormier's hands down and sure enough Stipe caught the unsuspecting Cormier with a one-two up top that had the Champion reeling. Cormier was done. Stipe followed up with a flurry of punches before referee Herb Dean intervened to put Cormier out of his misery.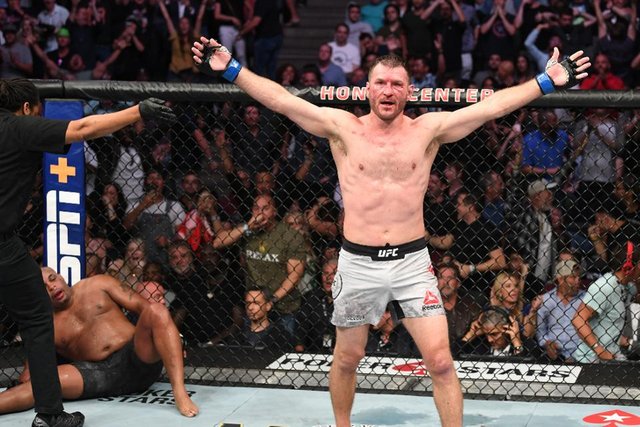 It was a sad end for Cormier, who had previouisly looked unbeatable at heavyweight.


In the end, I think hubris got the better of Cormier. It's a bit of a wrestlers curse in MMA. After the success of the first fight, knocking out Stipe, Cormier neglected his wrestling base and fell in love with his hands.
The question remains, is Cormier still in love with MMA or is this the last time we see him in the Octogan?