7/13/19, Bantamweight Division (135 pounds)
This fight could be really good!
Urijah is a tough fight for nearly anyone. This is his first fight since coming out of retirement. He looks to be in very good shape as always. He's obviously on the tail end of his career so as a sports nerd it's memorable and historical to see him fight again during presumably his last run at the belt.
But his young, hungry opponent is looking to re-retire the old vet. Ricky Simon looks like the real deal! He seems like a younger more athletic version of Urijah. If Urijah didn't look so hungry I'd say easy dub for Simon.
I say these dudes throw down in a savage fight with Simon and the legendary mullet getting the win.
---HOW IT REALLY WENT DOWN↓---
Not much to say but they traded for a little bit and then Urijah just dropped Simon with a strong overhand right that sent Simon to rocked city and then Faber finished strong like a veteran.
I am for sure surprised, I sort of thought Faber was past his prime. KO finish in 46 seconds.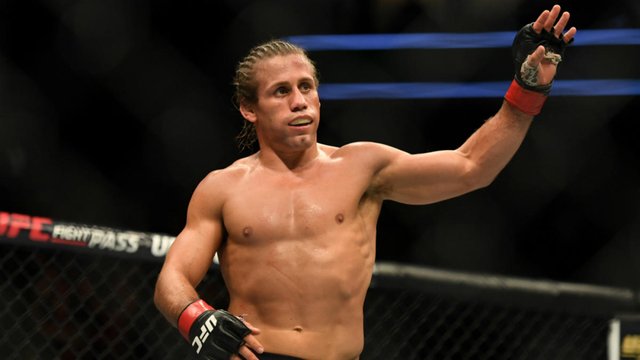 Source
The California Kid still has some juice in him. I'm interested in what happens next for him.
In his post fight interview Faber said he is very much willing to accept Henry Cejudo's fight invitation. I would like to see that for sure! I like Cejudo in that one. Nobody will underestimate Faber's age after this one. Who knows though thats why MMA is so entertaining!