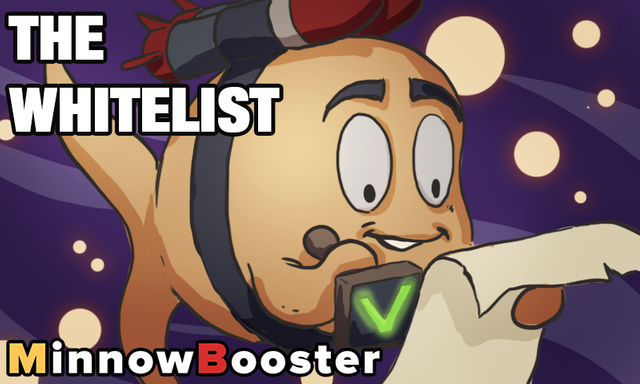 ---
Greetings from @MinnowBooster! A while back we asked our users a very important question. The question was 'How important do you view the whitelist to be and is it an effective tool to increase the quality of posts promoted with MinnowBooster.'
This question was posed in the post linked below:
https://steemit.com/minnowbooster/@minnowbooster/a-fork-in-the-path-ahead
As many of you already may know it has been more than 9 months since we introduced the MinnowBooster Community managed whitelist.
The list allows already established and respected members to invite other users, whose blog quality they deemed high and eventually, vote them into the list as well.
The main questions we posed in the post above can be found in this paragraph below:
Should we scrap the whitelist, allowing every MinnowBooster user equal but increased profit, making our services much simpler and more transparent?
Don't most of us belong on same profitability scale with equal access for all?
The responses were overwhelmingly negative about removing the whitelist as a large number of users weighed in claiming they truly believe it provides value and makes the post promotion service much more legitimate.
We want to let you all know that we've listed to your views and opinions and have decided internally that although changes may need to be made to the whitelist, overall it is a force for good and a needed community tool!
Your voice matters to us!
We do hope to develop the whitelist further and improve on its current state as we believe there is still much room for improvement.
If you are curious about the whitelist and would like to learn more feel free to check out this amazing post recently published by @mvd to get the full scope of the project:
https://steemit.com/dtube/@mvd/nao3e9cf
Thanks for using MinnowBooster!
---
BuildTeam is one of the few service providers on Steem that runs and maintains its own RPC servers. Maintaining this infrastructure is expensive. If you want to support the growth of Steem network outside of Steemit.com, consider using some of our services, this helps to pay the bills, keeps the machines running and helps us incubate great developer talent within BuildTeam. The easiest and most effective way to support BuildTeam is to delegate to Minnowbooster or enable vote-selling within the https://minnowbooster.net user settings. For other options to help BuildTeam secure and grow the Steem community, contact Steem witness @thecryptodrive.
---


| Visit our website for more info! | Subscribe to our YouTube Channel |
| --- | --- |
| | |

We are always looking to improve @minnowbooster and try to keep you up-to-date whenever something changes. If you have any suggestions about what we should change or add to @minnowbooster, then please drop by our Discord server and let us know!



Minnowbooster is a @buildteam project by
@thecryptodrive (witness), @cryptomancer and @reggaemuffin (witness)
---
This is a @steemvoter subscription payment post. Thank you to Steemvoter customers for allowing us to use your Steem accounts to upvote this post by virtue of your free subscription to the Steemvoter.com bot service. @steemvoter is proudly a @buildteam brand and sister project to @steemsports, @btuniverse and @minnowbooster.