Hey all... Been a hectic two weeks.
Turns out if you run a crypto currency project on Google Cloud Platform, you have to spend $2,500 every three months or they will shut your project down even if you don't use that much resources.
Anyways... VY256 Miner is back up on a more amenable host and the updates continue.
1.8.1
Fix: Moved core shortcode instructions to its own page.
Fix: Balance update in PE during action for Dashed Slug use.
Fix: Admin log fixed to be manageable for large user bases. (Who would have thought this would be used on sites with thousands of users?)
Add: Functions moved around to appropriate folders.
Add: (Major) Streamlined the VY256 miner UI to look like an XP bar and to consolidate space and streamline. Feel free to send feedback. Progress bar text colors can be modified via shortcode (see VY256 shortcode page)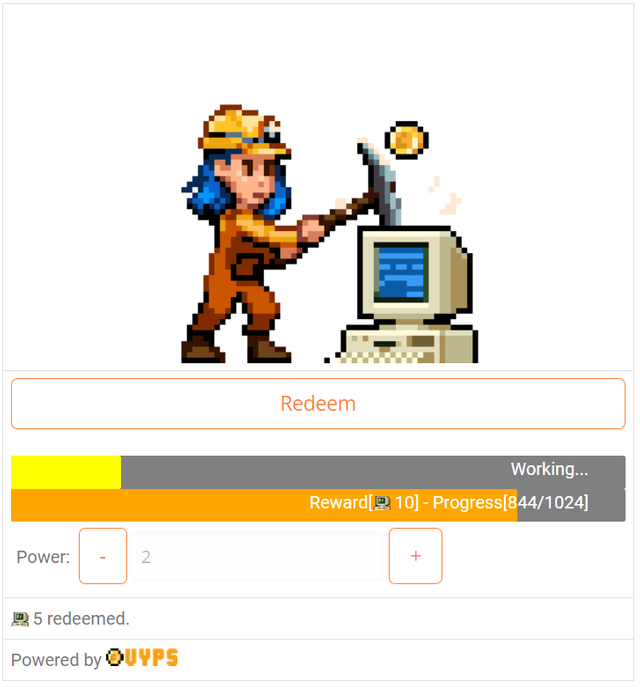 Download to update found here:
1.8.0
Note: As of this update, the VY256 Mining server is down pending approval or service provider switch in next 48 hours. See VidYen Discord for details.
Fix: Made it so if Adscend reports a refund that it doesn't double count double negatives.
Fix: Update server meta for the VY256 Miner and increase stability of server connection
Fix: Fix of non-numeric error in VY256 Miner. It still means an issue is going on the VY256 server side, but will fail a bit
more gracefully now.
Fix: Consent shortcode text= actually works now.
Fix: Public balance rows= also actually works now so you don't have 10,000 users on a single leaderboard page.
Add: Localisation options for non-english sites in VY256 miner. redeembtn=, startbtn=
Add: Although should be a pro-feature, added the ability to specify your webminer server if you want to use your own using our webminerpool fork.
Add: Put the disclaimer in the consent button so it goes away when clicked. Use shortcode disclaimer= to use a custom version.
1.7.3
Fix: Added SQL Fix for leaderboard to show correct rankings and to not include deleted users if still had point balance.
Fix: Resolved a "Warning: call_user_func_array() expects…" on the user profiles.
Fix: Some server side fixes on VY256 Miner for stability.
1.7.2
-Fix: Raffle ticket purchases not working depending on no one else buying one before you.
-Fix: Added feature that if you want to prevent users to not hit F5 and buy another raffle ticket via refresh=true (off by default as it will break a lot of themes)
Fix: Removed base vy256.com from the list of fail over servers as no longer used in list.
https://wordpress.org/plugins/vidyen-point-system-vyps/
Otherwise you can download by searching for VYPS or VidYen in your WordPress plugin section on your site.
Any technical issues feel free to ping me on my Discord:
Developer rambling...
It has occurred to me this whole ordeal with Google has made me realized we are a bit more centralized than we should be. Its great to just have a plug and play server that anyone can connect to so they can mine XMR without knowing how to run a server, but it dawned on me I should not be against letting other people just host their own Webminerpool
So anyone can download it... Follow the instructions and just run their own pool if they wish with the VYPS WordPress plugin without ever talking to our servers (the only thing I am seeing is XMR wallets and IP addresses that connect as no account or email reward), but I would not be opposed to people running their own fail safes since it does not cost me anything directly as a loss.
Which is why I want to get the multi-wallet donation system setup up... Currently the VY256 Miner donates to me and Notgiven688 (the original open source author) respectively, but I feel like this system could have a third wallet respectively.
That said... If you do want to run your own server, feel free to reach out to me on discord and I can be of assistance. You will need to be familiar with Debian, Ngnix, and Linux in general so its not as simple as running a WordPress page.
In other news... I am going to functionize VYPS a bit more for 3rd parties and per user requests I'm going to hook into Mycred Plugin as it is a similar system but doesn't handle rewards and honestly, I don't want to get into awarding users for engagement on bbPress or BuddyPress because Ad rewards and browser mining is my thing.
Thanks for you time!
-Felty
Also setup a Patreon for ease of development donations!
https://www.patreon.com/vidyen