DISABILITY is NOT a DISADVANTAGE || LA DISCAPACIDAD NO ES UNA DESVENTAJA
Lately I have been very interested in reality TV,it started off when the cable channels had some network error. I decided to watch a channel that I would rather check nor focus. So as I stared at the TV I seen all types of things, most of which had people who have some kind of disability of some sort. There was little people, big people, obsessed, deformed even some were kids missing limbs. To me I would always pity those disabled but I came to an understanding that the disable are more able then I could ever be. The will power of each individual is very unbelievable. Despite each and every down hill battle they make it work. They always say that the mind is a the most powerful and it changes people. I seen blind people who self care themselves , I seen a man with no limbs live a normal life married with a child, I seen an obsessed lady dance like there is no tomorrow to empower obsessed woman , I seen people writing without hands, people walk without feet, people who despite there illness, disease, disability or disadvantage make there life work and not be in a pity hole. A disability is not always a disadvantage, its how you see your life will determine the outcome. If you think of who is really those who conquer there disabilities and manage to outcome obstacles like being stared, mocked and ill treated in society or those with lack of knowledge who paralyzed themselves thinking they cant just because of one curve ball. Disabilities are not always mean that one is disadvantage, you are disadvantaged when you dont try.
-----------------------------------------------------------------------------------------------------------
Últimamente me ha interesado mucho el reality, que comenzó cuando los canales de cable tenían algún error de red. Decidí ver un canal que preferiría revisar o enfocar. Así que mientras miraba la televisión, veía todo tipo de cosas, la mayoría de las cuales tenían personas con algún tipo de discapacidad. Había gente pequeña, gente grande, obsesionada, deformada, incluso algunos eran niños que perdían extremidades. Para mí, siempre me compadecería de los discapacitados, pero llegué a un entendimiento de que los discapacitados son más capaces de lo que podría ser. La fuerza de voluntad de cada individuo es muy increíble. A pesar de todas y cada una de las batallas cuesta abajo, hacen que funcione. Siempre dicen que la mente es la más poderosa y cambia a las personas. He visto a personas ciegas que se cuidan a sí mismas, he visto a un hombre sin extremidades vivir una vida normal casado con un hijo, he visto bailar a una dama obsesionada como si no hubiera un mañana para empoderar a una mujer obsesionada, he visto a personas escribiendo sin manos, personas que caminan sin pies, las personas que a pesar de la enfermedad, la enfermedad, la discapacidad o la desventaja hacen que la vida funcione y no se encuentren en una pena. Una discapacidad no siempre es una desventaja, su forma de ver su vida determinará el resultado. Si piensas en quiénes son realmente quienes conquistan las discapacidades y logran llegar a obstáculos como ser mirado, burlado y maltratado en la sociedad o aquellos con falta de conocimiento que se paralizan pensando que no pueden solo por una bola curva. Las discapacidades no siempre significan que una es una desventaja, estás en desventaja cuando no lo intentas.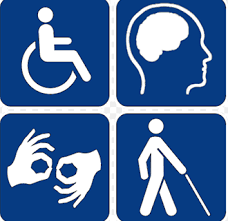 source