I am sitting here thinking how weird or interesting we all are.
I look at my niece who is 3, she does not care about anything except playing, eating and sleeping. Then I look at my mom who is 53, she is either worried or sick most of the times. I think about my mom being 3 years old, some good 50 years ago - she must have been the carefree wild child. But then what happens to us all?
Life happens - we live, we laugh, we cry, we make memories, we get attached to people. Life is amazing no doubts here and Life is what you make it - so as they say - *Love, Live and Laugh*
But sometimes it makes me sad how a human comes to life and then passes away. I have no idea about how it feels when a loved one passes away but even thoughts of this kind bring me to tears and scares my soul.
---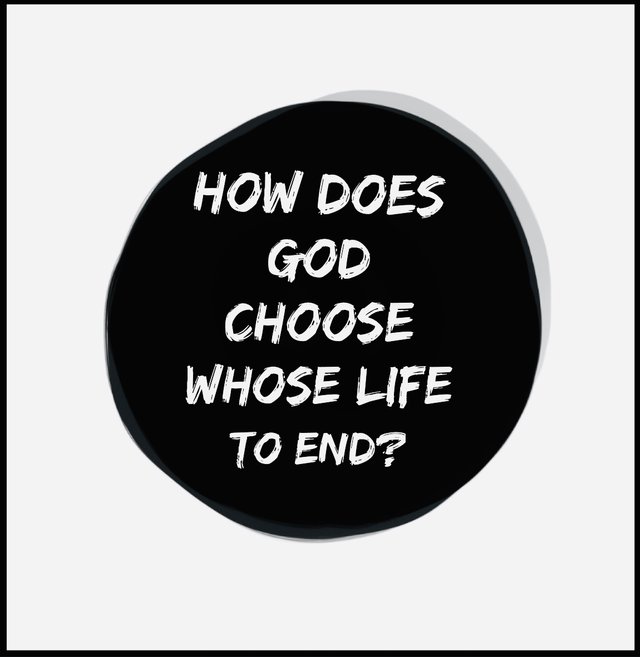 Why and How did God chose Jyoti?
I had a friend in school, her name was Jyoti. We lived nearby and we used to study in same class. So she was one of those friends who would help me with homework when I would take sick off and I would do the same for her. We used to walk home from school together. Along the way, we used to witness how Sunlight would come from behind and then go farther along the road - this is a very interesting phenomena, not sure how many people have noticed it. Sometimes I would go to her home, we will sit and study together.
Then one day, she got sick. It all started with a cough after eating Panipuri(a famous spicy Indian street snack). Then her conditioned worsened, she was admitted to a hospital. I still remember that one day we were sitting in classroom. It was 10th standard, her condition was getting worse but she came to school that day and said to me that she badly wants to give 10th board exams. She loved studying and was more worried about the study loss she was incurring because of her bad health.
But then she was in hospital permanently, months were passing. Her mom would tell my mom that Jyoti is missing me and I should go visit her. I visited her but just once, I visited her with another school friend - she was in hospital, she was so week & thin and all she said to us is "I want to complete my computers homework, give me your notebook". I am crying while thinking all this, but this is so painful to think she is not with me today. I had no love or attachment to her at that time, she was just a nice class mate who lived nearby. But I feel sad about it today when I understand what happened to her.
She was as studious and amazing and full of life as me. But then I wonder why would God do that to her, just take her life away all of a sudden? I don't think her karma of this birth was bad enough to take her life. She was just a child, it was 2009, we were just 15 years old. It could have been me but he chose to end her life.
Her family was devastated. They did everything they could to save her, they sold their house for medical expenses. Their financial conditioned got bad. After she passed away, her mother used to tell me, how she still feels Jyoti is sitting on her bed in her room. Her mother gave birth to another girl child after couple of years which she named Radhika.
Jyoti came in my dreams after that - The dreams are always of kind where she is asking me for help and I am not trying enough. Sometimes I get scared when she comes in my dream but then other times I just feel guilty on why did I just visit her once in all those months? Logically when I think - I was just 15 and honestly nothing that was happening with Jyoti made sense to me in those days. But then I just try to be not too hard on myself.
The point is - She is not here today and nobody cares except her family and a few people like me who used to be part of her daily Life. All this makes me wonder, do any of the stuff we keep worrying about matters? Do anything I am trying to achieve so hard matters? Those dreams that I am decorating every day and night, do they matter?
They do because this is all that is keeping me alive and entertaining my soul. But I would like to erase the worrying part and the negative thoughts part from my life as much as I could, or infact from anyone's life.
I will be in ashes in the end. The end can be tomorrow or even today. Who knows.
When I got sick months ago, one particular day, I felt I am going to die today - It was a real feeling, I saw sunlight and I was ready to go. I was in extreme pain and I wanted to end it too. Whenever I tell this to my family, they say I overthink and nothing else.
But I think about Jyoti, why would God do that to her and her family? She was just 15, Karma did not cause her early departure. What was it?
I keep thinking on and on, riding on an emotional train.
I am firm believer of God, the Karma Cycle and the cosmic energy but sometimes I have my doubts, my questions.
Sitting here, confused and questioning everything I believe in - I know Universe will send a response, a justification, an answer, It always does.