After a week of sitting in hospital participating in a cancer drug trial, my father got to enjoy 24 hours at home before waking to a terrible fever and headache. My mother drove him into emergency where they sat all day, waiting for tests to come back and the wealth of doctors to figure out what it was that was wrong with him. Eventually the diagnosis was pneumonia of the left lung, which seemed a little strange as other than the fever there was not a lot to indicate that he had pneumonia.
When mum rang to say that they were in hospital I felt that familiar fush of concern that feels like pain, a tightening of the chest. My thoughts went to the worst case scenario. Taking three deep breaths as I sat perched on a log in the garden, listened to the birds and felt the cold wind on my face, I noticed my concern arising in my body and tried not to identify with it so that my whole being that afternoon became about concerned and grief and anxiety. I watched a pelican fly over head and in the distance kookaburras sang in it's hilarious way. In breathing so, and observing the ebb and flow of life around me, peace arose.
This is the way life goes. All life. Birds, ants and fathers alike.
On the two block walk to the hospital the following afternoon, I noticed coloured stones outside the hospital. Upon them were painted rainbows , words and phrases designed to uplift and inspire. I thought about the person who left them there, and the kind intention behind their action. I watched tall thin man with a cigarette pick up a stone and spin it between two long fingers. For a moment his cigarette was forgotten as he closed his eyes and raised his face to the sky.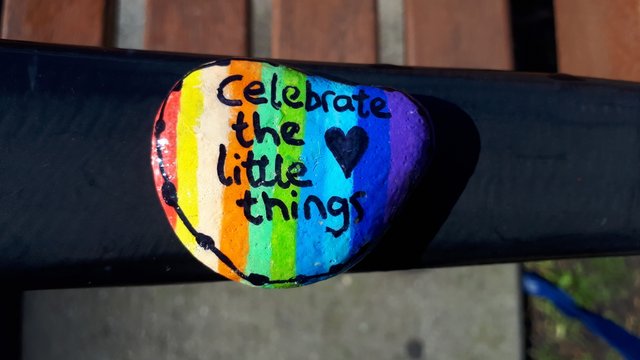 When he left I went and read the words on his stone. I wonder if the man was appreciating the little things, like the sun on his face or a memory of someone he loved. How beautiful the reminder to pay attention to the little things, to celebrate them even in tiny ways - a memory, a turning of the attention to something other.
And so that afternoon my dad and I talked about a book we read about a Land Rover adventure across the Congo. We talked about wicking beds. We talked about my auntie, who is currently being treated for a mental illness. We talked about the tawny frogmouth owls in his garden and what pests possums are. We talked about what a gem Mum is, and how kind and compassionate his doctors were, and how my little nephew found gold last week, and how nice Australian salmon tasted when home smoked. We talked about all kinds of little things. There seemed to be much joy despite the uncertainty.
Tonight, Dad rang to say that he had a staph infection via the Hickman line. It means that there's a chance he'll be kicked off this trial as the delivery of three days of antibiotics will skew the time line. He was looking forward to a couple of days at home too, but that's unlikely this week. I talk him out of his disappointment and depression, and he comes round quickly, knowing that next week might have an up, before there's another down, and then an up again. It is what it is, he says sagaciously.
He then turns the conversation to the view outside of his hospital window - the clouds gathering over the You Yangs (the mountains near Melbourne), the sparkling of the light on the water over Corio Bay. It's the little things that keep us going. You just got to remember to focus on them.
---
---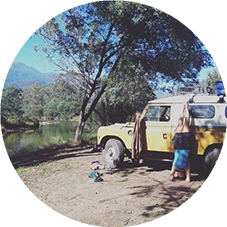 @naturalmedicine II Discord Invite II #naturalmedicine



Discord 🧘About