How will marketplace lending become a mainstream investment asset class?
By Sai Hnin Aung, Founder of MicroMoney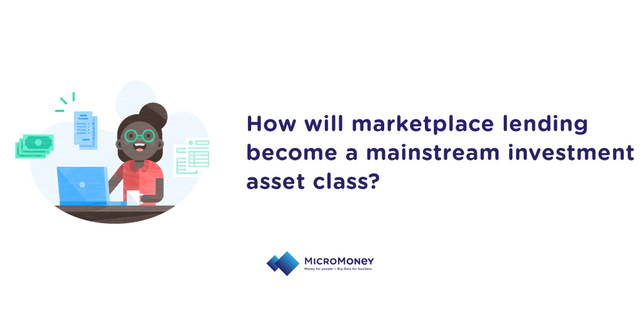 Globally, people are not able to overcome poverty and to increase their living standard as lacking of access to financial services.
Most of the people live in still developing countries and poor places fall into poverty because of health problems, financial setbacks and other personal cases. Another major issue for those living in near poverty is the lack of the banking services. There are number of ways they can try to transit out of poverty as adopting new farming technologies, investing in new businesses or searching for new jobs. But the most common way for them is to get loans from the unofficial moneylenders to solve their problems temporarily. For being unofficial lenders, the interest rate is much higher and the borrowers can get threatened when they cannot afford to pay the money back. This can seriously make them live below the poverty line. Therefore, an effective strategy for fighting poverty is lending market, in other words, microfinance which is a way to promote economic development, employment and growth through the support of finance to individuals and small enterprises. It can assist people to weather setbacks and stabilize their finance over the long run.
To live above the poverty line and to raise the living standard, lending market plays a crucial part. Marketplace lending matches borrowers and lenders through online platform. MicroMoney focused on micro-financing in the money lending industry is to provide the best solution to individuals and small enterprises for meeting their financial needs. If you are in need of money, MicroMoney provides you online loans without any collateral requirements. By just following simple steps to fill in the application form on MicroMoney app, you can get loans. Using machine learning algorithms, a loan is approved in just 15 seconds and are able to deliver the funds in one hour. According to the results that the branch of MicroMoney in Cambodia makes the business profitable within three months and MicroMoney Myanmar is equally showing stable performance growth, it is no doubt for me that people including you get familiarized with financial service online and the lending market will continue to grow in the future.
Through the use of online platform, technology advancements and crisis and issues related finance are coupled for the flourishment of marketplace lending. The investments in lending market include real estate deals, secured business loans, loans for students and more. The platform of marketplace lending has many advantages over the traditional financial institutions. Lending market is of advantageous platform both for investors (making higher returns) and for borrowers (lowering the interest rate). Marketplace lending has consistent returns with lower volatility. So, it is said to be one of the best investments for high return rates. A clear example is that you only have to look at those in your environment who make money by supplying loans unofficially. It is one in a million that these unofficial lenders face losses and are not provided any profits. To get the benefits as a high and steady payout, low volatility, low correlations to equities and limited sensitivity to the short duration of interest rate, the credit risk are bearable for investors.
From the investment perspective, what find interesting is that the loans are amortizing. For being short duration loans, you can pay principal and interest each month. Lending market is beneficial to investors for making investment in an asset class which is self-liquidating and paying lenders back every month. Marketplace lending is profitable for you (if you are interested in investment) for giving ability to access new asset class. From the borrower perspective, getting a small loan for satisfying their financial needs via online is such an attractive way for them instead of dealing with traditional institutes. And there are many advantages like easy, fast application process, lower interest rates, fixed interest rate and no penalty if borrowers pay off the loans before due date and many more compared with credit cards and traditional banking. So, I believe there are many advantages you can get by being a part of marketplace lending.
To conclude, lending market provides microloans to those who are financially poor entrepreneurs and starting small businesses with the absence of access to banking and banking related services. Most of the marketplace lending industries intend to satisfy the financial needs of people by helping them to be out of poverty. It enhances chances for people to participate in the world of economy. Marketplace lending through online is one of the fast-growing sectors. Many lending industries like MicroMoney will be larger in number.
Therefore, what I want to suggest is that there are many opportunities for investors to invest in marketplace lending as a mainstream investment asset class.