Frank's music did much more, his songs pulled me back from the abyss of severe damages of "rape", stealing my innocence at very young age. Depression was not my choice. Living life and learning about forgiveness was and still is my path. 
Frank Zappa, The Legend's poster is hanging finally in my toilet :) not in "Joe's Garage, Disc1)"....Click for the full album 
I was and still am a HUGE fan of the great Frank Zappa and finally I got myself this poster on my last visit in Hamburg. I found the perfect spot for one of the masters of my youth. 
Am I weird? 
I wonder what my airbnb guests think.....hahaha ...oh well
Shot with Hipstamatic - 1982 lense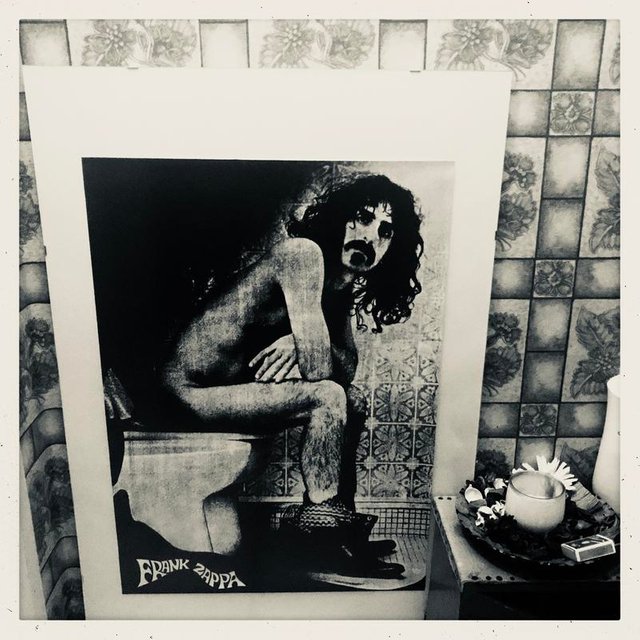 Zappa is famous for many songs with "nonsense" lyrics, he often said that he didn't care much about them but when he applied himself to serious lyric writing, it was pure poetry, I got lost in. I asked myself many times if I was even cool enough to listen to this stuff:)  
Joes' Garage, the track really captures the nostalgia for anyone who jammed and hanging out with friends in their youth. Those friends kept me alive!
My Article from 8 months ago when I spent much more time producing quality content :)
READ ON >>>>
Why Does It Hurt When I Pee And How to Find The Mirror Of Infinitive Magic?
Good question my beloved Frank Zappa, dream lover of my teenage rebel years! Oh well, it is a kind of silly question in some ways but don't you know those moments when not only your pee hurts ? Your whole body is in pain of all nonsense you have to deal with on a daily basis. - Mammasitta
It doesn't really matter , just keep mind open but choose well if you open your heart!

Frank Zappa Interview Collection - 1967 to 1993 (9 Hours)
Listen carefully!
Yours @mammasitta 
Keep on spreading the MassiVe Vibes and also follow @massivevibration....ssss