TeamMalaysia Meet Up with Ladies of Asia - 28 July 2018
It's been a while since my last post and also a month and a half ago since I last met the TeamMalaysia gang. So I was delighted when they decided to hold a meet up on a Saturday evening. Since I started my new job in June, I have been occupied and this is a good distraction from work.
First stop was Heun Kee Claypot Chicken Rice in Pudu. Pudu is somewhere I usually avoid because of the congestion and limited parking space. Not to mention the hygiene and crimes around that neighbourhood. However, it is a heritage part of Kuala Lumpur that is perfect for photography and hidden are among gems of famous eateries. I am a huge fan of traditional restaurants that isn't commercialised and take no short cuts when it comes to their food preparation and menu. I arrived slightly late because the traffic jam in Kuala Lumpur. But was delighted to meet everyone and was immediately welcomed by all food that was served. What's amazing was that the claypot dishes were cooked using charcoal. The aroma of food cooked with charcoal is irreplaceable. Food were amazing as was proven by the long line up.

From left to right: @aaronleang, @littlenewthings, @elizacheng, @halleyleow, @livinguktaiwan & Simon, @joannewong, @jrvacation & husband, @zord189. On the left is where the magic takes place. You can see all the claypots being cooked over burning charcoals.

@elizacheng, @jrvacation & husband were busy catching up while food arrived.

Claypot chicken rice - the signature dish of the restaurant and it was a dish to savour for all food aficionado.

@zord189 says he can finish 8 of the claypot chicken rice by himself. So much for Fats Be Gone Saturdays.

Side dishes we ordered were fish head curry, pork belly peppered soup & vegetable.

Hmmm... you can just smell the taste of burnt charcoal when the claypot is being stirred. Drinks they ordered is the sour plum juice.

@zord189 wasn't being shy to dig in. Thanks to him, I got a lot of decent food on my dishes as I was busy photographing and didn't have time to serve myself. hehe

@livinguktaiwan from Hong Kong & UK and currently residing in Taiwan, I am sure she has come across a lot of amazing dishes such as this bowl of claypot chicken rice.
Next stop is Restaurant Ruby Dessert. This is also one of the traditional restaurants that serves desserts.

This restaurant signature dishes are paste such as sesame, egg custard and peanut.

We came here just a month and a half ago and came back to because we have to bring our guests to try this traditional dessert place.

Photographers can never resist capturing the shots of their savoury desserts.

@zord189 was stuffed. But he couldn't say no to his peanut + sesame paste.

@littlenewthings ordered the same dish as @zord189

@ladiesofasia members - @elizacheng, @livinguktaiwan & @jrvacation
---
Thank You For Reading My Post. I am most passionate about photography and eager to help fellow Steemians to improve on their photography skill. I am happy to give free tutorial, offer advice and step by step instructions to help you take better photos. You can contact me on Discord at orangila#9358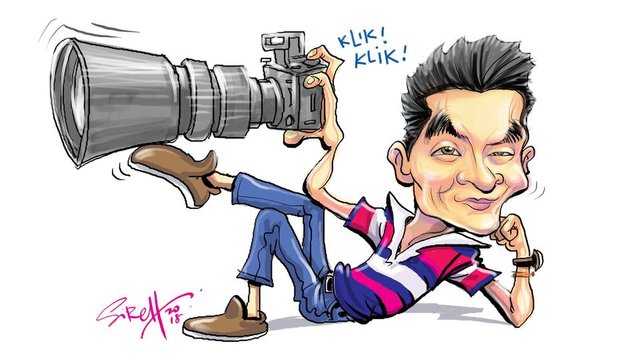 Caricature by @sireh