Last night I had a meetup with @daan and Jeanine in Leuven. The meetup location was in a bar called Capital, the meaning behind its name indicates « beer capital » as it has hundreds of beers!

the menu book
I ran into @daan on Steemit accidentally, he is a rather early crypto adopter and an active member in bitcointalk. He writes about how he makes money by posting on bitcointalk forum, take a look if you are interested.
It was great to meet @daan and Jeanine. We were talking about how many Steemians there can be in the city, I'm sure more than two and we should find a way to spot them.
@daan is also a beer expert. During my stay in Belgium, I've learnt so many different beers but he still got more beers to introduce, for example, this Cantillon is the sourest beer ever. It's so sour that almost tastes like lemon juice lol.
Great meetup!
---
Location: !steemitworldmap 50.880269 lat 4.702925 long d3scr
---

昨天我去见了Steemit的朋友们Daan和Jeanine。我是无意在Steemit上面逛的时候发现了他们。Daan是算早期就入币市,也是bitcointalk论坛的资深用户。他之前发文写过怎么靠在论坛发文赚钱,非常厉害。这两天比利时天气很好,实属不常见,晚上大家都出门喝一杯。我们挑在Capital这个酒吧,是鲁汶啤酒种类最多的酒吧,有好几百种。我在比利时待了6年左右,对啤酒也算是很了解。没想到Daan是个啤酒专家,他介绍了一些我从来没听过的啤酒,比如一种酒叫做Cantillon,世界上最酸的啤酒。我尝了一下,好像柠檬汁,味道很奇异,据说是Daan的最爱,不过还是挺好喝的。
有意思的一次聚会,希望下次更多聚会。
---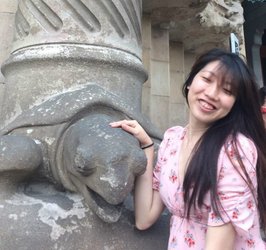 Joy is a half-time world traveller, half-time Steemit blogger, based in Belgium.
You are welcome to leave any comments below. :P






(Badgets by steemitboard.com - Thanks to @arcange! )