Last Sunday, @bitrocker2020, @joannewong and I have come out with a totally unplanned roadtrip down South to Singapore, the Lion City to support Steemit Bootcamp which was organized by @maverickfoo.
We started off our journey at 12AM from KL down to Dengkil R&R for some late supper before hitting down the road towards Singapore. The traffic is light as there weren't a lot of car anymore on the road, weather is very nice and the moon is lighting up the night sky.
Since the traffic is perfectly smooth, I just chill drive down the highway with even the PosLaju lorry is able to overtake me like I'm a traffic 🙈. Finally, I broke my own achievement for driving the longest distance within 24 hour with a total of 785km clocked from KL - SG - KL.
We arrived at Johor Bahru (JB) around 5.30AM and the side quest of finding a place to have our breakfast, lots of the shop and restaurant are still close at that time which we end up having KFC near the waterfront overlooking Singapore.

Johor Bahru on the Left; Singapore on the Right
We chill around until 6.30AM then head down towards Woodland Checkpoint to drive across to Singapore. With the JB and SG immigration checkpoint cleareance done and getting my AutoPass at the Toll Office, we finally driving into Singapore.
There were some light raining pouring down while we're on the way, took us another 20 minutes to reach Visioncrest Commercial at Orchard road. Road in Singapore is very smooth and almost pothole free 👍🏻 as well.

That Building opposite us is Visioncrest Commercial
Luckily is only SGD 3 flat rate parking on this building which isn't a big damage on the pocket 😅, parked the car downstairs and time for the car to get some rest after this long journey.
Steemit Bootcamp
Bootcamp kickstart at 9.30AM with @maverickfoo teaching the new Steemians about Steemit, basic functionality, community and writing techniques to produce content. We have an early break at around 11AM after the introduction of Steemit and it's functionality.

Speaker of the Day, @maverickfoo

Steemians learning in progress
After the lunch break, continue off the bootcamp with some writing technique using @maverickfoo's favourite writing app, the Most Dangerous Writing App and chunking idea of topic what to write.
Ending the bootcamp with @bitrocker2020 giving some statistics, technical and witness talk about Steemit and answering some of the question the Steemian had in mind. Lastly of course, mingling around with all the Steemians together and wefie 😉.

Don't stop typing

@bitrocker2020 giving his talk
Dinner at Pepper Soup Bak Kut Teh
@maverickfoo brought us to this Bak Kut Teh restaurant which serves​ Pepper soup as their soup base. I personally never had this before and the soup spiciness​ is just nice as well.
Around 7.15PM, it's time to head out back to Kuala Lumpur before the peak traffic strike at the checkpoint. We managed to get out from Singapore before 8.30PM with a slight moderate traffic at the checkpoint and it's been a wonderful and tired trip.
We reached back to KL around 12.15AM safety and we are looking forward again to come back Singapore for another round of Steemit perhaps 😬.
---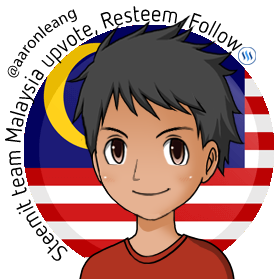 Contact me at Discord:
AaronLeang✌️#5270
Why Steemit?
Unlike other social media platform out there, you can actually earn some reward by creating good quality contents, comments, and community projects in Steemit!
What's the Cost?
You do not​ need any initial​ capital or money during the entire process. Just sign up for an account and voila~, you're on your way to earn some STEEM yourself​.
Like this Post?
You can support this post by giving an upvote, comment or resteem! I appreciate it very much ​and thank you for the support

---
Stay Tuned, Keep Calm and STEEM On!