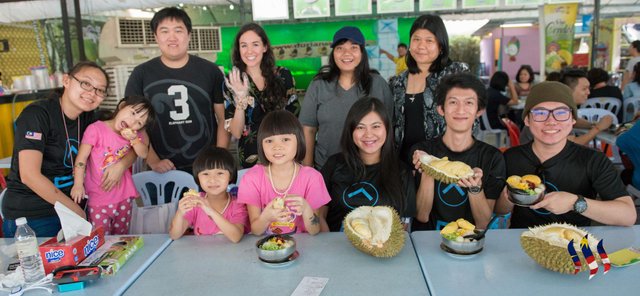 After the MyJuniors event has finished, it is time for our Saturday Foodie Tour to begin with @zord189 picking up @nomadicsoul and @howtostartablog who came all the way from another State (Malacca) at downtown KL whereas @joannewong, @macchiata and I head over to meet up​ with them at our first food stop, and some other Steemians ( @elizacheng, @karinzdailygrind and @orangila ) joined us as well.
The main purpose of this Foodie Tour is to bring​ our guest from overseas, @macchiata and @nomadicsoul to try out some of our local food around Malaysia. All these events are possible to happen​ is all thanks to Steemit which connect us together online and offline!
First Stop (Appetizer/Starter) - SS2 Durian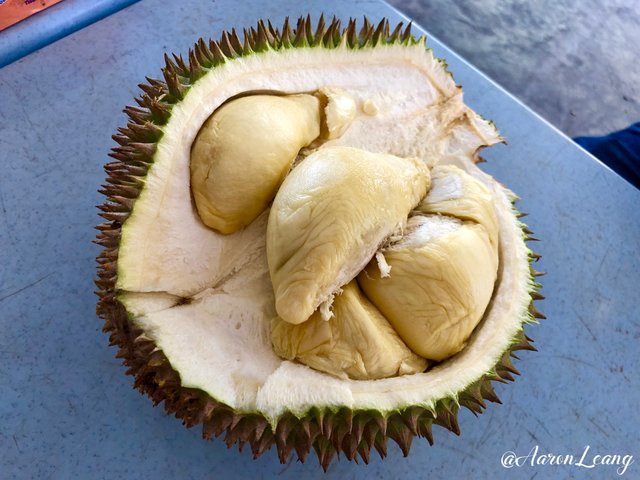 D24 Durian
Durian, King of Fruits is always one of Malaysian's favourite which we think it represents​ one of the must-try​​ local food in Malaysia if it's either your first time visiting here in Malaysia or even South East Asia!
Due to our usual durian spot wasn't open for business that day, we have to quickly look for a ​replacement for the first stop and we ended up at SS2 Durian.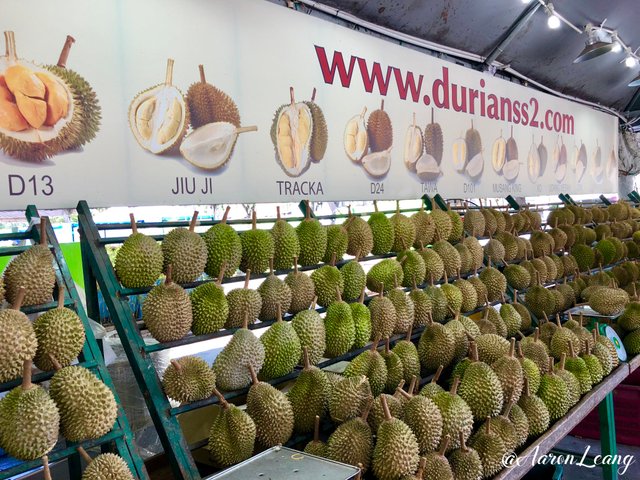 SS2 Durian Stall

Everyone was very happy meeting and greeting each other even though​ some of us is a bit tired from MyJuniors event but that didn't stop us from​ talking​, laughing, eat Durians and taking photos. It's ​somewhat ​awesome after party for MyJuniors for @elizacheng as well.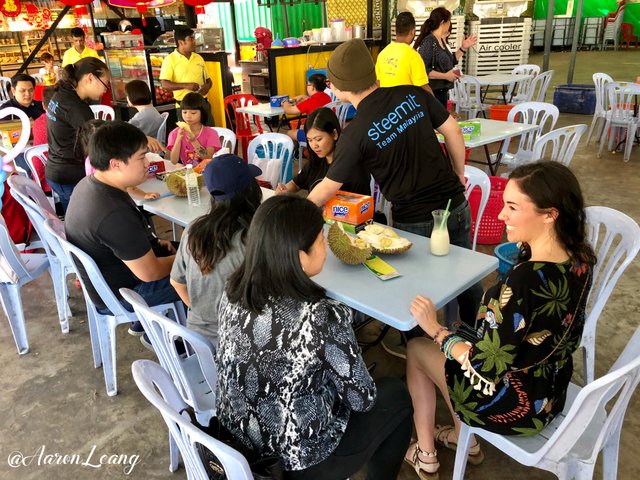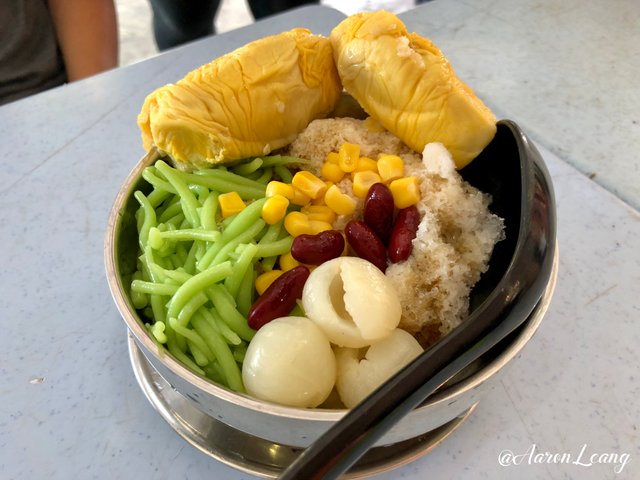 @macchiata & @karinzdailygrind both tried out this D24 Durian cendol

@karinzdailygrind need to excuse herself for her "Private" dinner event and wasn't able to join us for dinner but it does take​ her quite a long time to excuse herself as she has a non-stop​ talking between @nomadicsoul 😂.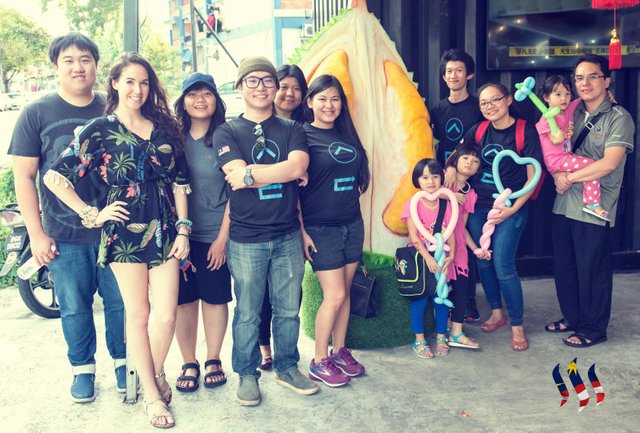 A group picture by @orangila before we are off to dinner

Second Stop (Main Course) - Yu Kee Bak Kut Teh, SS14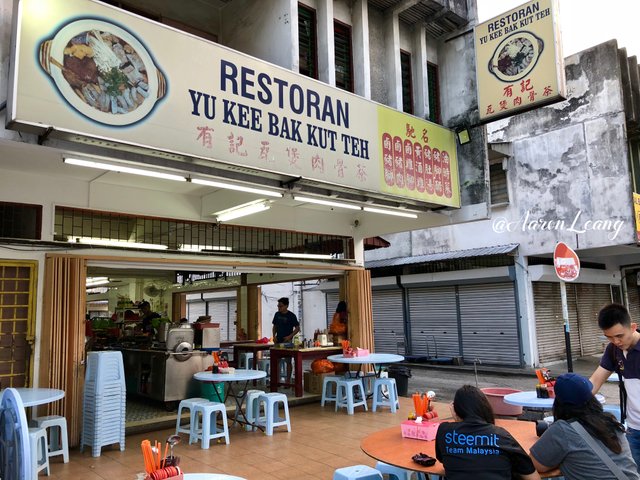 Arrived early 😉 for dinner

Bak Ku Teh which is a mixing​ ingredient​ of pork rib​, meats, bean curds, enoki mushroom and tofu cooked in a mixed herb broth and it's​ served in a clay pot​ is another famous must try out local food during your visit in Malaysia.
​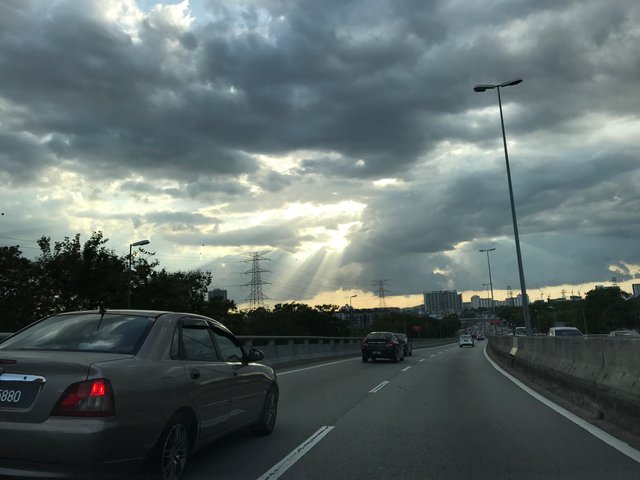 Sunshine beaming out from the cloud forming some nice scenery​. Photo by @joannewong

While on the way to SS14, we came across some nice sunray shining down to mother earth which makes​ it a must take scene for content 😬. Arrived early at Yu Kee Bak Kut Teh around 6.30PM, I special arrange an outdoor seat to cater our guest as it has a windy breeze ongoing.
Sending up the ​order to kitchen shortly after our guest arrives​, food was served up within 15 minutes as the​ kitchen wasn't​ as busy as they should be. Before eating, a chopstick lesson was given by @zord189 for our international guest, to be followed by photo session by @orangila and food into your mouth.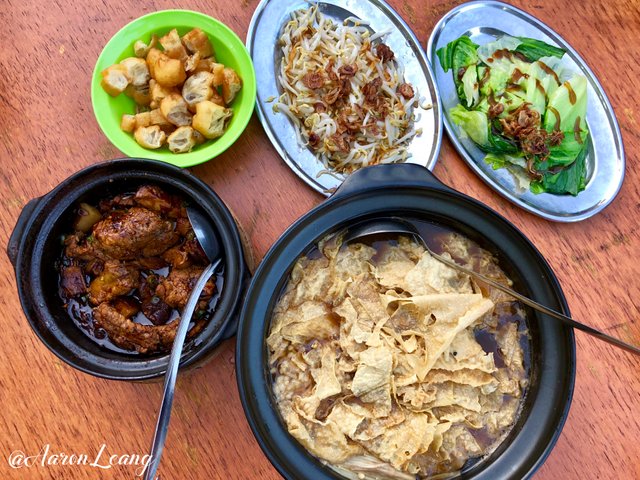 Bak Kut Teh is served along with the other vegetable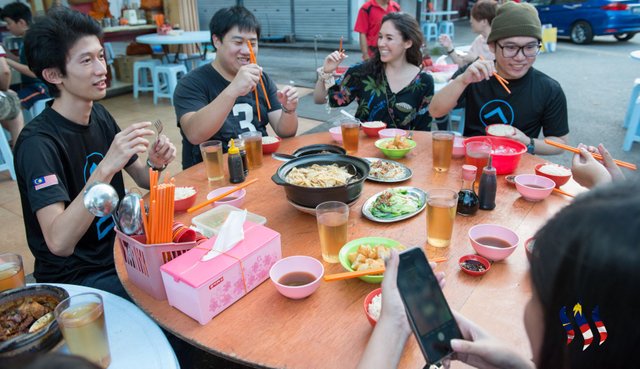 Chopstick lesson by @zord189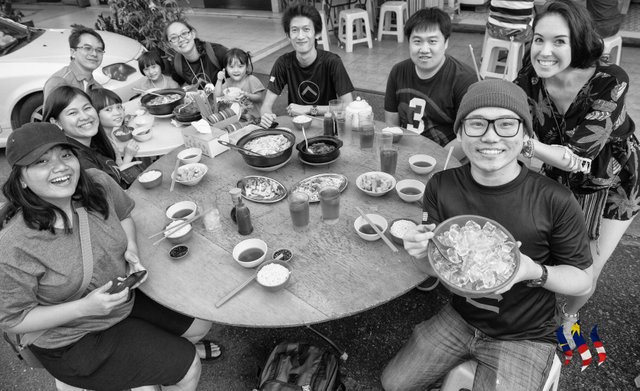 Black & White group wefie by @orangila before we start eating
Ending our dinner with a super full stomach, @orangila had to excuse himself as he has​ another event by #teammalaysiababes to attend, and @elizacheng needs to excuse herself as well to bring @halleyleow, @ryennieleow and @vinnieleow back home to call it a day.
Final Stop (Desserts) - Nasi Lemak Bumbung, Seapark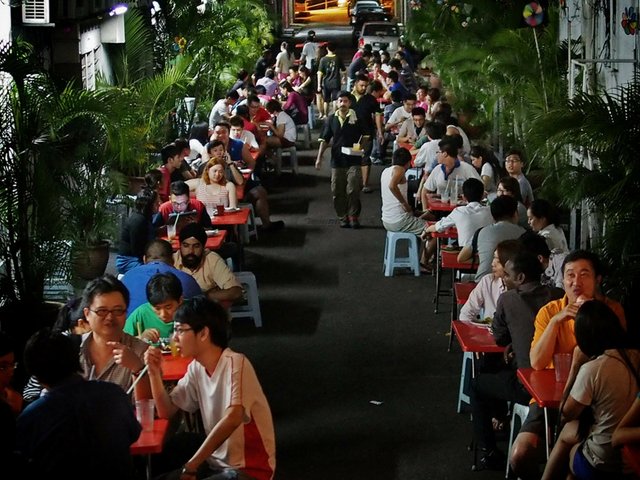 Mamak behind a back lane alley, source

You might think desserts should be ice-cream, cakes or something sweet which it isn't for that night. As a special request from @macchiata that she wanted to try out Malaysian "tea-tarik", we killed two bird with​ one stone by​ fulfilling​ @macchiata tea tarik request ​and letting her try out Nasi Lemak too by visiting one of the famous mamak in Seapark by a small back alley.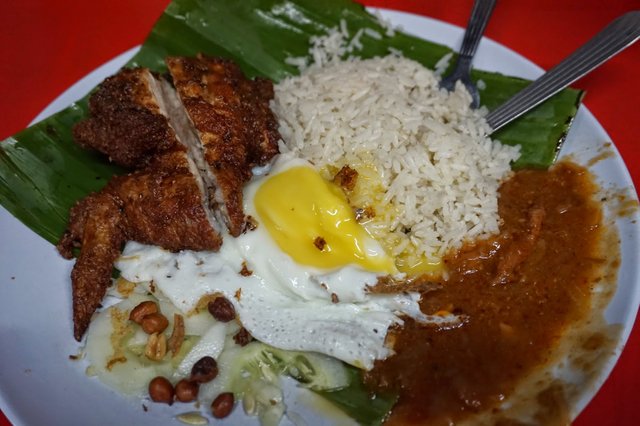 Famous Nasi Lemak Bumbung, source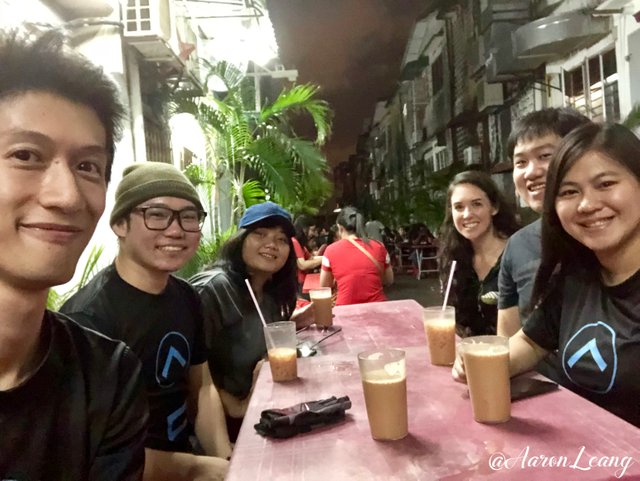 Wefie again for the night
We chill and chat the whole night while @macchiata fulfilled​ her craving after our Durian and Bak Kut Teh combo 😂, but tiredness started to undertake​ in each of us and we had to end our meetup even though​ is just 11 PM​ and call it a day.
---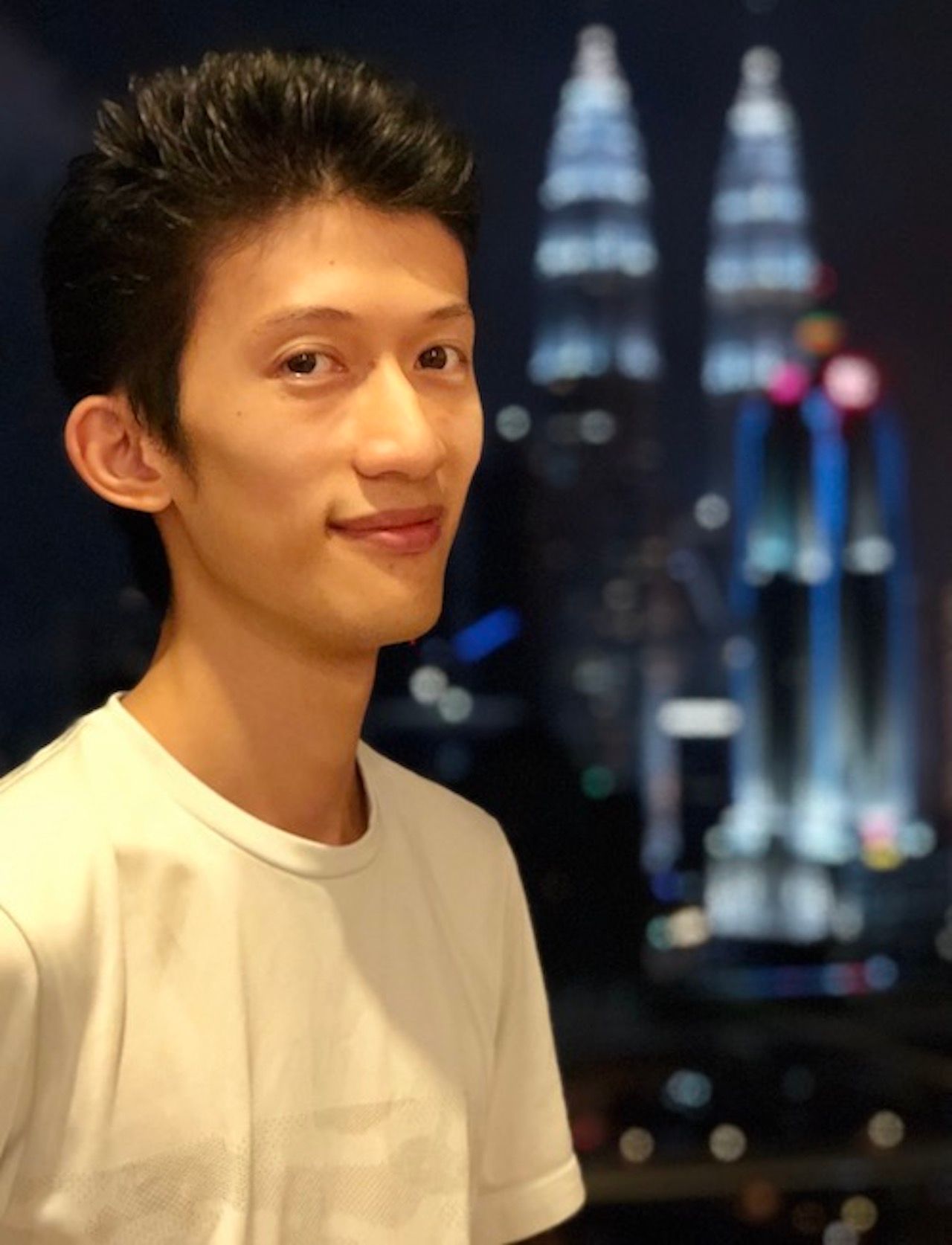 Contact me at Discord:
AaronLeang✌️#5270
Why Steemit?
Unlike other social media platform out there, you can actually earn some reward by creating good quality contents, comments, and community projects in Steemit!
What's the Cost?
You do not​ need any initial​ capital or money during the entire process. Just sign up for an account and voila~, you're on your way to earn some STEEM yourself​.
Like this Post?
You can support this post by giving an upvote, comment or resteem! I appreciate it very much ​and thank you for the support
---
Stay Tuned, Keep Calm and STEEM On!