Introduction:
I am soon to be a certified pathologist in Norway.
Pathologist look in the microscope and make diagnoses based on a morphological analysis of the pathological tissues sampled.
The field of pathology is certainly going to undergo major changes in the years to come, where the microscope is going to be replaced by image analysis only (digital pathology) Peter Bankhead et al., Lab Invest. 2018 Jan;98(1).
However, I am a little uncertain if blockchain technology will be implemented as well, because it has some aspects that will make it very suitable as a use case. The images could be stored on the blockchain forever, and pathology is a very international field, so it is possible to collaborate with people across borders.
Right now I am mostly working with soft tissue tumor pathology:
Most soft tissue tumors are benign (i.e. lipoma), but sarcomas are very rare tumors, with benign entities at a ratio of 100:1. Most tumors are originated from the mesenchym (the mesoderm). The term sarcoma from Greek (sarx is flesh), meaning "fleshy tumor".
They are very rare tumors:
In Norway approximately 170 case of soft tissue sarcomas and 44 bone sarcomas are diagnosed yearly (The Cancer Registry of Norway, 2013).
I will put some description on some of the cases in sarcoma pathology and other fields of pathology, but with out any mention of particular cases or images (only Wikipedia images for now).
Solitary Fibrous Tumor
---
Definition:
---
A fibroblastic tumor displaying a hemangiopericytoma-like growth pattern with staghorn vessels.
General:
---
Solitary fibrous tumor (SFT) is rare tumor that was formerly called hemangiopericytoma.
In the WHO classification 2013 the entity is called SFT.
Usually middle aged aged adults (20-70 years).
Can be localised almost everywhere.
The symptoms are few as the tumor grows as a slow growing painless mass, but compression symptoms may arise (e.g. orbita and nose).
Some tumors may metastazise.
Macroscopic description:
---
The tumor is often well-defined (1-25 cm) with a multinodular, whitish and firm cut surface. Infiltrative growth and necrosis can be seen in malignant variants.
Histologic description:
---
Very varied cellular presentation, displaying a patternless pattern with hypo- and hypercellular areas separated by thick hyalinized collagen
Dilated and branching vessels (staghorn) with perivascular sclerosis can be seen
The tumor cells are dispersed along thing collagen bands and are oval, spindle shaped with sparse cytoplasma and small elongated nuclei with indistinct nucleoli
Some pleomorph cells may be seen
Usually few mitotic figures (< 3 mitoses/ 10 HPF)
Histologic images:
---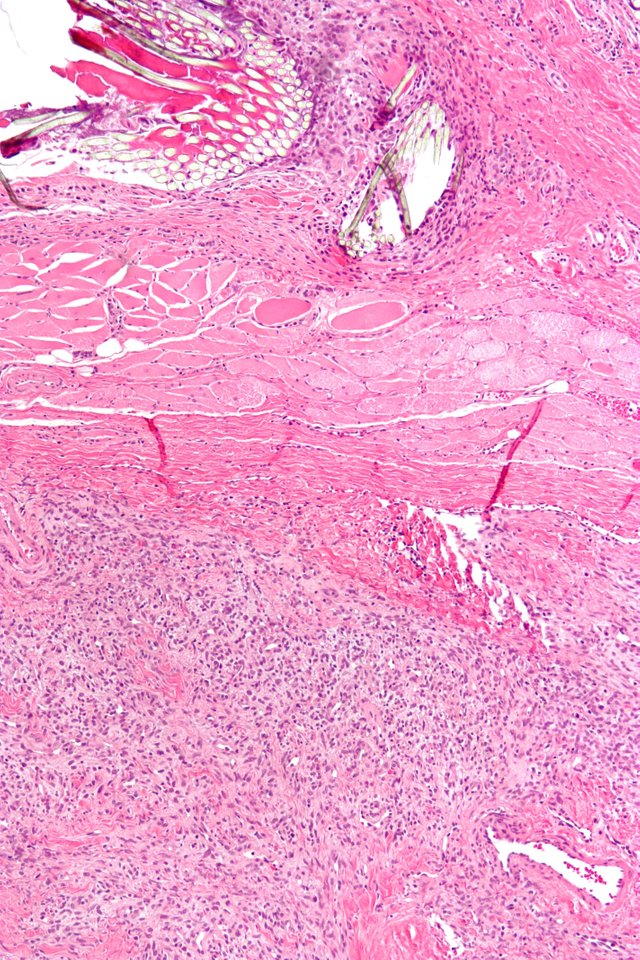 By Nephron - Own work, CC BY-SA 3.0, https://commons.wikimedia.org/w/index.php?curid=10728962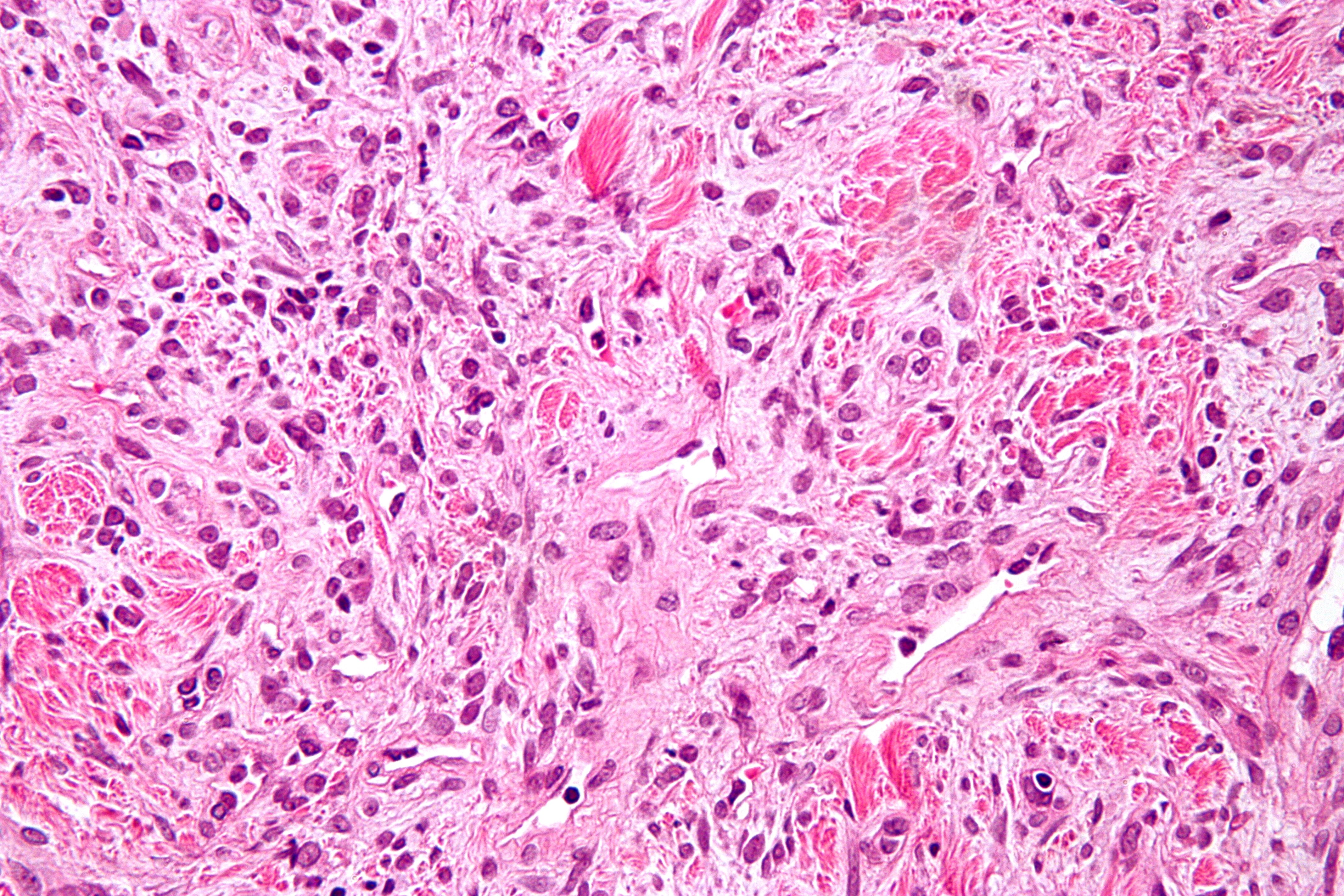 By Nephron - Own work, CC BY-SA 3.0, https://commons.wikimedia.org/w/index.php?curid=10728934
Positive stains:
---
STAT6
CD34 80-95%
CD99 70%
Negative stains:
---
Desmin
Keratin
S-100
CD117
Molecular and cytogenetics:
---
The gene fusion, NAB2-STAT6 (12q13.3) is pathognomonic.
Differential diagnosis:
---
Benign: Benign fibrous histiocytoma, Schwannoma
Malignant: Synovial sarcoma, malignant peripheral nerve sheath tumor, undifferentiated pleomorphic sarcoma (UPS).
Treatment and prognosis:
---
Complete surgical excision
The prognosis of SFT may vary, and histological presentation does not necessarily predict the potential for malignancy
Approximately 10% have a malignant presentation
The criteria for malignant is not fixed, but > 3 mitosis/ 10 HPF is highly suspect of malignancy.
References:
WHO Classification of Tumours of Soft Tissue and Bone (IARC WHO Classification of Tumours), 4th Edition, 2013, edited by Christopher D. M. Fletcher, Julia A. Bridge, Pancras C. W. Hogendoorn and Fredrik Mertens
Enzinger & Weiss's Soft Tissue Tumours, 6th Edition, edited by John R. Goldblum, Andrew L. Folpe and Sharon W. Weiss
Chan JK. Solitary fibrous tumour - everywhere, and a diagnosis in vogue. Histopathology. 1997 Dec;31(6):568-76.
Robinson DR et al. Identification of recurrent NAB2-STAT6 gene fusions in solitary fibrous tumor by integrative sequencing. Nat Genet. 2013 Feb;45(2):180-5
By @janusface