Master Jesus: But the seed falling on good soil refers to someone who hears the word and understands it
The book of Proverbs written by King Solomon anticipates us, before the teachings of master Jesus, that the understanding of the parables implies discovering the meaning of the mysteries of wisdom, that is, of the word of God:
"Let the wise listen and add to their learning,
and let the discerning get guidance -
for understanding proverbs and parables,
the sayings and riddles of the wise.", Proverbs 1:5-6
The Kingdom of Heaven is the government, empire, domain of God's perfections: the reign of mercy, the empire of perseverance. Wisdom is a perfection: "Be perfect as your heavenly Father is perfect", Matthew 5:48. The study of wisdom belongs to the doctrine of the Kingdom of God and consequently also the study of parables.
One of the most important parables of Jesus is the parable of the sower, the teacher explains its meaning:
"When anyone hears the message about the kingdom and does not understand it, the evil one comes and snatches away what was sown in their heart. This is the seed sown along the path. The seed falling on rocky ground refers to someone who hears the word and at once receives it with joy. But since they have no root, they last only a short time. When trouble or persecution comes because of the word, they quickly fall away. The seed falling among the thorns refers to someone who hears the word, but the worries of this life and the deceitfulness of wealth choke the word, making it unfruitful. But the seed falling on good soil refers to someone who hears the word and understands it. This is the one who produces a crop, yielding a hundred, sixty or thirty times what was sown.", Matthew 13:19-23.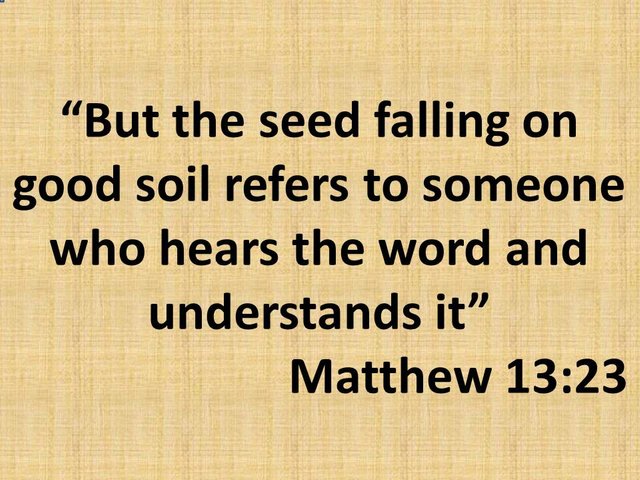 Jesus with this parable is explaining to us the different attitudes towards the wisdom of God, the natural man does not understand it and rejects it; then there is the rational or emotional man who, due to lack of constancy, makes the word fruitless. Finally, there is the spiritual man who receives wisdom with joy and with the constancy (fear of God) makes it bear fruit. The fear of God (constancy, firmness, devotion, equanimity, stability) is the way to the awakening of the consciousness.
For more information visit my profile follow the link and download for free my ebook.