Good Night everyone arrived on the weekend, I wish you and I hope you have spent a very good Saturday with the Family and for those who could not enjoy it today you have tomorrow to do it, Happy Weekend to all.

Today for the third consecutive day the cryptocurrency market has a low day, where today it has been a fall of "2.33%"


Graph
The graph of today the market begins with a stability that after about 3 to 4 hours was lost because the market suffered a great fall before waking up, unfortunately from this I failed to recover I tried to increase it a few times but could not only made the decline to be minimized because it would have been close to 3%, maybe tomorrow Sunday the market gives us a turn and begins to recover if not because it will not even touch to wait for the next week.

Today is NEGATIVE DAY 👎 almost all the market in negative are counted the currencies that have closed in positive.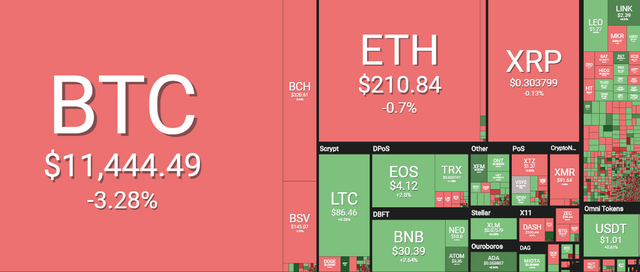 Colors of the Market

Experience taught me that the best investments are those that one does not make.

La experiencia me enseñó que las mejores inversiones son las que uno no hace.



Design Made to: sevillaespino