Hello, I hope all my dears followers are well and also the new readers who arrive every day, I come to share what was the closing of the market for this day.

Today a low day has been generated in the market where it loses "1.19%" compared to the end of last night.


Graph
The graph of this market begins with a rise during the first hours of the day, and when it is time for breakfast there was a fall where the market remained stable even at night and unfortunately today night I do not want to be in our favor and return to reduce the market further, but I think that today is a fall to correct and increase in the next logically it is my opinion I hopen't to be wrong.

Today is NEGATIVE DAY 👎 more than 90% of the currencies close with negative balance.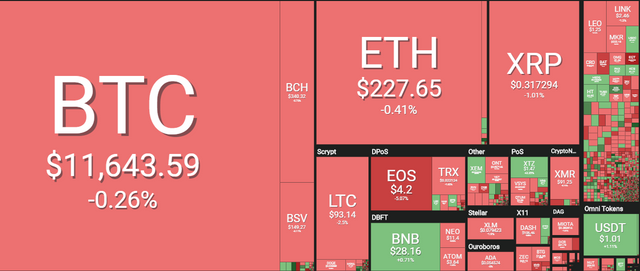 Colors of the Market

Sharing ideas without processing them can lead us to the deception of thinking that we are actually doing something, when in reality we are not doing anything.

Compartir las ideas sin procesarlas puede conducirnos al engaño de pensar que en realidad estamos haciendo algo, cuando en realidad no estamos haciendo nada.



Design Made to: sevillaespino