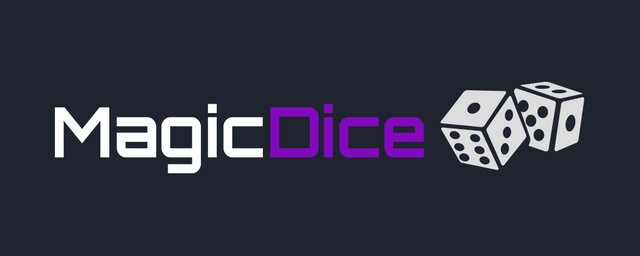 The addiction!
I have always had a addiction to gambling! Started when I turn 21 and went to my first casino. Whats not to love about it. If anything they know how to hook you into wanting to hit it Big! So when I was old enough to go to a casino my brother invited me along with him. Back then when you would win it would pour out in the bottom tray. Then you get the fever!(hooked)
Magic Steem!
I seen a post early on when MagicDice came out. I had a few liquid Steem token laying around so I try my luck. It was a quick loss. But I wanted more. I wanted to win some Steem! So I went on over and bought about 150 Steem tokens. I would just double up every time I would loss a hand. This was working pretty good when it first started out.
I pulled out about 300 Steem and turn them into Bitcoin. It pilled up again but my RC was low and I could make any transactions. So I started Powering up a little and then I pulled out about 300 more tokens. I was doing pretty good. But all of a sudden starting get lots of losses. Bought some more Steem and started loosing that. Thankfully I'm not to dumb and backed off. I was still in the green on my investment.
Dividends started paying out because of all the Magic Tokens I gained at the beginning!
I started to play some more lately and this is my tip or what I have been trying out lately!
This is not financial advice or how to get rich! If you want to get rich, invent something and go on Shark Tank! Only play what you can loose!
What I do!
I have a feeling that this is not going to blow your mind. I have a very easy strategy that I use. It goes like this. Just do small bets. I do 0.100 Steem bets on a 79% chance of winning. I keep this up untill I feel like I have a good feeling and then up the bet on the next. On the picture below you will see how long it took me to get a good feeling! Hahaha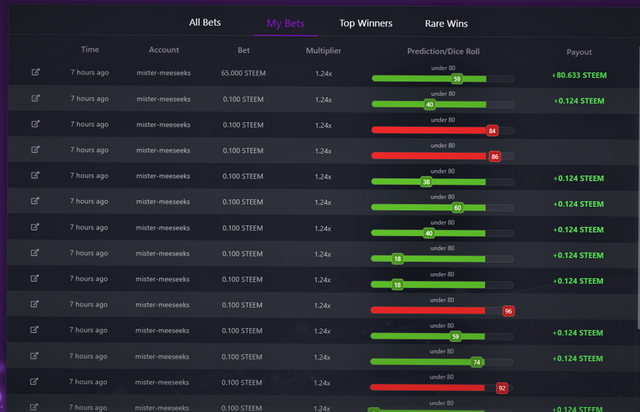 If you haven't discovered the game out here is my link.https://magic-dice.com/?ref=mister-meeseeks Becareful with it you might go through the stages of gambling. Scared, Happy, Unstoppable, then Pissed the fuck off!

I'm a witness on Smoke Blockchain and if you love cannabis and love talking about your experience, we would love to have you. We would like to keep it cannabis related post though! Head over to https://smoke.io make a account and Stay or Say High!