Cuando el agua cae sobre las hojas, se le puede ver deslizar sobre ellas, suelo observarlas por un rato esperando la oportunidad de hallar aquella que logre alcanzar un lugar, muchas veces el viento las mueve haciendo que ésta continúe su recorrido y con suerte puedo encontrar una.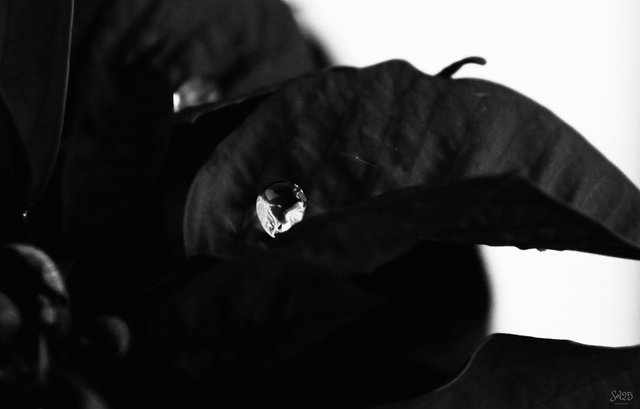 F/5.6 - ISO/3200 - 1/80seg - 100mm
---
La forma esférica casi perfecta que adquiere el agua, lucen como una chispa, porque absorbe la figura de todo aquello a su entorno, pareciendo pequeños diamantes, que aunque frágiles al tacto, son radiantes gracias a la luz.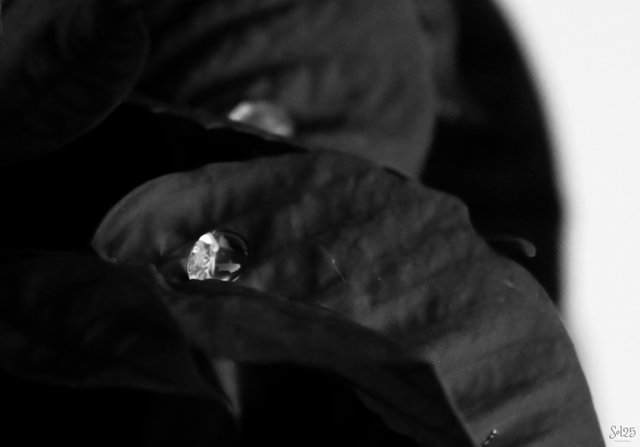 F/5 - ISO/3200 - 1/80seg - 70mm
---
Capturando de diferentes ángulos, la vista es casi igual, su minúsculo cuerpo líquido es uniforme. Al aplicar en ellas un filtro blanco y negro, el resultado es favorable, ya que destaca las zonas o áreas brillantes, permitiendo una mejor visual.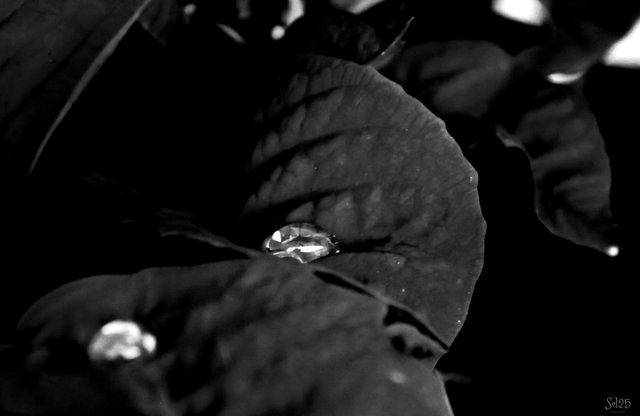 F/5.6 - ISO/3200 - 1/30seg - 90mm
---
No puedes tener una luz sin una oscuridad para meterla en ella. - Arlo Guthrie.
---
All photographs are my property, I like to share them as well as my experiences or thoughts. Hugs!!
Taken with a Canon EOS Rebel T2i/IPhone 8 Plus. All Rights Reserved.




Join Us on Disrcord
---
Posted from my blog with SteemPress : http://sol25.vornix.blog/inicio/una-chispa-de-luz-photoworks-bw-to-phototalent/
---