Litecoin and EOS Leading the Charge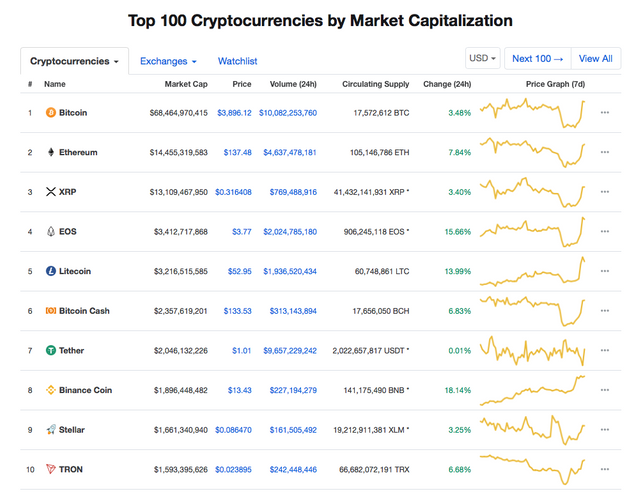 LTC popped nearly 10% within minutes earlier today. Boom! It took everything up along with it.
LTC is also now solidly above .012 BTC/LTC once again. Are we seeing a cup and handle breakout?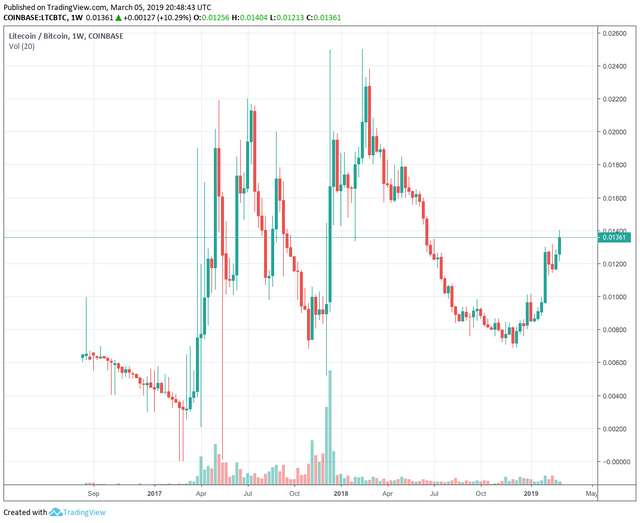 On January 28, Charlie Lee, said that the crypto-currency will focus on privacy with the integration of Confidential Transactions. Confidential Transactions, or CT, was initially developed for Bitcoin to be used by the Bitcoin network for private transactions.
Personally, I think investors in LTC are becoming more confident in the near-term performance of the cryptocurrency due to the increasing efforts of its open-source developer community to improve the privacy features of the asset as well as technical patterns.
Lee recently said:
Fungibility is the only property of sound money that is missing from Bitcoin & Litecoin. Now that the scaling debate is behind us, the next battleground will be on fungibility and privacy. I am now focused on making Litecoin more fungible by adding Confidential Transactions.
Litecoin dev team spent hours discussing how to add Confidential Transactions. The way to do a softfork CT is very similar to doing extension blocks and extension blk may be simpler and can do a lot more. We are now also exploring doing bulletproof MimbleWimble w/ extension blks.
A privacy feature would be a huge win for LTC.
To invest in Mene24k Gold Jewerly click Here
To open your own BitShares account, click Here
To open your own Binance account, click Here
To open your own Coinbase account, click Here