I'm paying 20 USD Worth of Steem or SBD to Authors who Write for @lovejuice!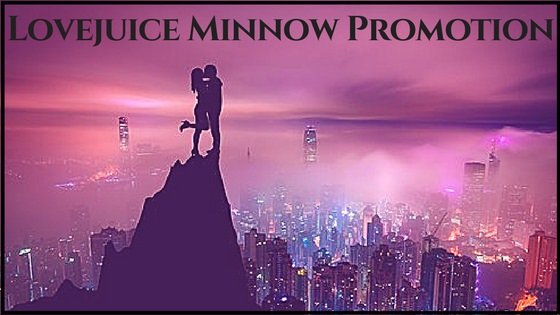 ---
Lovejuice Minnow Promotion
So, I have a bidbot called @lovejuice and a few months ago I started the Lovejuice Minnow Promotion where authors could post through the @lovejuice account and get paid 5 Steem.
2 weeks ago I increased that amount to 20 USD worth of Steem or SBD.
Why?
I started @minnowsupport, aka Minnow Support Project, and the Palnet Discord with the goal of spreading the values of Peace, Abundance, and Liberty.
The Lovejuice Minnow Promotion is the Abundance aspect of that goal.
I want to help as many minnows and new users succeed on this platform as I can while also giving back to the community. This is also about growing the community. Having an opportunity to start earning on the platform is a big deal! As a minnow it's hard to earn anything around here especially as more people come on board and in some ways makes good content and good people discovery harder.
With this I can give back to the community that supports me. I can make bid bots more expensive to use as I put it on content I think is good. I can get exposure to new accounts. And because of bid bots the whole thing is economically sustainable. It's a good system!
---
Content
At first I was looking for silly or serious, mild erotica or love stories to match the Lovejuice theme, but now I'm ok with just about any type of content.
(Within reason! Nothing malicious or hardcore! As I've stated before if you're crying because you're ashamed and also still fapping to it there's no way we're gonna post it!)
Take a look at the @lovejuice page and check out the posts titled "Lovejuice Minnow Promotion" to get an idea of what others have posted.
---
Promotion
I don't want to undersell the promotional aspect of this. You're name goes out to 1600 people while getting paid. As a minnow the single most important thing you can get is a resteem of your work. This is similar. It's not quite as good as a resteem, but I"M PAYING YOU TO POST!!!
What about other languages?
I'm hoping to build community while here. If English isn't your first language that's ok. Put the post in your language and we can try to hack something together using Google Translate to get an English version up underneath your primary language post.
---
The Process
Send your original text and photo(s), preferably using https://hackmd.io, to @isaria in the Palnet Discord
Do not send an already published Steemit post or copied content that you have already published on Steemit!
If approved, she will post it through the @lovejuice page and you will receive 20 USD worth of Steem or SBD!
Payments are sent every Sunday.
There is currently a 2 week waiting list, but if we get enough submissions we may be able to post 2 a day.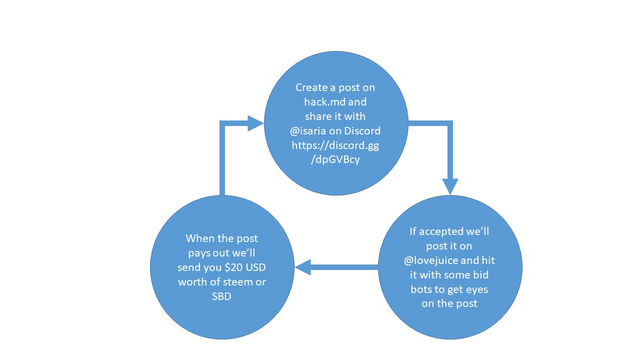 Shameful Love Plugs
This is a bidbot. If you like the service to minnows this bot is providing please use this bot. Send a transfer note to @lovejuice with a minimum of 0.1SBD or 0.1Steem. Use the steembottracker.com website to make sure you're bidding at a good time for a good amount of money.

Because I'm often hitting these posts with bidbots worth anywhere from 50-250 in post rewards it's actually a pretty good curation investment. Right now there are only 20-40 people that are catching the curation bonus of 50SBD in bought votes. Consider actually voting on these minnow posts selfishly for that reason, but also community wise because it will help us expand this out to more users.

If you'd ever like to get some of the benefit of running a bidbot, but don't have the technical means to do it please check out @msp-bidbot. Every comment it leaves can teach you how to delegate a some steem to that bot and then collect money every day. If this is the game it's important to me that we all have a level playing field.
I authored this on mspsteem.com
The Minnow Support Project have put together 2 alternate websites to steemit.com. One is mspsteem.com, which is run by @netuoso. The other is gosteem.com, which is managed by @followbtcnews, @drakos, and @crimsonclad. mspsteem has a 5% beneficiary to @minnowsupport, so when people come into our Discord channel Palnet and use the upvote bot it gets stronger over time. It's crucial to have these because every now and again Steemit.com is slow or not viewable and it's important that we can provide an alternative site.
We can see the keys that you use when you do this. So, you're trusting the witnesses not to steal your money just like you're trusting Steemit not to steal your money when you log into their site. We always encourage you to use your private posting key and your active key as opposed to your master password when logging in anywhere. If you don't know the difference come ask some folks in PALnet.