Somehow my mind tags some of my life moments with music

Some music knowledge may be good for getting more criterious and picking good music. But in the end, we all look for pleasure, and we want to hear something that clears our minds, right!?

De alguma forma a minha mente cataloga momentos da minha vida com música

Ter algum conhecimento de música deve ajudar-nos a ser mais criteriosos e escolher boa música. Mas no fim, todos procuramos obter prazer, e todos queremos ouvir algo que limpe as nossas mentes, certo!?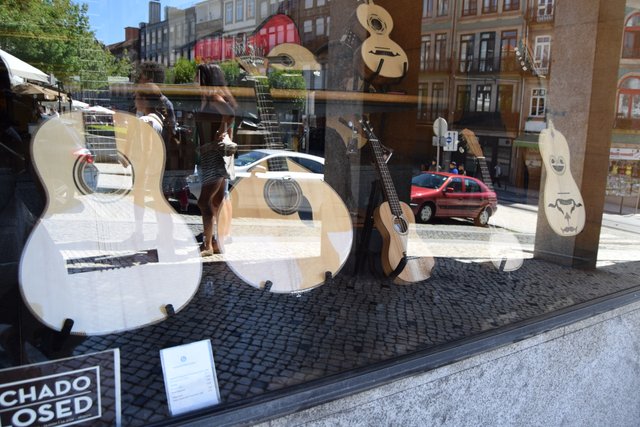 Guitar store @ Porto streets
I learned and still love to hear from rock/ grunge to electronic/ ethnic sounds. If in the past it was according to different stages of my life, now it depends on the mood and tasks I have to do.

Music has always been part of my life, but sometimes as an accessory other times as a principal character.

Aprendi e ainda gosto de ouvir desde rock/ grunge até música eletrónica/ étnica. Se antigamente dependia das diferentes fases da minha vida, agora depende da disposição ou das tarefas que tenho pela frente.

Para mim a música sempre fez parte da minha vida, mas umas vezes como acessório outras vezes como fio condutor.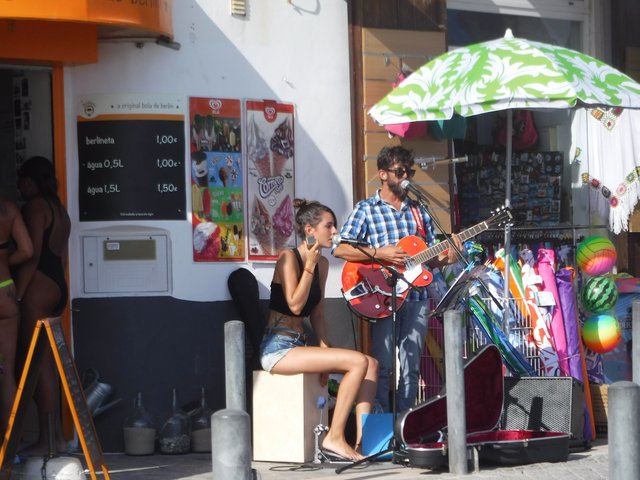 Covers band playing Big Jet Plain at Sesimbra beach back in 2017 August
Recently I rediscovered my love for music
Presently I'm listening to a lot of music, mainly my 90's rock/ grunge favorites, but also discovering some of the good 80's! I know Pearl Jam for a long time, but I never paid attention to its "MTV Unplugged 1992" like I'm paying this week.

Here's the link just in case you also want to hear it, it's been my companion of this last days!!

Recentemente redescobri a minha paixão pela música
Tenho ouvido nestes dias imensa música, principalmente o meu rock/ grunge preferido dos anos 90, mas também na descoberta dos bons sons dos anos 80! Conheço Pearl Jam de há muito tempo, mas nunca tinha prestado tanta atenção ao "MTV Unplugged 1992" como nesta semana.

Aqui deixo o link caso queiram ouvir também, tem sido a banda sonora destes últimos dias!!
Pearl Jam in MTV Unplugged 1992
Have a great weekend, hopefully, full of love!! Thanks to all of those that keep posting under the #LoveFriday tag!
Um óptimo fim-de-semana, preferencialmente cheio de amor!! Obrigada áqueles que usam a tag #LoveFriday!
---
Let's look for love!! More love please!!(EN)
This is what I would like to see shared under the #LoveFriday:
Positivity: That's the main purpose!! In a world were wars, murthers, robbers, corruption are pumping everywhere, sharing positivity is even more precious;
Romantic or not: There is plenty of room for romantism, but not only. I personally like every kind of altruistic gestures, that is what makes our world a better place.
Stories, music, photography and any kind of art related: The window of possibilities is enormous, feel free, but remember it should be proper for all ages (no NSFW please)!
---
Vamos procurar por amor!! Mais amor por favor!! (PT)
Gostaria que na tag #LoveFriday fosse partilhado:
Positividade: Deve ser o mote principal!! Num mundo onde as guerras, os homicidios, ataques, corrupção estão por todo o lado, a partilha de situações positivas é ainda mais importante;
Romântico ou não: Há muito espaço para o romantismo, mas não só. Pessoalmente gosto de todo o tipo de gestos altruistas, são coisas dessas que tornam o nosso mundo melhor.
Histórias, música, fotografia e qualquer tipo de arte: A janela de possibilidades é grande, sintam-se à vontade, desde que adequado a todas as idades, nada de NSFW por favor!
---
---
Please do not forget to check the other daily photography initiatives:
Weekday Challenges:
...and challenges