When I came up with #LoveFriday I could not imagine how in a couple of months Fridays would really mean love re-encountering to me.

Let me explain…

When couples have to work in different cities, implying that one of them has to move, Fridays became a travel day to go back home, right!? At least it is for me!!
In my present life, Fridays are usually spent travelling so I can be with my beloved ones.

Quando lancei o #LoveFriday não imaginava que meses mais tarde as sextas-feiras passassem mesmo a ser de re-encontro de amor para mim.

Deixem-me explicar….

Quando casais têm de trabalhar em cidades diferentes, implicando que um dos dois se mude, as sextas-feiras tornam-se dias de viagem de regresso a casa, certo!? Pelo menos para mim é!!
Atualmente a minha vida leva-me a ter de viajar nas sextas-feiras para que possa estar com os meus amores.
Today I spent part of the afternoon travelling by train, which gave me some time to prepare this post. Although WI -Fi isn't available on the train and I will only submit it later.

…Back to my initial thought, Travelling....
During my train travel I remembered of a story someone told me:

Hoje passei parte da tarde a viajar de comboio, o que me deu tempo para preparar este post. Contudo não tenho ligação à WI-Fi no comboio e só irei conseguir submeter o post mais tarde.

….De volta ao meu pensamento inicial: Viajar!!
Durante esta minha viagem lembrei-me de uma história que me contaram:
It's about a boy that lives near the train rails and a girl that travels daily on the train.
That boy and girl had meet each other and were enjoyng their time together, they were falling in love. One day he decided to surprise her, and text messeged her in the morning to pick a place in the train near the window.

He decided to write in a white old-sheet with a black spray can "Amo-te Maria" (I love you Maria).

É sobre um rapaz que vive perto da linha de comboio e uma rapariga que todos os dias viaja naquela linha.
O rapaz e a rapariga conheceram-se e estavam a gostar do tempo que passavam juntos, estavam a apaixonar-se. Um dia ele decidiu fazer-lhe uma surpresa, e mandou-lhe um sms de manhã para que ela arranjasse um lugar no comboio junto da janela.

Ele decidiu escrever num lençol branco velho com um spray preto: "Amo-te Maria".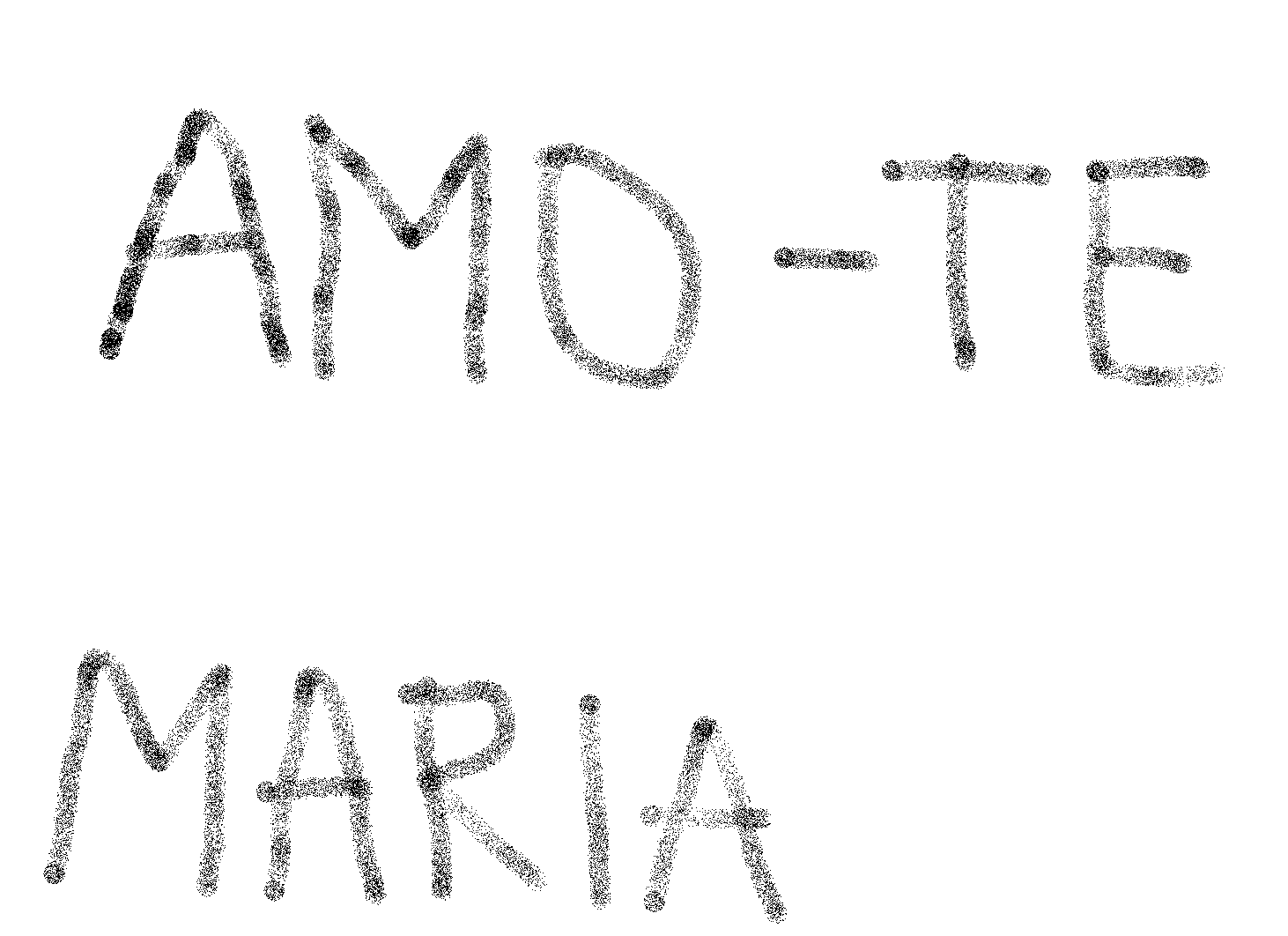 It was his first "love you" message to her, and she saw it from the train, that was croweded of people that were going to their jobs.
In the train only she knew that sheet was painted specially for her!!

Era a primeira vez que ele lhe enviava uma mensagem a dizer "amo-te", e ela viu-a do comboio que estava a abarrotar de pessoas a caminho dos seus trabalhos.

No comboio apenas ela sabia que aquele lençol tinha sido pintado especialmente para ela!!
Have a great weekend, hopefully, full of love!! Thanks to all of those that keep posting under the #LoveFriday tag!
Um óptimo fim-de-semana, preferencialmente cheio de amor!! Obrigada áqueles que usam a tag #LoveFriday!
---
Let's look for love!! More love please!!(EN)
This is what I would like to see shared under the #LoveFriday:
Positivity: That's the main purpose!! In a world were wars, murthers, robbers, corruption are pumping everywhere, sharing positivity is even more precious;
Romantic or not: There is plenty of room for romantism, but not only. I personally like every kind of altruistic gestures, that is what makes our world a better place.
Stories, music, photography and any kind of art related: The window of possibilities is enormous, feel free, but remember it should be proper for all ages (no NSFW please)!
---
Vamos procurar por amor!! Mais amor por favor!! (PT)
Gostaria que na tag #LoveFriday fosse partilhado:
Positividade: Deve ser o mote principal!! Num mundo onde as guerras, os homicidios, ataques, corrupção estão por todo o lado, a partilha de situações positivas é ainda mais importante;
Romântico ou não: Há muito espaço para o romantismo, mas não só. Pessoalmente gosto de todo o tipo de gestos altruistas, são coisas dessas que tornam o nosso mundo melhor.
Histórias, música, fotografia e qualquer tipo de arte: A janela de possibilidades é grande, sintam-se à vontade, desde que adequado a todas as idades, nada de NSFW por favor!
---
---
Please do not forget to check the other daily photography initiatives:
Weekday Challenges:
...and challenges