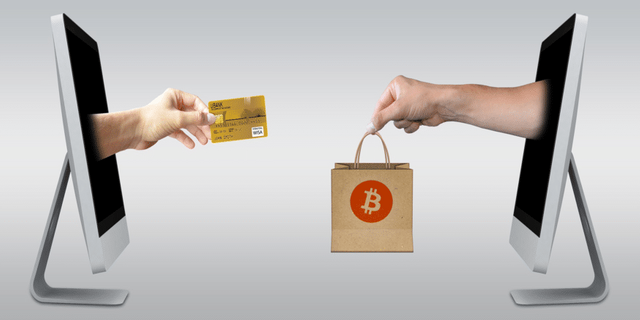 source
Lately, some significant institutions and technological firms most notably in the shopping space have been jumping on cryptocurrency and blockchain bandwagon. Am talking about reputable firms like Walmarts, Amazon CheapAir,
Newegg and Reeds Jewelers have invested a decent amount of money into the promise of cryptocurrencies Like Bitcoin and Ethereum.
The adoption of cryptocurrencies is in favor of most countries whose currencies are weak or whose traditional notes have depreciated. Brazil, Colombia, Turkey, Venezuela are the early adopters.
Buyers can now inertly earn some portion of Bitcoin while they go about their online purchases from top brands with Lolli.
Lolli is a chrome extension platform that rewards online shoppers with Bitcoin when they shop at participating online retailers. Users can use Chrome or Safari browser extension to download the extension. If you don't fancy the idea of downloading the extension, feel free to start shopping from Lolli's website directly.
Lolli has over 600 retailers and each retailer will offer crypto (Bitcoin to be exact) for various purchase. Every user that has this extension can set their "cash back" rate. The idea is, for ever $100 purchase you make, you stand the chance to obtain 0.5% back in the form of cryptocurrency. The BTC reward you make from that purchase goes back to your Lolli wallet. This is why it's crucial to download your Lolli wallet from Playstore or Appstore.
So far, the participating retailers include Macy's, Toms, Barnes & Noble, Hotels.com, SeatGeek and many more which can be found here
At a future date, Lolli plans to launch its app on a smartphone and tablet app where it will be easy for those who don't have a PC. On the other hand, the platform is entirely available as a browser extension for Chrome and Safari.
Among other things, ut is Lolli's goal to see the numbers of consumers who have bitcoin be on the increase as well as educating them on how to use cryptocurrency respectively.
Cryptocurrency and E-commerce
Lolli will only survive with the help of participating retailers. The brand partners of Lolli includes; Jet and Bloomingdales. Since Bitcoin is being used as cashback rewards, it'll propel the interaction between retailers and consumers respectively. That's not all, this technique will spawn new customers to the participating brands since the customers are assured of a significant bitcoin share for every purchase they make.
We're all aware of the fact that online shopping is a booming industry on a global scale, as such, I'm certain that the turn-up from consumers and retailers pertaining to this technique will be amazing. Presenting cryptocurrencies to the table will definitely breed more income as well as business opportunities. At the initial stage, any service rendering a cashback to clients usually attract a lot of traffic to that cause.
Disclaimer:
This is not financial advice. Please do you own research before investing in cryptocurrencies or any digital asset. This blog post is done for entertainment and knowledge purpose only.